Pat Monahan of Train Discusses The Band's Album, For Me, It's You, Their Single "Cab," And Writing Their Songs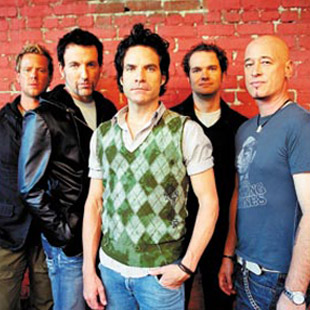 Anyone who's ever wondered what 'Drops of Jupiter' might look like, or wanted to 'Meet Virginia,' has enjoyed the eclectic images of Grammy-winning rock group, Train. From their initial, self-titled, self released album, every record has been RIAA-certified platinum or better. Now, with the release of their critically-acclaimed fifth album For Me, It's You and upcoming tour, it appears this Train shows no signs of slowing down.
In the midst of preparing for a cross-country spring tour, lead vocalist and songwriter Pat Monahan happily finds his group in high demand. While returning from Canada one evening, Monahan took time to talk about his band's success and the real stories behind the enigmatic lyrics of some of his biggest hits.
As the youngest of seven children growing up in Erie, PA, Monahan was exposed to a variety of musical influences. 'My father was a huge jazz fan and my brothers and sisters were all older than me. While some of them were listening to the Beatles and Bob Dylan and Pink Floyd, others were listening to James Taylor, Cat Stevens and Kris Kristofferson. Then when I found my own music I was drawn to James Taylor and the Guess Who, Michael Jackson and Stevie Wonder. I really loved a lot of R&B. But, I'd say Led Zeppelin was my biggest influence.'
Train began in San Francisco in 1994 with Monahan, Rob Hotchkiss, Charlie Colin, Jimmy Stafford and Scott Underwood. Unable to land a record deal with a major label, the band decided to release their first album, Train, themselves, together with producer Curtis Mathewson. 'We decided to make our own record, and we were determined to make something happen,' said Monahan. And, eventually, their persistence paid off. In 1998, the album was picked up by Aware/Columbia and the band was given enough money to purchase an old Dodge van and trailer and hit the road for the next two years. 'They gave us just enough money to fend for ourselves. We were broke. We allowed ourselves $15 a day for food.'
But the guys made the most of their opportunity. 'It all worked out best for us because we were treated as an act to be developed as a career band. And they were right. They banked on that and we worked hard.'
Train's first single, 'Free,' was featured in the Fox Television series, Party of Five and the success of 'Meet Virginia' propelled the group's debut CD to a run of four weeks atop Billboard's Heatseekers chart.
In 2001, Train released its' second album, Drops of Jupiter, and the title track, 'Drops of Jupiter (Tell Me),' spent a total of 53 weeks on Billboard's Hot 100 singles chart. The song won a Grammy for Best Rock Song and a Best Arrangement Grammy for Paul Buckmaster's lush orchestration.
For Train's third album, the band reunited with Brendan O'Brien (who produced Drops of Jupiter) to create My Private Nation. From this album, two singles were released; 'Calling All Angels,' which received two Grammy nominations, and 'When I Look To The Sky." Another hit, 'Ordinary,' was featured on the Spiderman 2 soundtrack.
After a successful live album (called Alive At Last, Train went back into the studio to record For Me, It's You, again with producer O'Brien. Released earlier this year, the album's first single, 'Cab,' is currently moving up the charts. The album features two new band members: bassist Johnny Colt (originally from the Black Crowes), and keyboardist Brandon Bush (John Mayer, Shawn Mullins).
Monahan describes this as his most personal record. 'There have been some major events in my life in the last couple of years. That just makes life more interesting, There's more to write about. As much as I've always been a sincere songwriter, the content here is more interesting and more personal.'
'I'm a lyric writer,' he said. 'I write with my band. These guys are great musicians. They can create a great backdrop for my vocals.' Monahan's unusual lyrics have sparked a considerable amount of internet chatter. 'Drops of Jupiter's' lyrics bring many whimsical images to mind, but the song was actually inspired by the death of Monahan's mother. 'The cliché, 'it came to me in a dream,' is what really happened. I feel asleep briefly – it felt like five seconds – and woke up with the lyric 'she's back in the atmosphere,' and wrote a song about it because I had recently lost my mother, and I'd dreamed she'd gone through this incredible journey and came back to tell me about it. But as I was writing it, it became a love story.'
'Meet Virginia,' from Train's first album, also inspires some unusual images about a woman who 'wears high heels when she exercises' and 'only drinks coffee at midnight.' This song, Monahan said, came from some of the 'interesting' people he'd met. 'I was new to San Francisco and I actually watched a woman play baseball in high heels and a long dress. I saw how confident women were, but also how self-conscious they were. It's difficult to be a woman. I have incredible respect for women and the struggles they have in this man's world. I was raised by an incredible woman and I'm in love with an incredible woman and I watch my daughter. It's tough sometimes, I think, for a woman to be herself and want to be special but not really want to be the queen of anything – just herself – and not apologize for it. A woman friend of mine told me that the song always made her feel like she was allowed to think of herself as beautiful.'
Despite his affection for the women in his life, Monahan credits his father for his songwriting success. 'He's such a specific lover of words. He really was particular about grammar and the English language, and even the breaking down of sentences. And how poetry works and why some things work well and others [work poorly]. He had strong opinions about words – whether they were limericks or lyrics or poems and he would recite them to me from memory. I don't have that ability. But he passed on his quality level. It's incorporated in me. I know what I want to say and how I want to say it. Somehow, that and the combination of melody and music strike a nerve in people and they relate to it and that's what music really is all about. It's like movies and any other kind of entertainment. People want to feel like they belong.'
Monahan admits that it's sometimes frustrating to try to say something in a way that hasn't been said. 'It's the same movie, it's the same love affair in every song. 'How do you show it in a way that hasn't been shown where it's interesting and people can relate to it? It can be tedious sometimes. Whenever I get frustrated I have a good friend who says, this is why you were chosen to do this, not everybody can. So quit bitching and get back to work.'
Jayne Moore is a freelance music/entertainment journalist. She has launched a new service, writing bios, articles and press releases. Moore can be contacted at [email protected]. You can also visit her website: www.musicgerm.com.