Pop Stars Aly and AJ Talk About Their Album Insomniac, Their Hit "Potential Breakup Song," And Writing Their Songs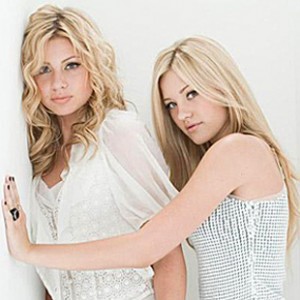 For teen sensations Aly and AJ Michalka, 2007 has been an exciting year. Their debut album Into the Rush went platinum in May, and their newly-released second album, Insomniatic (on Hollywood Records) has gotten off to an excellent start. The new album contains their current hit single "Potential Breakup Song," and there are several other single candidates on the CD.
Currently on tour, the sisters took time off to talk about their new album, their songwriting (they wrote or co-wrote all the songs on their album), plus their successful acting careers.
Born in Torrance, CA and raised in Seattle, WA, the girls can't remember a time when they didn't dream of getting into the music and acting fields. Aly & AJ became interested in music at a very young age. 'I think it started when we were just three and five ' just singing in church together and in school plays,' recalled Aly.
It was also soon after that the sisters became very involved with acting. Aly (who is 18) landed first acting gig when she was cast in the role of Keeley Teslow for The Disney Channel series Phil of the Future in 2004. She also appeared as Allyson Miller in the Disney Original movie Now You See It', as well as performing alongside her sister in the Disney movie Cow Belles in 2006, and more recently in MTV's Super Sweet Sixteen: The Movie, also with her sister.
Younger sister AJ (who is 16) has also appeared in numerous TV and movie roles including The Guardian, Six Feet Under, Oliver Beene, General Hospital and Passions, as well as co-starring with her sister in Cow Belles and MTV's Super Sweet Sixteen. The two have made numerous television appearances on shows such as Live with Regis and Kelly, Punk'd, Good Morning America, MTV Cribs and America's Got Talent, to name just a few. 'Acting is pretty cool,' says AJ. 'We get to play these roles that are different from who we really are. And it's been a great experience to be able to do roles along with my sister.'
Music has always been a big part of their lives. Both girls began piano lessons early, then moved on to play guitar. Their music has been compared to that of their early influences, Fleetwood Mac and Heart. 'That's really flattering to hear,' said AJ. 'We also loved the Police, the Beach Boys, Seal and lots of other stuff we heard on the radio. But we didn't want to sound like anyone else. We wanted our music to be as original as it could be.'
The girls say sibling rivalry has never really been a problem for them. 'We have the usual sister fights,' said AJ, 'but we're best friends more than anything. We have a lot of fun together.' Aly echoed this sentiment: 'We're on the same page. We really get each other and that translates onto the stage. Obviously we're together all the time, but we find ways to maintain our own space without driving each other crazy. I think we have found a pretty good balance.'
Following up their platinum album Into the Rush was no small task for the sisters. 'We wanted this album to be about relationships,' said AJ. 'We were going through lots of different relationships and we wanted the new album to reflect that.' The sisters co-wrote all the songs for the new album and discovered they worked quite well as a team. 'We've been on the road as artists and I think we've learned a lot more and grown a lot more. We took lots of risks on the new album, really opened ourselves up,' said AJ. 'We wanted to give our fans a piece of our lives,' said Aly, 'like, show them a page from our diary. And based on how well the album's doing so far, I think our fans are responding to that.'
Songwriting comes naturally for Aly and AJ. 'We don't really have a specific process that we go by,' said AJ. 'One of us will come up with a line or an idea, then one of us will pick up a guitar and take it from there. Some songs are totally different. Like with 'Potential Breakup Song', we wrote it to a beat. We were in the studio and just got this beat going and took it from there. We really love writing our own songs.'
With their growing popularity, the sisters have had to adapt their lifestyle to accommodate their growing legions of fans. 'It's kind of surreal,' said AJ. 'We always thought we were just doing this for fun. We never thought it would turn into a career. But it's really flattering when people recognize us and ask for our autographs and know our songs and want to talk to us.' 'We have our bodyguards close by,' said Aly, 'but we always want to be accessible to our fans.'
In addition to their pop albums, the pair released a Christmas album in 2006 (called Acoustic Hearts of Winter) which combined both traditional and original songs. Also, in honor of their strong Christian faith, 'Never Far Behind' was released only on Christian radio, where it quickly reached #1 on Radio & Records Christian CHR chart. In Sept. 2006, the girls were nominated for Contemporary Inspirational Artist of the Year.
Although the sisters have very different singing voices, they find that it works well in the studio. 'I have a really low speaking voice,' said AJ, 'but I sing a lot of the higher notes. We both just sing what works best for us and it seems to come out right.'
Although touring can be a bit stressful for some performers, Aly and AJ said they enjoy their time on the road. 'It gets us out of our routine, we get to be close to our fans,' said AJ. 'We have a great crew and everybody is so nice and helpful. We love to travel and just have lots of fun. After our U.S. tour is finished, we're going to Europe and Japan and we're really excited about that.' Aly echoed her sister's sentiments. 'We get to share the whole experience with each other and that makes it all that much more special.'
Another special experience the sisters are looking forward to is introducing a huge line of licensed products including an authorized biography to kick off an Aly & AJ book series, a doll series, Xbox and Nintendo video games, a clothing line, jewelry, makeup and hair accessories, and a 2008 calendar. 'It's really surreal and exciting,' said AJ. 'We worked hard on these products. We used to buy products like these and we can't wait to see how it goes.'
Lastly, when asked what advice they would give to young music artists and actors who are trying to break into the industry, Aly said, 'No matter what it is you want to do, you have to work really hard. Give it all you've got and don't let yourself get discouraged. Surround yourself with people who support and believe in you and go for it 100%. Pick up an instrument, learn how to play, and immerse yourself in your craft.' Aly suggest being realistic about your talent and keep things in perspective. 'Do the best you can do, but realize that although you may think you have done your best, there may still be something better inside you. That's what you should strive for.'
Jayne Moore is a freelance music/entertainment journalist. She has launched a new service, writing bios, articles and press releases. Moore can be contacted at [email protected]. You can also visit her website: www.musicgerm.com.