Hit Writer/Producer Billy Mann Discusses His Hits With Pink, Jessica Simpson And Other Artists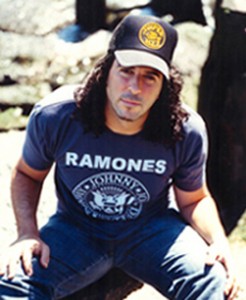 Note: This article was published in 2005. Billy Mann has since continued his successful, long-term writing & producing relationship with Pink, co-writing the hits "Stupid Girls" and "Glitter In The Air" with her. He has collaborated with Pink on her last four albums.
Songwriter, producer & artist Billy Mann is finding himself in much demand these days, with an impressive five songs currently receiving radio play, including Jessica Simpson's hit 'With You,' Pink's single 'God Is A DJ,' plus cuts by Hall & Oates, Michael Bolton, and Jim Brickman's #1 Christmas song, 'Sending You A Little Christmas.' He has done remixes for, toured and sang duets with his mentor Sting, written songs with and produced Art Garfunkel, and partied on tour with Robert Plant.
Mann's passion for songwriting began early in life, as he watched his older brother and sister learn to play piano. 'When you see your siblings doing something, you naturally want to do it too,' said Mann, who went on to learn many other instruments. 'My songwriting really started with my sister, Karen, who was writing really bad, 12-year-old girl poetry, you know, 'I really like him but he doesn't know I exist' kind of poetry, and I would write the music and sing to it.'
Mann credits much of his musical influences to his hometown. 'Philadelphia is a very powerful music city. It's always had its own slant. I grew up listening to a lot of the music coming out in the '70s and '80s. My mom listened to Carole King, James Taylor and a lot of the singer-songwriters of the time. But The Sound of Philadelphia (TSOP) and the blue-eyed soul bands like Hall & Oates had some massive hits. That was a heavy soul influence.'
While still in high school, Mann began taking monthly trips to New York City to Warner Music in Rockefeller Plaza. 'I would go and play my guitar and sing in the lobby, hoping someone would hear me. Eventually, security would come and throw me out.' After years of what Mann calls 'couch traveling,' the wheels really began turning while Mann was rehearsing in the stairwell of an old apartment building in Manhattan. Ironically, producer Ric Wake (Mariah Carey, Whitney Houston, Taylor Dayne) was coming up that same stairway. Shortly thereafter, Mann found himself in a state-of 'the-art studio on Long Island. He says, 'Ric was the first person to 'get me,' and his belief changed my life.
Early in his career, Mann assumed he would follow many of his influences and become a singer-songwriter. 'The idea that anyone else would want to sing my songs seemed foreign to me. The concept of being a professional songwriter didn't make sense to me, because all the great songwriters sang their own songs. But Ric really showed me how it was done. I learned a lot from him.'
Mann quickly expressed an interest for production. 'It's always been driven by songwriting, and when you hand your song over to somebody else, a lot of things can happen. Sometimes amazing things can happen, and sometimes truly terrifying things can happen. I've seen some producers who take demos and just mimic them. But at the same time, producing requires things I never would have imagined. In addition to musical arrangement, it involves learning how to provide the best environment for an artist to feel a certain comfort level in order to deliver their talent. That's something that takes time. Having been a recording artist myself, I'm sort of bilingual. I understand how important it is to feel that comfort when your audience is just a mic on a stand.'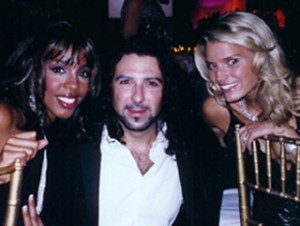 Working with Pink has been a great pleasure for Mann. 'Her album was pretty much done when I met her, and we just connected. She's from Philadelphia and, of course, one of the biggest pop artists in the world today. The girl does not wear her stardom like some do. She is so real. I just adore her. There are some superstars who are superstars in entertainment but not really exceptional at the music, but she has all of it. It's staggering.  She really sings that good, she really performs that well, she really writes songs and has a point of view.' Mann had been working on the music for 'God is a DJ' with friend Jonnie Davis. 'I had the hook along with the melody in my head and just didn't know quite how it was going to play out. I played the song and she really liked it, but the initial lyric wasn't quite right for her, so we worked on that and it got added to the album.' Mann produced the song as well.
Another current hit with Mann's touch is Jessica Simpson's 'With You,' (also produced by Mann). 'She's a sweetheart. She's a real pro. She recently performed on TRL and she wasn't lip-synching, she can really sing that well. Jessica's A&R person, Teresa LaBarbera-Whites, encouraged her to try writing. So Jessica set up some meetings, one of which was with me and my friend, Andy Marvel. It was an easy meeting for us. If you listen to the lyrics (of 'With You'), you can tell she had something to do with it. I don't think I could write the real me as a southern girl. I feel like I'm part of that family with her husband and her sister both cutting one of my songs.' Ironically, both Simpson's husband, Nick Lachey, and singer Josh Groban released versions of Mann's song 'You're the Only Place' on the same day. 'How crazy is that, simultaneously, on the same day,' exclaimed Mann. 'I don't know if that's ever happened before.'
Mann has also found success in working with his heroes Darryl Hall & John Oates, with the title cut from their album, Do It For Love reaching #1 on the AC chart, and 'Getaway Car' (which has also been cut by several other artists) moving up the charts. 'They're Philly boys,' said Mann, 'so we have that connection. I grew up on Hall & Oates. I remember the first time I heard 'Rich Girl,' which I thought was so cool, because I was pretty young at the time and it had the word 'bitch' in the song. I just loved that song. They're sort of in my DNA.'
Among the other music legends Mann has worked with, Art Garfunkel is one of the most notable. 'I met with Artie's manager and he told me Artie needed a way to express himself. Art is a very interesting man, an encyclopedia of stories, but I didn't really know how to approach it with him. I knew that he needed to have a songwriter's experience and that the place to go was Nashville, so that's where I took him. Artie took a real leap of faith- remember this guy's partner for the last 50 years (Paul Simon) is the greatest songwriter of our time. It's amazing to take someone who's a legend out of their comfort zone and see them thrive.' Out of this collaboration came the song, 'Bounce,' from Garfunkel's album, Everything Waits to Be Noticed, which is in Radio & Records' Top 100 AC songs of 2003. Mann produced that album as well.
In addition to songwriting and producing, Mann has toured as an opening act for British pop legend, Sting. 'I'm very lucky to say that he's a friend and supporter of mine,' said Mann, who recently finished a remix for a song on Sting's new album.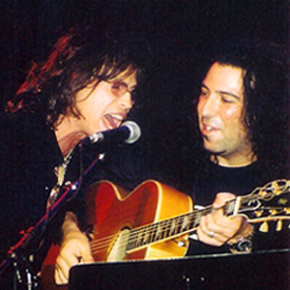 Among other memorable experiences, Mann has written with Carole King, who helped with his second album, Earthbound. 'My mom got to meet her. That was really cool to work with someone you'd heard on the radio and idolized for so many years.' Mann also opened for Jimmy Page & Robert Plant in Barcelona. 'I spent several hours hanging out with Robert Plant, which was an awesome experience.'
Mann has released two albums of his own, the most recent titled Earthbound, inspired by his relationship with his young, first wife, Rema, who died of stomach cancer. 'She passed away almost a year after we were married. It would cheapen the experience to try to sum it up, because it was a real life-changing experience for me. The album was my effort to try and figure it out. Earthbound was my therapy. A friend of mine, Gren Wells, has written a screenplay called 'Earthbound' after the title track and is now in production by 20th Century-Fox for a movie directed by Petter Naess, and Jennifer Lopez is being considered to star in the movie. It's been an incredible journey and was a difficult period in my life.'
Mann offers some advice for aspiring songwriters. 'The first thing is to join a songwriting organization. I belong to SESAC, but there are great people at any of the others. You'll get access to information and seminars- those things do have value. The second thing I would say is to be fearless. Copyright your material and don't think that the only way you're a legitimate songwriter is if one person from a handful of shrinking companies decides your songs are worthy. There is a whole world out there that can find you without them. The Internet has opened all kinds of new doors for people to hear your songs. Technology has evolved to such a degree that you can make great demos on your home computer. Just be fearless.'
Mann currently has a publishing deal with Sony/ATV Music. 'I'm not sure what I'll do next. But happy endings do happen. I'm remarried, and I have two wonderful little boys. I feel extremely blessed.'
Jayne Moore is a freelance music/entertainment journalist. She has launched a new service, writing bios, articles and press releases. Moore can be contacted at [email protected]. You can also visit her website: www.musicgerm.com.