Interview with Toby Gad, Hit Writer/Producer for Beyonce, Alicia Keys, Fergie and Demi Lovato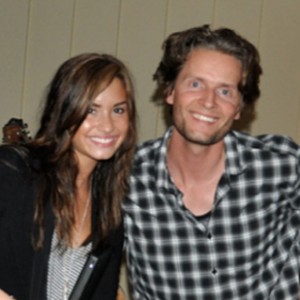 In the past decade, Los Angeles-based writer/producer Toby Gad has established himself as one of the top hitmakers in pop music. Following his breakthrough in 2006–co-writing with Fergie her worldwide smash "Big Girls Don't Cry"– Gad has gone on to co-write and produce hits for Beyonce ("If I Were A Boy"), Demi Lovato ("Skyscraper") and many others.
The list of hit artists who Gad has recently collaborated with reads like a "who's who" of today's hottest pop stars. He has co-written & produced cuts for One Direction ("Taken"), Colbie Caillat ("I Do"), Jessie J ("Who You Are", "L.O.V.E."), Kelly Clarkson (two songs on her hit album Stronger), Demi Lovato (three songs on her hit album Unbroken), Selena Gomez (two songs on each of her last two albums including the single "A Year Without Rain"), Alicia Keys, Nicole Scherzinger ("Don't Hold Your Breath"), Big Time Rush, Jazmine Sullivan, Rachel Crow and Victoria Justice. In addition, Gad has had hit success with several top U.K. artists such as boy band JLS, James Morrison and Pixie Lott.
Gad is known for being a prolific, hard-working writer/producer who writes and records an impressive 150 or more songs per year. Besides writing with many artists, Gad also works with many hit topline writers such as Lindy Robbins, Kara DioGuardi, Makeba Riddick and Steve Kipner, to name just a few.
Also, Gad is co-owner of an independent label, Kite Records, which he runs in partnership with his managers David Sonenberg & William Derella of the firm, DAS Communications. Currently the Kite Records roster includes Chelsea Williams (who is signed via Interscope Records), Susan Justice (Capitol Records), Jessica Jarrell and 14-year-old artist, Jordan Jansen.
This article is the second interview we've done with Toby Gad. In our first article about Gad in 2007, he talked about his first big hit "Big Girls Don't Cry" for Fergie, and how he got started in the music business.
We are pleased to present this new interview. Gad discusses his recent hits, and his move four years ago to Los Angeles (he is originally from Germany and then later moved to New York City). Gad also talks about his prolific writing approach, his co-writers, and his record label.
DK: "If I Were A Boy" was a #1 hit for Beyonce. How did you write and place this song with her?
Gad: I wrote this song with BC Jean. I originally had found her via MySpace, and I invited her to come to New York where I was living at the time. We wrote and recorded 10 songs and "If I Were A Boy" was the last of the 10 songs. We were out getting a pizza and she was a little mad at a boy. She said "If I were a boy I'd kick his ass" (laughter). And then I said, "Stop wait a minute, that sounds like a song title."  So we went back to the studio, I got the guitar out and we started writing.  I asked her, "If you were a boy what would you do?"  So we just went line by line–the song came together really quickly.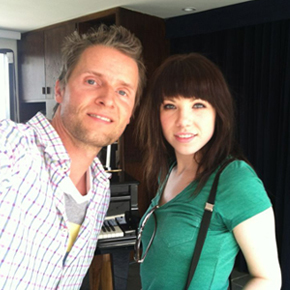 DK: Did you think at first that it could be a hit?
Gad: Yes, while we wrote it I already felt it could be a hit. It was one of the songs I had a strong feeling about. Then two months later, (A&R exec) Max Gousse put me in a room with Beyonce–I had two days to write with her. Before we started writing, I played her a few songs including "If I Were A Boy." When Beyonce heard it, she jumped up and said "I want to record this song right now–I love it." So that day we recorded the song. This was at Jay-Z's studio in New York. We were moved to tears–it felt so good when she sang it. While she sang it she was dancing to it. And she was very fast recording her vocal takes–she knew exactly what she wanted.
A couple months passed, and then I heard rumors that "If I Were A Boy" would be the first single (from Beyonce's new album) and that they'd already shot the video. It became a big hit, and later on Reba McEntire also recorded it and it became a single on Country Radio.
DK: Four years ago you moved to Los Angeles from New York. What made you decide on L.A.?
Gad: I had always wanted to move to LA. When I first came to the U.S. (from Germany) I moved to New York. I moved there because it was closer to Europe, and I felt it would be easier to break into (the music business there) than L.A. But when I was in New York, I started to make many trips to L.A. and got to know many people there, so it became easy to make the move to L.A. There is more talent and opportunities for producers and writers here in LA.
DK: You are known to be a prolific, hard-working writer. About how many songs do you write and record each year?
Gad: When I first started in the U.S. I wrote about 60-80 songs a year, But in 2010 and 2011 I actually wrote and recorded 180 songs each year. This year (2012) it will probably be about 150 songs. Earlier this year, I broke my finger and took some time off. It's all good and healed now.
My writing & recording process has become more efficient; I've hired a fulltime mixing engineer, John Rezin, who worked for four years on American Idol. John now mixes about 70% of my songs. He's excellent at vocal comp-ing and doing the mixes. This saves me a lot of time, so I can concentrate on the writing.
DK: Do you play most of the instruments on your demos?
Gad: Yes, in most cases I play all the instruments. I also concentrate on working out the arrangements.
DK: Since you're also a producer, when you write & record a new song, are you already preparing it to be a master?
Gad: I think more than half the time, what I do on the demo becomes the finished record. I've had many times where a song is selected to be a potential single, and then the label asks me to re-record it, but it doesn't get better. The first recording can be magic, when you're not over-thinking it and just do it–it can be unbeatable. It's also the same with the vocal performance. That first vocal performance can be magical.
DK: For your writing sessions, what time do you usually start?
Gad: Around 1:00 pm, with some early sessions starting at 11:00 am. In earlier years I would do just one writing session per day. But lately, I'm gravitating towards  having two sessions a day. Still, we often would work on the song over two days so we can first sleep on it. Sometimes I have three sessions in a day, but that's a bit much.
DK: Can you describe your process for a typical writing session?
Gad: During a session we would write the song, lay down the tracks, and at the end of the writing I always try to get a really good vocal. Sometimes the first writing session would be from 1:00 pm to 5:00 pm, and then the second session would be from 5:00 pm to 10:00 pm. A few months ago, on the day before my birthday party, I did three sessions in one day: one was with Carly Rae Jepsen, the next was with Prince Royce, and then another session with a Lauriana Mae, all in one day. And all three songs all came out great.
DK: In both Los Angeles and in New York, you've always had two places–your studio and your home.
Gad: I like having two places–a home and a separate place for the studio. In Los Angeles I have a home for my family, and a separate house where I have the studio. So it's a clear separation; I can focus 100% on work at the studio, and then I go home and focus 100% on my family.
DK: I noticed that you've had a lot of success with Hollywood Records & Disney. How did you hook up with them?
Gad: I have a good relationship with (Disney music execs) Jon Lind and Steven Vincent. I've worked with Selena Gomez on each of her records.  Lindy Robbins and I wrote "A Year Without Rain" for Selena, which became a single and went gold. With Demi Lovato we had the "Skyscraper" single. I've got to give Jon (Lind) a lot of credit; he took a chance and picked "Skyscraper", which has a slower tempo, to be her first single. He fought for this song and it became a big hit.
DK: When you write with an artist, is it usually just with the artist, or do you bring a strong topline writer to co-write?
Gad: It really depends on how strong lyrically the artist is. Several of the artists are strong writers so we don't need to bring in a third person. I would say that for writing sessions, about half are just with the artist, and the other half are with the artist and a topline writer.
DK: Who are some of your favorite topline writers that you like to work with?
Gad: Lindy Robbins is amazing. Makeba Riddick is great. There are a lot of great topliners. I also like working with Steve Kipner, Stacy Barthe, Brian Howes, Andrea Martin, James Fauntleroy, Wayne Hector, Livvi Franc, Lil' Eddie, Priscilla Rene, Evan Bogart, Billy Steinberg, Josh Alexander, Lauren Christy, Autumn Rowe, Crystal Johnson, Danielle Brisebois, LP, Ruth Ann Cunningham, Sia, Rune Westberg and many talented others.
DK: Do you mostly write with artists for their projects, or do you also write a lot with topliners to pitch songs for other projects?
Gad: I really prefer to just write with the artist. Or I like sessions with the artist and the topliner. I generally don't like to sit with other writers and just try to write a song to pitch–I usually say no to that. Because I believe it's such a longshot to just pitch a song.
DK: Can you tell me about your label, Kite Records?
Gad: I have a record label called Kite Records. It's owned by David Sonenberg, William Derella and me. We're an independent–we can place our artists on different major labels. I've been working with my managers David Sonenberg and William Derella for eight years now. I'm excited about our new artist Chelsea Williams, who is signed to Interscope, and Susan Justice, who is signed to Capitol. We have a beautiful 17-year-old urban artist named Jessica Jarrell who is great. And we have 14-year-old artist named Jordan Jansen who has generated 30 million YouTube impressions all by himself. When we are promoting our new artists, we often produce videos on them. I do in-house videos of our artists with my assistant Josh Cumby, who's very talented. He does a lot of things for us.
DK: Lastly, I know you are excellent at creating tracks and producing your songs. Do you sometimes submit tracks to artists for them to write to?
Gad: Certain artists do want the producer to submit tracks to them. But I'm really not that type of producer who does tracks. I'm a realtime writer–I sit with the artist and I get inspired from them. I love starting fresh in the studio with the artist, and writing a song based on our inspiration.
Dale Kawashima is on Google+