Howie Day Talks About His Hit Album Stop All The World Now, Writing "Collide" And His Other Songs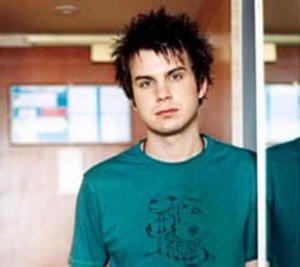 'I'm a fun guy, right?' Howie Day asks as we head down in the elevator to the Rhino Bar in the Newport Bay Hotel (in Rhode Island). And the 23-year-old singer/songwriter is just that, and then some. He is also one of the most genuine and appreciative performers of his age. Day is signed to Epic Records, has played with artists ranging from the Barenaked Ladies to Tori Amos to Sting, and has toured consistently since his teens, most recently in support of his latest release, Stop All The World Now.
Day is also known for his excellent, live performances, which are packed with high energy, raw emotion and an innovative musical styling. In addition, the guitarist/pianist has also had music featured in several television shows, and his cover of the Beatles' 'Help' appeared in the acclaimed movie & soundtrack, I Am Sam. All in all, the Bangor, Maine native holds a pretty impressive resume, and only hopes to keep adding more to it in the years to come.
In high school, Day found himself playing in local bars, ski resorts and at the local University of Maine, where his manager discovered him opening for Ziggy Marley. When it came time to make the decision whether or not he would go to college, it was an easy one. During his senior year in high school, he already had a full, fall touring schedule lined up. So Day made the decision to bypass college, and focus on what he truly loved: performing his music live.
Day's hard work touring paid off, and in 2002 he was signed to Epic/Sony Records. 'The head of marketing for Sony Music France saw me in Maine when I was 17,' said Day. 'He was on vacation and I was playing at this bar in Bar Harbor. [A few years] later, when we went to France we had dinner with him, and he goes, (French accent) 'Have you ever played in Bar Harbor?' and I was like, 'I have.' And he said, 'I thought to myself, how is this kid gonna get discovered in such a small place?" explained Day. As it turned out, not only did Day get discovered, but he has received critical acclaim, and built a solid following via his extensive touring schedule, especially of colleges.
As we come out of the elevator and head down to the bar, Day is stopped by two glowing fans, with which he graciously takes a moment to talk with and sign autographs. This is not uncommon behavior for Day, who notably has always shown such appreciation for his adoring fans. After all, he is quite a likeable guy. He jokes around with the waitress, dances around in his seat to the music, and makes friendly conversation with those in the bar.
Day has been most recognized for his work as a solo performer, using effects pedals to loop pieces of music and then play over them, creating the sound of a band. This past fall, Day added a band for the first time, and is enjoying the new experience. 'I like both,' he explains. 'The solo show is very polished; I've been doing it a long time. But the band is very new for me. So I think it's one of those things where you're just seeing them both at a different spot in their progression. The band, if you go from A to Z, might be E right now, whereas the solo show's probably more at S, as far as being comfortable with it and knowing what works. I do like going back and forth, between doing the full band and solo gigs. It keeps me really into it; it changes it up a little bit."
We pause the interview briefly, as Day is greeted by two fans that ask to have their picture with him. He tells them yes, jumps up and prepares for the picture, and it is then they tell him that he has to wear a hat. The girl dons a pink crown, and Day is handed a blue, soft pointy hat that he straps onto his head – a sight that resembles that of Mickey Mouse in Fantasia. 'It matches my shirt!' he exclaims, pointing at the light blue 'Don't Mess With Texas' t-shirt. The charismatic crooner is quite the good sport about it, posing for several candid pictures. For him, it was a funny experience, for them, it probably meant much more. The experiences, however, all tend to blur together, as he is still embarking on his journey, and claims that thus far, it all seems to be one big experience.
Day's first album, Australia – a remarkable collection of songs that he paid for out of his own pocket – was released independently at the age of 19. This album was re-released once he signed to Epic, and was followed by The Madrigals EP, a collection of demos and live material. In October of 2003, Day released Stop All the World Now, an exceptional album reflecting life, love, and his own views of the world, which included the hit single, 'Perfect Time Of Day.' As for this release, Day said, 'It was a really exciting record to make, and a really scary one too. There were all these opinions and recommendations for the album coming from all these different directions. You have to make sure you stay true to your vision. I wanted to make a little more sedated record. There was also a lot of talk like, 'Howie got signed to a major record label, he's gonna sell out now.' I figured if I made a sedated record, that's kind of the opposite of what everyone thinks you're going to do. I wanted to make a moody, beautiful sounding record, because I thought Australia was kind of clean sounding, younger, and optimistic.' Day also found that working with a label gave him many more options, including being able to record string sessions for the album, which perfectly accentuated several tracks. 'All these doors opened and I went, 'Okay, I'll do that one, that one that one" I tried it all, which I think will help me out eventually for the next record, because I'll know these things and can pick and choose what I want.'
Day has played with a variety of artists, but no matter who it is, he claims he really enjoys being the opening act more: 'Not that I want to open for people for the rest of my life, but right now it's kind of fun,' he explained. 'When you're headlining, everyone comes to the show and they pay the 20 bucks to see me, and I have to live up to this expectation. They've probably seen the show before, or maybe they haven't, but they have the record and they're expecting something, and you obviously don't want to disappoint them. I think with an opening act there's really no pressure. It's more of an underdog kind of feeling. On the fun scale, being the opening act is pretty fun.'
For Day, no act was more fun than his most memorable moment in touring – opening for Sting. 'I did two shows with him out in Colorado and I had been doing a lot of opening gigs so it was pretty run-of-the-mill. I talked to a few of the band members; they were asking about the looping stuff. So I'm doing my show and after three songs I glance over to the stage, and Sting's standing on the side with his arms crossed just kind of watching. That made me terrified. It's not about the 8,000 people in front of me; it's about this one guy watching me. It was pretty memorable. It's one of those things I'll tell my grandkids, and they'll be like, 'Who's Sting?"
Day's quirky personality shines through that night at his solo performance at the Newport Sunset Music Festival in Rhode Island. Simply walking on stage elicits screaming from the girls and loud cheering from the guys. Thunderous applause rains after songs, and between them Day perfectly delivers his comedic stage banter which has the entire crowd roaring with laughter. Day's songs soar however, his music a perfect entwinement of his own unique brand of instrumentation, prolific lyrics, and enchanting vocals. There are times when Day wows the audience as he stands back from the microphone to yell various vocals. Never has anyone screamed with such perfection.
Day is not working on a new album just yet, but has been writing and trying out new songs.  He noted that he's just enjoying writing now, because he can do it on his own time and doesn't have to worry about it being forced.  He has, however, just released Howie Day Extras, a four-song CD with an unreleased track and three live songs.  With these new songs comes yet another tour.  He will play with his band this summer on a nationwide tour with O.A.R.  For now, he's just enjoying playing live with the band, and has the vision that he will be doing this for much time to come. Hopefully, as he explains, he will have a nice collection of stories to tell his grandchildren.  Howie Day may be young, but he has a good head on his shoulders, even if it means having to wear a silly hat once in a while.  Something tells me, however, that he is quite capable of pulling it off.
Nicole Roberge is a freelance music/entertainment journalist. She can be contacted at [email protected]