Singer/Songwriter Jason Mraz Discusses His Album Mr. A-Z, His Hit "Wordplay," And Other Songs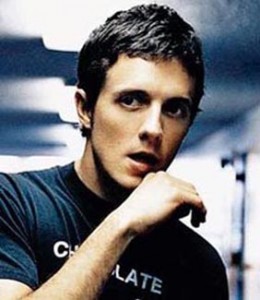 'The sophomore slump is an uphill battle,' Jason Mraz sings in 'Wordplay,' a hit single from his latest album Mr. A-Z. And in fact, despite the success of his 2002 debut CD Waiting for My Rocket To Come, he was not completely nervous about the expectations of a sophomore release. 'I was for a day. It was a Thursday,' he recalls. 'Just that day. And I wrote 'Wordplay' that day. It got me through it – got me over the pressure. Then I was able to get through the whole project and do the record.'
That nervous Thursday is now far behind Mraz, whose album Mr. A-Z debuted at # 5 on the Billboard album chart and includes two successful singles, 'Wordplay' and 'Geek In The Pink.' And while his first album introduced fans to sunny songs like 'The Remedy' and 'You & I Both,' Mraz didn't feel like he had to follow it up with any sort of pattern. In fact, he was more nervous the first time around. 'We recorded the first album in a month and when it came out I was totally paranoid. This one was a ball. This time we made our own version of the album first, so that when we went in we could play a map of where we were, not just where we wanted to go,' he says. And so Mraz shed the sophomore slump expectations and instead did what he did best – honed his own eclectic sound and made songs that are sure to inspire, ignite, and often times, raise a smile.
It is difficult to describe Mraz's music, which is culled from a wide range of styles. The Virginia native honed his talents on the San Diego music scene performing at the coffeehouse Java Joe's, mostly playing acoustically with Djembe-styled percussionist Toca Rivera. Mraz infused a bit of soul, jazz and even scats into his songs, and the varied rhythms that drove his music kept fans moving. His lyrics were luminous, and it became evident that Mraz was not just another in the batch of singer-songwriters. Originally signed to Elektra Records (which has since merged with Atlantic Records), Mraz eventually added a band, which has enabled him to further explore his sound, and boost his live performances.
'I'm always thinking [about how I can enhance] my live show,' says Mraz. 'I'm always writing songs with my live show in mind. I'm thinking, 'this is gonna be a great song onstage.' Also, I try to have a lot of variety in my show. The thing that I like about the live show is that it can go all over the place,' he says. That passion for live music and variation is evident in his recorded music, where an eclectic sound can take you from ballads to pop to rock to hip-hop. Each song stands apart from the other, which keeps things exciting. There's a never a dull moment with Mraz. So how does he describe his music? 'Singer-songwriter based pop'with a touch of humor and sarcasm along the say,' Mraz says. But he adds, 'you can find it at the pop-rock section at the record store.'
As a songwriter, Mraz can be satirical or humorous with his lyrics. However, he can also write about deeper, thoughtful themes, such as 'Song For A Friend.' Mraz wrote this song for his roommate, Jerry, that he lived with for years. 'He drove me to all my first gigs when I didn't have a vehicle. He also paid the rent for a year when I couldn't. The guy's really been there for me. Jerry's a selfless type of guy that doesn't want repayment. So I thought what better way to do it than to thank him on an album, in a song. He's a music lover – that's why he supports me. I wanted to throw back at him all the brilliant things that he had done,' he says. It's that sort of personal connection in his music, that translates through to his fans.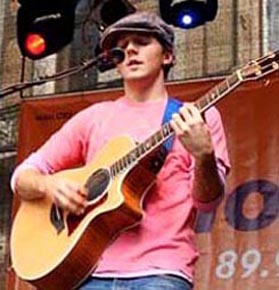 Another interesting and unique song on the album is 'Mr. Curiosity,' where Mraz showcases a bit of his opera skills near the end of the song. Yes, Mraz did study musical theatre at a school in New York, and his fans know he's a strong vocalist. But opera? Yes, he can do that too. So does this mean he may be getting into more of this in the future? 'I hope so. I'd like to think that there's some kind of crazy Broadway revival that's perfect for me'I know I could sing it.'
Mraz is open to performing a wide range of musical styles. 'I would love to experiment with different things,' he explains. 'I would love to do a jazz album – I just really want to do it. For one, I think it makes a true artist. I don't think that you just should stay in a category, like where you're competing only against Gavin DeGraw…because that really isn't me.' But his most innovative idea yet would be for his next album. While he's still trying to figure out if he'd like it to be an acoustic album or a hip-hop album, he came up with the idea of an acoustic-driven, hip-hop record. Jason Mraz is definitely ambitious.
But for all of his ambitions and accomplishments, he still fondly recalls the quiet days of playing solo (with guitar only) at the Java Joe's coffeehouse. 'I think of all of it, I'm most proud that I got to play at Joes. It taught me so much,' he says. All in all, it's clear that whether Mraz performs solo acoustic, or with a full band in a wide range of styles, he will be an artist to keep following and listening to.
Nicole Roberge is a freelance music/entertainment journalist. She can be contacted at [email protected]