Gavin DeGraw Discusses His Platinum Chariot Album, And His Hit Songs "I Don't Want To Be" And "Follow Through"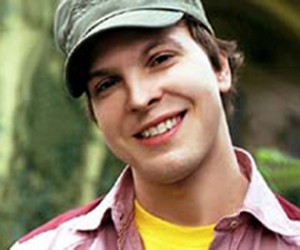 It's 4:00 pm in Las Vegas and Gavin DeGraw has one problem: 'I need to do laundry.' He asks (over the phone) if he can use my washer and dryer, to which I tell him sure, though I live in Connecticut. That doesn't seem to faze him, so he goes on. 'I have the entire Charlie Brown gang's laundry, including Pigpen,' he says. But doesn't he know that Pigpen is the dirty kid and doing laundry probably hasn't even crossed his mind? 'I know, but he needs a new image,' he claims. 'We're gonna take him on Oprah and get him cleaned up, and then we're gonna submit him to American Idol.' As if DeGraw doesn't have enough on his plate, he is also making it his mission to clean up Pigpen's act. What a guy.
But if there was one problem he doesn't have to worry about, it would be his music career. With his #1 hit single, 'I Don't Want to Be,' receiving heavy airplay for months, his debut album Chariot has just gone platinum. Currently switching between his own headlining tour, and the One Tree Hill tour, DeGraw is perfectly comfortable being on the road and performing every night, to a wide range of audiences.
The One Tree Hill tour spawns from the popular WB show, where DeGraw's aforementioned song is its theme. The tour, which also features The Wreckers and Tyler Hilton, brings about a new fan base, which is something that DeGraw is happy to see. In addition, he has enjoyed his affiliation with the television show, and is glad that more shows like this are reaching out to a young audience and giving them new alternatives to music. 'I've been really lucky,' he said. 'I think that this is the best experience you could have with a television-associated tour, as far as legitimacy is concerned. I know a lot of people might have a problem with it because of its association with young American pop culture. But it's not a dumb, American pop culture, it's just young. They're not seeing any of the usual idiotic stuff. The people on this tour are actually talented musicians, singers and writers, and I'm proud to be a part of it. It's just kind of refreshing.'
DeGraw definitely has a point. Several TV shows that appeal to a younger age range are making an effort to get good music out there, not just the normal fluff that is usually force-fed to young people. 'They're not just simply driven by their own image. People who are here are not image driven musicians or actors, which is quite lovely.' And that is something of major concern for the young singer/songwriter, who honed his skills playing in the New York City club scene.
'There are so many factors with music now. Will people like the jeans that I wear? Do I have enough forearm muscle? These are things that a lot of what we call music listeners look at to buy their albums,' said DeGraw. 'I was always worried about that. So I decided to try to make sure my jeans fit and that I worked out my forearms enough, and took as many dance lessons as possible,' he joked. 'Of course I didn't! You just hope that people won't be too concerned with the things that don't really matter, and just listen to the song. I'm so concerned with the way music sounds, I just wish it was only the sound of it and nothing else. That's what it was designed for. I'm a guy who really has my mind set on being a bit of a purist as far as music is concerned. I've always had the utmost respect for music.'

Here's the video of Gavin DeGraw's hit, "I Don't Want To Be."
DeGraw's musical interests draw upon artists like Marvin Gaye and Sam Cooke, who he pays tribute by doing covers of their music at his live shows. But it was Billy Joel who truly inspired him to pursue his musical interests, and though he knew he would do music, he did not know how far it would take him. 'I didn't know what level of success I would have. I didn't have any sort of expectations, because I don't believe in expectations'I believe in disappointments,' he laughs. 'So I always try not to have expectations, even though I've had illusions and disillusions in my mind of playing huge arenas and stadiums when I was daydreaming. But I've never really had an expectation of any level of success, and I still don't.'
After making a name for himself in New York, DeGraw signed with J Records and released his album Chariot 'an intense mingling of sultry pop songs with strong lyrics and melodious instrumentation. His piano-playing shines through on each song, as his first single 'Follow Through' got him attention, and his recent hit 'I Don't Want to Be' garnering him quite a fan base. The song, with lyrics like, 'I don't want to be anything other than what I've been trying to be lately'I don't want to be anything other than me,' was one that DeGraw felt strongly about after he wrote it, although he wasn't sure that it would be a 'hit.' 'I felt like it was a powerful tune. I thought that it would have an impact on people's psyche and on their tapping toe. But it doesn't necessarily mean that I felt it would be successful,' he said. But it has been. And so has his album, which was recently re-issued with a bonus disc and entitled Chariot Stripped. This new disc contains each song that is on the album, but in a stripped down, mellower form, as well as having a bonus track, a cover of Sam Cooke's 'A Change is Gonna Come.'
Gavin DeGraw is an artist who believes in pure and organic music, and that is definitely demonstrated in both versions of Chariot. So for someone who is so dedicated to songwriting, what is the most important thing to remember when constructing a song? 'That's hard to say,' he tells me. 'I don't have all the answers on that, but I would say that one of the most important things to do is to have a topic. Hopefully when you set out to write a song, you can have something in mind'your goal, like you're on a journey. Even if you're Christopher Columbus and you end up on the wrong piece of land, hopefully it's a good one.'
DeGraw doesn't just write good music; he is one of the most exhilarating live performers on the touring circuit today. Though playing a show night after night can be tiring, DeGraw maintains high energy and raw emotion throughout his set. 'There are times when you might feel tired and like you just want to take a nap as show time is closing in, and that's bound to happen at some point. But then they'll say 'show time in ten minutes', and you're up. Any fatigue that you thought you had is no longer a concern. It's like, if you were kind of tired sitting in the trenches, and all of a sudden somebody starts shooting at you, suddenly you're not tired anymore,' he muses.
And though his live performance is always a crowd pleaser, it is after his show where fans get to meet the real Gavin DeGraw. A notoriously fan-friendly performer, when he is able he stays after to sign autographs, and has been known to cater to fans waiting in line and sign for hours. He notes the importance of giving back to his fans what they have given to him: 'These people are the reason I can be out here doing what I love to do. I should give them the respect of giving as much time as I can. You don't always have the time to meet and hang out with everybody. But the fans are showing up and you have to keep in mind that not everybody has money to go out and not everybody has time (to come to a show),' he said. 'When I was growing up, I was broke. I went to maybe one concert or two concerts my entire youth until I was probably 21. You have to think about that as a performer, that these people are coming out on a day they don't have off, or a day they don't have the time or energy to go out, but here they are. They're spending money, and it's not extra money. They could spend it on something else they needed, and they're spending it on this show.' DeGraw is genuine in his belief that it is important to give back to the people who like his music, and when he meets them, it is almost a guarantee that he will greet them with a big smile, and a sincere, 'Hi, I'm Gavin.'
Despite his recent success, DeGraw still has a long way to go in reaching his goals. 'Musically'this isn't the end of the line. This is only the very beginning. We're on the baby hill right now,' he said. But that baby hill is growing every day, with plans for more touring after he is done with the current one. Though he is not sure with whom yet, he'd love to tour again with some bands that he is friends with, like Maroon 5, Howie Day, and Los Lonely Boys'people, he says, that are out there trying to do the right thing and create good and honest music. He is also currently working on various projects in the studio, including some with Queen and Diane Warren.
But that is all in the future, and today in Las Vegas, there are other things on his mind. Perhaps the Vegas heat is getting to him, because his problems don't end with his laundry situation. DeGraw claims he couldn't get into the hotel pool because he didn't have a room key, so he instead went swimming in the fountain. It's not what you'd think your typical Vegas scenario to be, but then he meets that assumption and tells me, 'I lost the deed to my house in a game of blackjack.' But always persistent, he jokes, 'If I just throw down another deed, I'll probably get both of them back!' Hopefully his gambling, and laundry, woes got straightened out. The smart bet is that Gavin DeGraw's career is definitely on the rise, and he will be making great music for a long time.
Nicole Roberge is a freelance music/entertainment journalist. She can be contacted at [email protected]