John Rzeznik Talks About The Goo Goo Dolls' Compilation Album, Olympics Song, Next Album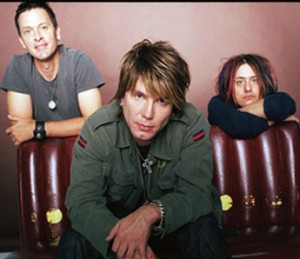 While Goo Goo Dolls frontman/guitarist John Rzeznik and bassist Robby Takac start writing and recording the follow-up to their hit 2006 album Let Love In, they're giving their fans worldwide plenty of new cuts to listen to. They released the new track 'Real' via iTunes to coincide with the start of the Beijing Olympics, as part of the all-star AT&T Team USA Soundtrack, which is a compilation benefiting the U.S. Olympic Team.
In addition, on August 19, the group – which also includes drummer Mike Malinin – released Greatest Hits Volume 2: B-sides and Rarities, their 12th overall album and follow-up to last year's Greatest Hits, Volume One: The Singles. Among the rarities on the new collection is a demo version of 'Iris,' their twice-nominated breakthrough hit that spent a record 18 weeks at #1 on the Billboard Hot 100 Airplay chart. Volume 2 also features a brand new mix of Let Love In's 'We'll Be Here (When You're Gone)' and their renditions of the Plimsouls' 'A Million Miles Away,' INXS's 'Don't Change,' Fleetwood Mac's 'I Don't Wanna Know,' and a live take on  Tom Petty's 'American Girl.'
The accompanying DVD tracks the Goo Goo Dolls' expansive history of 23 music videos, including those for 'Iris' and their other hits 'Name' (from their 1996 album A Boy Named Goo) and 'Slide' (from 1998's Dizzy Up The Girl). The disc also has clips of their parade of Top 10 singles 'Black Balloon,' 'Dizzy' and 'Broadway' (from Dizzy Up The Girl), 'Here is Gone' and 'Sympathy' (from 2000's Gutterflower) and 'Stay With You' and 'Let Love In.'
Though the band played a few shows in the U.K. this summer, most notably the O2 Wireless Festival at London's Hyde Park, they've been off the touring treadmill since concluding their 18-month run after the release of Let Love In that wrapped in September 2007. Until the Goos get back on the bus, fans can enjoy six live tracks on the DVD from their sold-out show at Colorado's Red Rocks Amphitheatre in June 2007, including 'Before It's Too Late' (from the Transformers movie soundtrack) and 'Better Days,' the lead-off single from Let Love In.
'The idea behind the second compilation package was to give our fans a chance to hear a lot of music they would otherwise not have a chance to enjoy,' says Rzeznik. 'Some of these songs got some radio play but many people didn't get to hear them, so we thought it would be fun to give them a second shot. We thought it would be cool to share all of this to keep ourselves out there while we start working on the next album. For the past few weeks, I've been listening to a lot of music and collecting ideas, working at home in my garage in L.A. No matter how much success we've had, there's always a lot of anxiety for me as the time comes to get to work on a new project. I work a lot better when there are deadlines'so if we don't get them from Warner Bros., I create some arbitrary ones myself. Without that, I have the tendency to write the same song over the course of two or three years, and never finish. It's much better to create a point where you have to walk away.'
While after many years on the road a lot of artists complain about the stress and crazy lifestyle, Rzeznik enjoys how a tight schedule contributes to this discipline. 'When we're on the road, I have to get up every morning and go to work,' he says. 'We're working 12-15 hours a day on tour, running on fumes half the time, but it's good to know you're getting paid at the end of the week. I have a strong work ethic, and it's hard to adjust when we're back home, where we're just messing around with songs. It doesn't feel like I'm doing anything. I really have to discipline myself to take care of what I need to in the morning and then get to work on songs in the afternoon. I sit in my garage and formulate chunks of ideas. Then I take the melody lines I've been singing and put music behind it, before getting together in the studio with Mike and Robby and taking it to the next level.'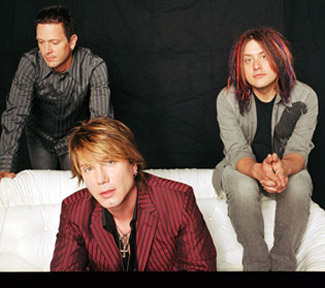 The upcoming project will be the first that the Goo Goo Dolls will write and record fully at their new Buffalo, NY-based state of the art facility, Inner Machine Studios. It took a year to build and more months of sonic tweaking before he and Takac – who now lives full-time in Buffalo – could open it officially early in 2008. When they're not using it, they rent it out to musician friends for their projects. Rzeznik is happy to have a place to call home, so to speak, but says that running a studio of this size and scope is something of a mixed blessing..
'We wanted to have a place where the clock wasn't constantly running and we could do things the way we wanted to do them,' he explains. 'It seems like it took forever to get it up and running creatively, but now everything works and we're excited about doing our new project there. Still, being a studio owner isn't something I'd recommend to anyone. There are just a lot of details you have to get right before it can become a great creative sanctuary. It's cool to have the freedom to be there anytime we want, though, and it saves a lot of money not having to go to major commercial places anymore.'
Recording the Glen Ballard-produced Let Love In back home gave the Goo Goo Dolls a certain peace of mind they're hoping to feel this time around. Before starting that album, Rzeznik says, 'I wasn't really feeling any kind of inspiration in Los Angeles. I was sitting here just beating my head against the wall trying to write songs and I wasn't feeling inspired at all.' He packed his recording gear and guitars in a U-Haul truck and drove across country to Buffalo, where he hooked up with Takac and Malinin and set up shop in a 100-year-old Masonic Ballroom.
It's no surprise that the band members find their creative juices flowing back there. The group and its hometown fans share a mutual admiration that inspired them to play a free gig for more than 60,000 fans. It rained on the outdoor show, but everyone soldiered on; the show was so memorable that the band captured it for posterity on The Goo Goo Dolls Live in Buffalo, July 4, 2004 CD/DVD release. 'It was awesome,' Rzeznik says. 'I remember being up there playing and going, 'Sometimes God just cuts you a break!'
The veteran frontman then offers some interesting parting comments on the changing music industry and just what it takes for young singer/songwriters to make it these days: 'When we were coming up, you could join a band, play gigs for 20 people in places all over the country and get picked up by a major label. Now the internet is playing a bigger role in finding artists, there are more artists being packaged by producers and a lot of celebrities from other fields making records. But there are some advantages now. I tell kids to get themselves a ProTools rig or M-Box, figure out how to work it, and make sure you write good songs.
'That's really the key to everything,' he adds, 'great songwriting. When we start out we want to be someone else, but it's important to let ourselves grow beyond imitation and develop an original voice comprised of these other voices. I listen to the radio these days and a lot of bands sound alike. Plus record companies are changing so fast and you don't know if they'll be around in five years. But instead of being discouraged, dig in deeper and get more out of yourself and your band. Believe in what you believe and believe in yourself. And unless you're getting input from someone who has done more than you, don't put too much stock in your critics. The payoff is wonderful, being able to be part of people's lives in small ways, finding out that our music has meant a lot to people and helped them through hard times. It's easy for rock stars to whine, but seriously we're lucky we have such an amazing job. It's got its problems and weird things to deal with, but it sure beats getting up and going to work in a factory every day.'
Jonathan Widran is a free-lance music/entertainment journalist who contributes regularly to Music Connection, Jazziz and All Music Guide. He can be reached at [email protected].