'Weird Al' Yankovic Talks About His Album Mandatory Fun, And His Hit Songs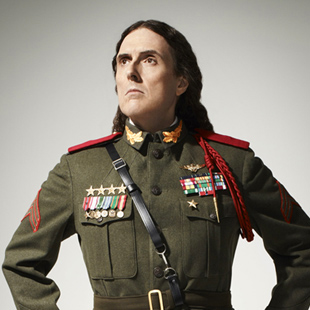 From digital downloads and streaming to the proliferation of satellite and internet radio, YouTube and countless new radio formats, the pop music landscape has changed significantly since 1983, when 'Weird Al' Yankovic released his self-titled debut featuring his now classics "Ricky," "I Love Rocky Road" and "My Bologna." Yet one thing hasn't changed for artists charting hit singles—the likelihood that the master song parodist will take their tunes to comedic places they could never have imagined.
On his latest album Mandatory Fun, Yankovic's targets include ubiquitous smashes by Pharrell Williams ("Happy"/"Tacky"), Robin Thicke ("Blurred Lines"/"Word Crimes"), Lorde ("Royals"/"Foil") and Imagine Dragons ("Radioactive"/"Inactive"). The talented singer & accordionist also includes one of his trademark polka medleys ("NOW That's What I Call Polka!"), which includes snippets of recent smashes like "Wrecking Ball, "Call Me Maybe," "Pumped Up Kicks," "Gangnam Style" and "Best Song Ever."
As renowned for his highly successful videos parodying Michael Jackson ("Eat It," "Fat"), Coolio ("Amish Paradise"), Madonna ("Like A Surgeon"), Nirvana ("Smells Like Nirvana") and Chamillionaire ("White & Nerdy") as he is for the tracks on which they are based, Yankovic has partnered with such platforms as Funny Or Die and Yahoo! in a bold promotional move to roll out eight music videos (four parodies, four original songs) upon the release of his new album, one each day beginning on July 14. His clever visuals extend to the album packaging artwork, which mocks communist and socialist propaganda and features an image of the artist looking stern and wearing a Russian military costume as planes fly over him.
A staple in pop music for the past three decades, Yankovic is the biggest-selling comedy recording artist in history, with over 12 million albums sold. Now in his fourth decade, he has released 13 studio albums, won three Grammy Awards (with 14 nominations), earned four gold and six platinum albums in the U.S. and performed over 1,000 live shows. As testament to his longevity, the versatile performer's first Top 10 Billboard album (Straight Outta Lynwood and single ("White & Nerdy") were both released in 2006, nearly three decades into his career. His last studio album Alpocalypse (2011), featuring the Lady Gaga parody "Perform This Way," charted at #9 on the Billboard Top 200—the highest debut of his storied career. The collection earned two Grammy nominations, for Best Comedy Album and Best Short Form Video for "Perform This Way."
"Comedy and music make me personally feel good, and I can't imagine doing anything else for a living," says Yankovic, who received his first exposure as a teenager via Southern California and syndicated comedy radio personality Dr. Demento's radio show. "If I had to pick between the two, there's no way I could do it. I know other people love the combination too, and I feel blessed to still be able to do it. Nobody expected me to hang around this long. I remember how hard it was to get my first record deal in the early '80s. People thought my stuff was funny but thought it might endure six months top because it was just novelty music that would be here today, gone tomorrow.
"The irony of my life is that in an industry where so many promising artists come and go, I still have a career," he adds. "Some of that is luck and being surrounded by very talented people—and obviously I benefited by launching my career at the dawn of the MTV age so I could create videos as a natural extension of what I was doing. And even though the material is ostensibly funny or silly, there's no less craft involved in it. I really work hard to write the best parodies and original songs I can."
Though Yankovic has recorded scores of clever originals throughout his career, it's his seemingly effortless ability to craft pop parodies that drives his comedic genius. Asked whether he has actual video images in mind when he writes, he says, "If I write a good parody it will probably lend itself to a video, but I always start with the songs. First and foremost, they must stand on their own as song lyrics and I'm always mindful of their ability to work first without visual aid."
Further explaining his unique songwriting process, Yankovic adds, "In general, everything begins with the title hook, which is often a pun on the original song title or something that changes its meaning or is the inverse opposite. From there, it's about finding every which way to go and make it funny with a story that revolves around the hook. People ask how I come up with those and my only response is that my brain is wired that way. It comes naturally for me. But I don't just dash these out freestyle. Once I have a concept, for a week or two I will just jot down notes and thoughts, phrases and words that have something to do with the concept. Once I have dozens of pages of notes, I'll review what I have, pull out the best ideas and see what I can twist and make funnier. Then the craft element enters and I work towards making the story and its best lines and rhymes fit the parameter of the original song."
Yankovic, who now has an 11-year-old daughter who helps him keep his finger on the pulse of the hippest sounds in pop music, has always believed that a great song is one that has a musical and lyrical hook that "somehow grabs you the first time you hear it on the radio." The ultimate key to a memorable parody? "As with a regular song," he says, "you've got to hold their attention. Some parodies hit the punchline in the first chorus and peter out from there. I always try to write a story that will hold people's interest all the way through—where the third verse is actually better than the first. That's always a challenge but when it works, the results are a lot of fun."
Jonathan Widran is a free-lance music/entertainment journalist who contributes regularly to Music Connection, Jazziz and All Music Guide. He can be reached at [email protected]. He is also on Google+