Interview With Hot Band MAGIC! About Their #1 Hit Single "Rude," Their Debut Album and Songwriting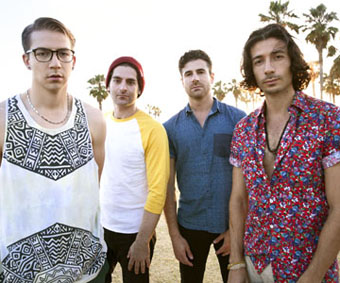 Just in case pop fans needed a reminder, fast-rising band MAGIC! has titled their highly anticipated debut album Don't Kill The Magic. Considering the ongoing global success generated by their lead single, the reggae fusion-driven "Rude," that's unlikely to happen anytime soon.
Having debuted at #97 on the Billboard Hot 100 in early May, the song—pegged "Song of the Summer" by "The Today Show"—is now a #1 Billboard Hot 100 pop hit that has also charted on several different radio formats (CHR, AAA, AC and ALT) and reached #1 on the U.S. Shazam chart, and was #1 on the iTunes chart.
Released as a digital download globally several months before it was out in the U.S., "Rude" has charted in over 35 countries, achieving platinum status in several countries. The official video has received over 19.7 million views on YouTube. In addition, MAGIC!'s song "This Is Our Time" appears on the 2014 FIFA World Cup Official Album, and they are also featured on "Cut Me Deep," a track from Shakira's new self titled album. This track was co-written by MAGIC! with the Colombian icon and produced by the band's Grammy-winning lead singer Nasri and Adam Messenger, his longtime partner in the production team The Messengers.
"There's no other way I can explain the success of 'Rude' except that it's a combination of a catchy lyric and melody and a fun, fresh take on reggae with strong musicianship from the guys," says Nasri of his MAGIC! bandmates, including Mark Pelli (guitarist & band co-founder), Ben Spivak (bass) and Alex Tanas (drums). The group is now based in Los Angeles, but they're originally from Toronto, Canada."How we wrote it was that I had a rough night with an ex-lover and the next day I was with Mark talking about it, and the lines 'Why you gotta be so rude/Don't you know I'm human too?' just popped out. He thought it was a good hook, but I actually didn't like it much at first. A few months later we revisited it, and I had changed my mind and started to like it.
"I remember sitting with Adam and telling him about how Mark liked it," he adds. "Adam dug it too and we came up with an upbeat reggae groove and I started singing the lyrics—and 15 minutes later half the song was written. I thought it would be better if I changed the story's perspective, so I had this picture in my head of a guy asking his father for his marriage blessing and getting rejected and went with it. It's fun, soulful, easy and you know the hook right away. That's what we want our songs to do."
Nasri Atweh brings years of success as an artist, songwriter and producer to his role as frontman of MAGIC! At 19, the Toronto native walked into a local radio station with a rough demo—which ultimately led to a deal with Universal Canada and two popular singles as an R&B artist. In 2002, he won the John Lennon Songwriting Contest with a song he wrote with Messenger.
The two later formed The Messengers and helped spur the reunion of New Kids on the Block, before becoming a Grammy-winning production team. Nasri has also written for numerous top artists, including David Guetta, Shakira, Cody Simpson, Cheryl Cole, Boyzone, JLS, Kat DeLuna, Elliott Yamin, Jason Derulo, Akon, Pitbull, Christina Aguilera, Chris Brown, Big Time Rush, Michael Bolton, JoJo, Jay Sean, Vanessa Hudgens and Iyaz. The Messengers earned Grammy nominations for their work on Justin Bieber's My World 2.0 (Best Pop Vocal Album) and Chris Brown's Graffiti (Best Contemporary R&B Album) and won the 2012 Best R&B Album Grammy for Brown's F.A.M.E. Their collaboration with Bieber and Rascal Flatts on "That Should Be Me" won a 2011 CMT Music Award for Best Collaborative Video.
When Nasri first heard Pelli playing with Canadian singer-songwriter Justin Nozuka, he heard "some beautiful colors in his playing" and felt that he could emote on his guitar as powerfully as the artist he was supporting. "The only other person I ever felt that with was Adam," Nasri says. "So a bunch of time later Mark had moved to L.A. to pursue songwriting and we hooked up through a mutual friend. He came by my studio and we became fast friends and started to develop a creative relationship. I had been thinking of forming a band for the last five years, but always feared being unhappy working with other musicians who didn't share my vision. But with Mark, I knew immediately we would be lifelong friends."
During one of their early writing sessions in 2012, Pelli strummed a reggae tinged riff and something clicked. "I'm a huge fan of The Police, and I always wanted to do a project that merged reggae, rock, pop and a little soul. The moment he began playing, it felt natural. Everything came together instantly. We began recording and the sound was so locked in on every song. That's even where we derived the band name from. Everything simply worked like MAGIC! Within three weeks, Alex had also moved to L.A. from Toronto and the three of us started playing. Ben joined about five months later. The album is pretty diverse with a lot of rock and pop, but the reggae is a natural outgrowth of our musical roots because Toronto has a big Western Indian community and reggae is very popular there."
Asked to describe his songwriting process, Nasri engages in a playful metaphor about walking down the same street every day, but with slightly different changes in your surroundings. "A car may drive by, it might rain, a bird may fly over you, the wind may be still or breezy," he says. "It's essentially the same process but the walk is always a slightly different experience. So I see it like taking a walk with my musical buddies where you never know what will happen. Sometimes I actually dream songs. A melody may pop into my head, or maybe if I'm with Mark and he's fidding with his guitar, I will say, 'What's that?' and riff on it. Or Alex is listening to some dirty reggae and making a track, and I'll say, 'That's hot, can you flip it?' and we'll turn it into a catchy pop song. You just never know what's going to happen. We're a new band so in some ways we're always getting to know each other every time we write."
As for advice to aspiring songwriters, he says it's all about attention to detail. "That's the biggest thing people look past. I have a pretty intense attention to detail ethic. Anyone can start a song with a burst of inspiration, but finishing it and taking it all the way home requires ongoing inspiration. You really have to love the song you're working on so this carries through if it takes a few weeks to get every last detail right. So the key is, write what you like and don't worry about getting your hands dirty. That's what makes MAGIC! tick so far. We're very confident in our ability to write a good song."
Jonathan Widran is a free-lance music/entertainment journalist who contributes regularly to Music Connection, Jazziz and All Music Guide. He can be reached at [email protected]. He is also on Google+