Taylor Swift Interview (2007): She Discusses Her Debut Album, Taylor Swift, Her Hit "Tim McGraw", And How She Got Started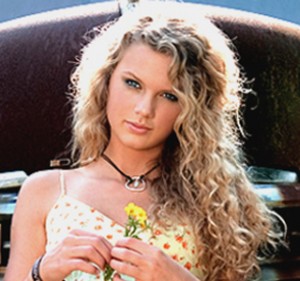 Singer & songwriter Taylor Swift may only be 17, but she has quickly established herself as one of country music's brightest, young stars. Propelled by the success of her breakthrough single 'Tim McGraw,' Swift's debut album Taylor Swift (on Big Machine Records) has already been certified gold just three months after its October 2006 release. In addition, music industry pros and fans alike are learning that Swift is not just an attractive young singer, but a skilled songwriter who wrote or co-wrote all the songs on her album.
In a new interview, Swift talked about the rapid success of her debut album, and how she has made the transition from being an unknown artist to rising country star. Swift discussed how she focused on her songwriting early on, how she signed a publishing deal with Sony/ATV Music at age 14, and that she has written over 200 songs. Also, Swift recalled what inspired her to write her unique hit, 'Tim McGraw.' And lastly, when asked, she gives advice to young artists who are trying to break into the music business.
Swift grew up in Wyomissing, PA, where she learned to sing at an early age. In particular, she was influenced by her maternal grandmother, who was a professional opera singer. By age 10, Swift began performing at local karaoke contests, festivals and county fairs, and she recorded some rough demos. At age 11, she sang the national anthem at a Philadelphia 76ers NBA game.
When she was 12, Swift learned to play guitar and started developing her songwriting. She would take trips to Nashville with her family, where she would play her demos for music pros, and collaborate with local songwriters. When she was 13, she signed an artist development deal with RCA Records, which led to her meeting her main songwriting partner, Liz Rose (they wrote 'Tim McGraw' together). And then it was a year later, that she got her big break as a songwriter.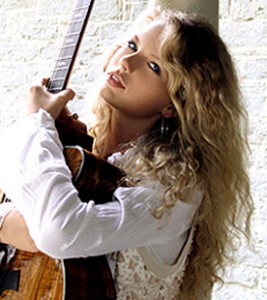 'I signed my publishing deal at age 14 with Sony/ATV,' explained Swift. 'I signed and worked with (exec) Arthur Buenahora, who was great. (Buenahora is now an A&R exec at Capitol Nashville Records). 'When I signed, I knew that I had to work just as hard as the veteran 45-year-old writers who were also signed there. I wrote a lot of songs, which were mainly for my own artist project, rather than writing songs for pitching to other artists.'
It was about a year later that Swift caught the attention of music veteran Scott Borchetta (formerly of Dreamworks Records), who was preparing to launch his new label, Big Machine Records (distributed by Universal). She performed a showcase at the famed Nashville club, the Bluebird Café, and Borchetta was so impressed that he signed her to an artist deal with Big Machine
For her first album, Swift wrote three songs by herself, and she collaborated on seven songs with Liz Rose. 'I love writing with Liz,' she said. 'When we write, I usually come in with a melody and some lyric content, and then we'll work on creating the rest of the song. She's a really good song editor.'
One of the songs they wrote early on was the hit 'Tim McGraw.' 'The song is based on true events — it happened in real life,' Swift explained. 'I had a boyfriend and we had broken up. After the break-up, I wanted him to be reminded of me. The key lines in the song are: 'When you think Tim McGraw/I hope you think my favorite song/The one we danced to all night long'. There was a specific Tim McGraw song which inspired me ' it was 'Can't Tell Me Nothin", which was on his Live Like You Were Dying album.'
'Tim McGraw' was eventually released as Swift's first single, and it stayed on the Billboard country chart for an impressive 35 weeks. 'When I originally wrote 'Tim McGraw' and first played it for the label, I didn't think it would become a single,' she said. 'But the label said it was a single, and they were right.'
Now that the song and her album is a major success, Swift has been further promoting her album by appearing on several TV shows, and by touring steadily. Currently, she is on tour as the opening act for superstar George Strait ('the tour is going amazing,' she said), and this spring she will be opening for Brad Paisley.
While she's on the road, Swift has found time to write many new songs. 'I've written a lot of songs by myself lately, especially since I've been alone so much on the road,' she said. 'I do love writing on the road – I usually write at the concert venue. I'll find a quiet place in some room at the venue, like the locker room.'
Lastly, when asked what advice she would give to young artists who are trying to break into the music business, Swift said: 'When you are trying to shop for a label deal, never use the phrase 'I sound just like [another famous artist]'. Don't say that to the labels. They'll say 'Well, we already have those big-name artists [so we don't need to sign you]'. For young artists, try to sound original, so you don't sound like anyone else. If you write your own songs that's good, but if it's not your thing don't force it. Not everyone's able to do it. Also, it's important to realize, that once you get signed and release your album, you're competing on the charts with all the established artists. A year ago I would just be listening to Miranda Lambert's album (as a fan) — now I'm competing with her and other artists on the charts.'
Dale Kawashima is on Google+