Stephan Moccio Co-Writes Big Hits For The Weeknd and Miley Cyrus, Composes Film & TV Scores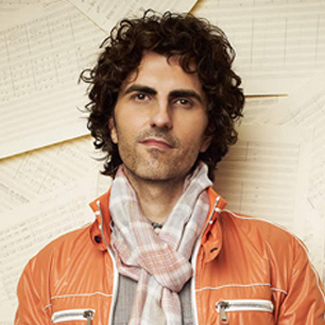 During the past 15 years, Stephan Moccio has built a successful career as a hit songwriter & producer, and as a composer of film & TV scores and theme songs. He has been known for co-writing one of Celine Dion's biggest hits, "A New Day Has Come," and composing the theme song and music for the 2010 Winter Olympics, plus other film & TV shows.
Now in 2015, Moccio has reached a new level of success, co-writing two more big hits: the #1 single "Wrecking Ball" by Miley Cyrus, and the #3 "Earned It" by The Weeknd (from the Fifty Shades of Grey movie & soundtrack album). These two hits have established Moccio as an in-demand hit songwriter, and solidified his reputation as a top writer of songs for major movies. Notably, for the Fifty Shades of Grey film, Moccio co-wrote & co-produced both end title songs, "Earned It" and "I Know You" by Skylar Grey.
Moccio has recently co-written & co-produced songs for The Weeknd's upcoming new album, which is titled Beauty Behind The Madness. He's also co-written a song for Seal's next album, and he's been working with a promising female artist, Maty Noyes, who is signed to Lava/Republic Records. In addition, Moccio has been busy writing songs for several movie projects, and composing music for film & TV.
Born in the city of St. Catharines, ON, Canada (near Toronto), Moccio learned to play piano at a young age, and his musical style is influenced by classical, pop, jazz, hip-hop, blues and dance. At age 22 he signed a music publishing deal with Sony/ATV, and he wrote theme songs for Canadian TV shows. After nine years with Sony/ATV, he started his own music publishing company and formed a label with his manager of 20 years, James Porter, called Bijou Records (distributed by Universal Records Canada). Moccio recorded three albums consisting of instrumental piano-based music, with one album impressively achieving gold certification in Canada.
As a songwriter, Moccio has had cuts with Josh Groban, Sarah Brightman, Ne-Yo, Mario Frangoulis, JC Chasez, the Canadian Tenors, Gladys Knight, Olivia Newton-John, Randy Bachman, Marc Jordan and other artists. He also co-wrote the song "I Believe," which was recorded by Nikki Yanofsky and became the theme song of the 2010 Winter Olympics, which was held in Vancouver.
For the past five years (since 2010), Moccio has been signed with Universal Music Publishing. In 2012, he was a judge with fellow Canadian Martin Short on the popular TV series, Canada's Got Talent.
We're pleased to do this new Q&A interview with Stephan Moccio. This is our second article with Moccio; we did a 2002 interview with him (and co-writer Aldo Nova) about how they wrote Celine Dion's hit, "A New Day Has Come."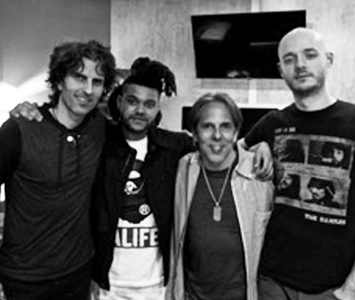 DK: You wrote two big songs ("Earned It" and "I Know You") for Fifty Shades of Grey. How did you get involved with this film?
Moccio: I was fortunate to get both end credit songs. I attended a City of Hope gala after I'd moved to L.A. (in 2013). I met Mike Knobloch (President of Film Music & Publishing at Universal Pictures), and we set up a meeting at his office. Mike asked me to take a shot at writing songs for Fifty Shades. This was about a year before the movie was in production. In the movie, (the character) Christian Grey is a pianist, so I could relate and it was a good fit. They were looking for dark, moody songs. I got together with Skylar Grey to write for the movie; we wrote "I Know You" and everyone loved it.
A year passed, and I was starting to work with Abel (Tesfaye, aka The Weeknd) on his album. I met Abel for the first time last October (2014).
I learned that with Fifty Shades (then in production), the ending had been changed, and the director, Sam Taylor-Johnson, wanted a male artist to sing the end credit song. Four of us—Abel, Jason Quenneville, Ahmad Balshe and me—wrote "Earned It" together. "Earned It" was an unique song; it was written as a Motown-style waltz. Sam (the director) has a penchant for Al Green and the Motown songs. We were so pleased that people have genuinely loved the song.
DK: How did you co-write "Wrecking Ball" for Miley Cyrus?
Moccio: In September 2012, Jim Vellutato (VP at Sony/ATV Music) set up a writing session with Sacha Skarbek, MoZella and me. None of us knew each until we met for the session. We got into a room (in Los Angeles) and we wrote "Wrecking Ball" pretty fast. MoZella had just cancelled her wedding and she was in a frail state of mind. She was primed to write something genuine that reflected her feelings at the time. The lyric of "Wrecking Ball" comes from a genuine place. After we worked together for a few hours, out comes this song. We knew as soon as we'd recorded the demo, with MoZella singing, that it was a special song.
MoZella then said she wanted to play "Wrecking Ball" for Miley Cyrus, whom she knew. We thought that was an excellent idea. Lo and behold, Miley heard our song and fell in love with it. And then Dr. Luke and Cirkut produced it.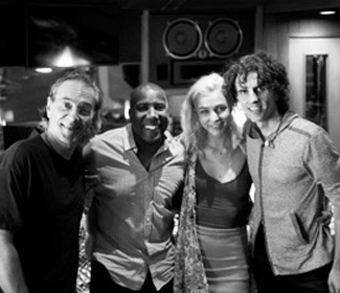 DK: With your success with Fifty Shades of Grey and with "Wrecking Ball," you're now having success in both the pop and film/TV fields. How do you divide your time between these two worlds?
Moccio: My agent Amos Newman (at William Morris) suggested that I focus for the next 6-8 months on the pop side, since I'm on a streak with this. But I'm still doing film work too. I'm writing songs for films, and I'm composing the entire music score for one film.
Working on Fifty Shades of Grey was the perfect storm for me, because it connected my love of pop and my love of films. Directors and film studios are coming to me now, which is great.
DK: On the pop side, what projects are your working on?
Moccio: I'm excited about writing songs with Abel (The Weeknd) for his new album. It's some of the most exciting music I've worked on…it's so fresh. I'm also excited about working with a new female artist, Maty Noyes, who is signed to Lava/Republic Records. There are some other projects I'm working on with major artists, which I hope to talk about soon.