Shawn Stockman Of Boyz II Men Talks About Writing The Group's Hit Songs, And His Solo Album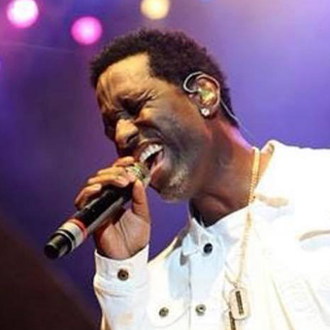 Since the early '90s, Shawn Stockman has been known as one of the key members of legendary R&B/pop group, Boyz II Men. Along with longtime members Wanya Morris and Nathan Morris, Stockman has sung on many of their classic songs, including the number one hits "End of the Road," "I'll Make Love to You," "On Bended Knee" and "4 Seasons of Loneliness."
Stockman continues to be an active member of Boyz II Men, and he tours and performs regularly with them. In addition to this, Stockman is about to launch his solo career. He has just released his debut single, "Feelin' Lil Som'n" (on SRG Records), and he will be releasing his first solo album which is titled, shawn. Stockman is also beginning to perform shows as a solo artist; he has been playing shows at the Hotel Café club in Los Angeles.
Stockman has been widely respected for his lead & harmony vocals with Boyz II Men. However, what's lesser known is that he's an excellent songwriter who has co-written two of the group's biggest hits. He co-wrote their breakthrough hit "Motownphilly," and he also co-wrote "One Sweet Day," which was their big duet hit with Mariah Carey. 'One Sweet Day" was #1 on the Billboard Hot 100 for a record-tying 16 weeks.
SPECIAL FEATURE: STREAMING AUDIO

Here's an excerpt of our interview with Shawn Stockman of Boyz II Men, who tells how he co-wrote their classic hit songs, "Motownphilly" (with Boyz II Men & Dallas Austin) and "One Sweet Day" (with Mariah Carey, Walter Afanasieff & Boyz II Men).
Besides these credits, Stockman wrote two other songs ("Doin' Just Fine" and "Pass You By") that are featured on Boyz II Men's compilation album, Legacy: The Greatest Hits Collection. Notably, Stockman also produced these two songs.
Shawn Stockman Interview
We are pleased to do this new Q&A interview with Shawn Stockman. He discusses his new single and upcoming album, and he tells how he co-wrote the hits "Motownphilly" and "One Sweet Day" for Boyz II Men.
DK: Your first solo album will be coming out soon. How did you decide the time was right to release your album?
Shawn Stockman: I think the timing is everything. It was more or less life dictating when it was the right time for me to do it, and I guess this was the time. The proposition for the album was made to me by a longtime friend Tim Kelley, who's the co-producer of the record. He came to me with the opportunity to sign with SRG and (label CEO) Claude Villani. It felt good to do it now, and I trusted Tim as a longtime friend, that this would be a great experience and a great situation.
DK: I like your new single "Feelin' Lil Som'n." Can you talk about this song?
Stockman: It's kind of self-explanatory in a sense, where it's a love song with a nice, funky but smooth groove. It's a song about a man speaking a relationship into existence before it begins (laughs). And hoping that the same feeling resonates with the woman that he's speaking of. It's fun, because it has that laid-back but bangin' R&B/hip-hop groove that I loved instantly, and it influenced me to write the lyrics that I did.
DK: How would you describe the songs on your new album?

Here's the lyric video of Shawn Stockman's new single, "Feelin Lil Som'n."
Stockman: With this album, I hope that the music and the songs will speak for itself in a good way. I think people will feel my intention behind it. This album is for the 9-5ers—it's for that guy who's driving home from work, that's trying to set something up nice and sweet for his woman and set the mood. This album is for those ladies who work in their cubicles in their jobs, that want to hear something really good. It's a nice night out on the town-type record, and it's a nice chill out by the beach record. It's all of those things. It's a lovemaking record, and you can dance to it.
DK: On your new album, who are your main co-writers and producers?
Stockman: It's really just me, and Tim Kelley. I co-wrote a song with Eric "Bluetooth" Griggs, and with Antonio Dixon, who's part of Babyface's camp. I also did a song with Raphael Saadiq. I tried to keep the camp small, because I didn't want too many people's ideas on something that was so personal. I wanted to keep it between me and maybe just one other person at a time.
DK: Did you write some of the songs on the album by yourself?
Stockman: Yes, I wrote three of them by myself. "Don't Spare My Heart" is a song that I wrote…it's basically acoustic guitar and strings. I did another one called "Been Too Long," and a song called "All I Do.
DK: With Boyz II Men, you're known for your excellent singing. But do you also play instruments, like piano or guitar?
Stockman: Yes, I play keys, I play guitar, and I did drum programming for this album. It's something that I've done in the past with Boyz II Men.
DK: Back in the '90s with Boyz II Men, would you create your own song demos and play them for the group?
Stockman: Yes. I'm definitely not Beethoven (laughs), but I play well enough to make songs, and to push and bring forth what I think and what I hear. And sometimes it takes a little longer than normal, but I get it done eventually (laughs).
DK: I checked the songwriting credits for Boyz II Men, and it says you co-wrote two of the group's biggest hits: "Motownphilly" and "One Sweet Day." First, how did you and the group write "Motownphilly" with (writer/producer) Dallas Austin?

Here's the video of Boyz II Men's hit "Motownphilly," which was
co-written by Shawn Stockman.
Stockman: Yes, Nathan and I put that together. Michael Bivins came up with the concept, and Nathan and I pretty much took the ball and ran with it, writing the melody and lyrics. And then obviously, Dallas Austin did the track. I'm proud to say that I co-wrote our flagship song.
DK: You also co-wrote "One Sweet Day," which was Boyz II Men's big duet with Mariah Carey. How did you guys write this song with Mariah?
Stockman: It was an idea that came to us through Mariah. We were on tour at the time, and Mariah wanted to do a song with us. Then on one of our days off, we met Mariah at the Hit Factory studio in New York, and she told us the idea of what she wanted to do. We then wrote the song on the spot—it took us a couple hours to get it done. Then we went back out on tour, and we came back later to actually record it. And you know, the rest was history. It was easy, it was intentional, and it didn't have any speed bumps. We knew exactly what we wanted to write, thanks to Mariah giving us the idea and guiding us in that sense. Then we just finished it up and that was it.
DK: A few years ago I listened to your greatest hits album, and one of the better songs on the album is a song you wrote and produced: "Doin' Just Fine." Can you talk about this song?
Stockman: Thank you. "Doin' Just Fine" was a song I wrote in my living room in New Jersey, and the inspiration for the song came from my wife, who was my girlfriend at the time. She was talking to me about a past relationship, that took her a long time to get over. But she eventually got over it and she's doing a lot better now. And I must say it's because of me (laughs). [For the song], I tried my best to put myself in her shoes, and contemplate how it would feel to go through such a hard breakup, and then just finally bounce back and return, and be totally fine with your life.
DK:  Boyz II Men are known for their great vocal harmonies. When you're recording a song, how would you, Wanya and Nathan come up with your vocal parts?
Stockman: You know, we go in tandem (laughs). We don't force the process of creativity. If somebody has an idea and they want to express it, we let them run with it. And that's the luxury of being in a group with two other talented guys. They'll hear something that I may not, and they'll just record it and put it down, which will inspire me to hear something else and then I put that down. And that would inspire the other guys. So we pretty much have an idea going into a song, as far as once it's written and how we want to structure it. But we really just go with the feel of it, and it's not always the normal triad, the 1-3-5 (chord structure) and that type of thing. We sometimes go off the beaten path and do some nice and some weird 11ths or 13ths or whatever the case may be (laughs). Whatever suits the record, and what suits the mood that we're trying to convey. And that's pretty much how we go.

Here's the video of Boyz II Men's #1 duet hit with Mariah Carey, "One
Sweet Day," which was co-written by Shawn Stockman.
DK: When your album comes out, will you be performing solo shows?
Stockman: Yes, I'm currently doing a little residency every Tuesday for four weeks at the Hotel Café in Hollywood. I did my first show yesterday, and it went pretty good. You can say this is me working it out, kind of like how comedians go to the Laugh Factory club to try out their jokes and see what works and what doesn't. I'm in that process right now. It's just me, my TV tracks and my guitar, and I'm basically just kind of hammering things away. I picked the venue that I know people will come out to support, and it allows me to make my mistakes, yet still perform and deliver within those mistakes too. So it's just sharpening and honing my skills to be able to perform by myself a whole set of songs. I'm working it out with these shows, because I want to make sure I give people a great performance.