Scott Harris Co-Writes Hits For The Chainsmokers ("Don't Let Me Down") and Shawn Mendes ("Treat You Better")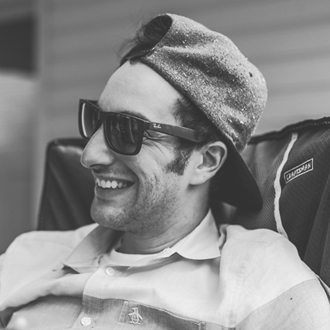 Scott Harris is a rising pop songwriter, who has quickly emerged as a top tier writer in just the past five years. He currently has two hits on the charts: "Don't Let Me Down" by The Chainsmokers (featuring Daya), which reached #3 on the Billboard Hot 100 chart, and "Treat You Better" by Shawn Mendes, which is in the Top 20 and will be included on Mendes' upcoming album, Illuminate (which will be released on September 23).
Harris, who is based in New York and frequently travels to Los Angeles, already has a notable list of songwriting credits. Impressively, he co-wrote 10 songs on Shawn Mendes' popular debut album, Handwritten, and he co-wrote the songs on The Shawn Mendes EP. He has also co-written cuts for Jessie J, Melanie Martinez, Krewella, Tiesto, Omi, American Authors, Skizzy Mars, Nykee Heaton and Sabrina Carpenter.
We are pleased to do this new Q&A interview with Scott Harris. He tells how he got started with music and songwriting, and how he co-wrote his hits with Shawn Mendes and The Chainsmokers. Harris is represented by Zach Gurka at Ground Up Management, and he's signed a music publishing deal with RebelOne Entertainment.
DK: How did you get started with your music?
Scott Harris: I started playing the piano around 4-years-old. I immediately (from what my family tells me) started creating my own melodies and trying to play them back before trying to learn other people's songs. I started playing guitar around 14-years-old. I learned three chords and began writing pop-like songs before I had any idea what I was doing. I had melodies and chords but no lyrics. My father (who wrote Jazz music his whole life) really encouraged me to put words to melodies. He told me it was the only way people would get excited when I played guitar for them. I forced myself to sing, studied John Mayer's Room For Squares album and gave it a shot. My friends were into what I was writing, and now I'm still doing it.
DK: I read that you had a band called the Scott Harris Project and you toured.
Harris: The Scott Harris Project started because I needed a way to get more people to hear what I was writing. I never loved my voice, but it felt good to see people other than my friends and family react to what I was doing. Winning over a crowd in a different city every night with original songs was challenging but exciting to me. I remember writing specific songs I thought would be easy for a crowd to connect with on a first listen.
DK: At what point did you decide to focus on writing songs for other artists?

Here's the video of the hit "Don't Let Me Down" by The Chainsmokers
(featuring Daya), which was co-written by Scott Harris.
Harris: I think it just kind of happened naturally. As I kept writing for myself, I began exploring different styles of writing and generally just listening to a lot more music. I would write a song and be like, I really like this idea but I definitely can't sing it…it doesn't make sense with the singer-songwriter vibe I'm putting out. Some ideas felt like they would be cooler to me with a female vocal. I think there was probably a moment where I realized I could help tell other people's stories through songs that kind of took the pressure off the "everything has to be all about me" factor.
DK: Was there an early cut or co-write you had, which was a key break for you?
Harris: I don't know how key it was, but I remember my first cut was a big deal to me. It was Stephen Jerzak's first single on Universal. I wrote it with him and The Knocks. It was nothing crazy but having "a" cut made getting into sessions a little easier. Other than that, "Life of the Party" (by Shawn Mendes) felt like a good moment. It was a song I was really proud of and felt like a good representation of what I could do. It went #1 on iTunes overnight and I knew people were hearing something I was psyched on.
DK: You co-wrote an impressive 10 songs for Shawn Mendes' Handwritten album. How did you get involved with this project, and end up writing so many songs?
Harris: After "Life of the Party",  Shawn and I continued writing. We just clicked. He wanted to keep writing with me and the feeling was mutual. I think we inspire each other in ways we could have never imagined. Aside from writing, we just became really good friends. He would send me voice note ideas he was coming up with on the road and I would send him ideas back. We actually wrote a song called "The Weight" together entirely on Skype. I eventually joined him on the tour bus to keep the creativity flowing and a lot of those songs became Handwritten.
DK: I like Shawn Mendes' new single "Treat You Better." How did you, Shawn & Teddy Geiger write this song?
Harris: I remember we wrote it in L.A. Teddy had worked with Shawn before and Shawn was excited to get the three of us together. I've known Teddy for a while. My band actually opened up for him for six weeks one time. The vibe was immediately right. We all get along really well and it kind of came right out. It was actually a full-on reggae song until we switched the guitar part right before we recorded the demo.

Here's the video of the hit "Treat You Better" by Shawn Mendes,
which was co-written by Scott Harris.
DK: Your biggest hit so far is "Don't Let Me Down" by The Chainsmokers (featuring Daya). How did you, Andrew Taggart (of The Chainsmokers) & Emily Warren write this song?
Harris: Emily and I write together all the time. I've written more songs with her than anybody else by a lot. We just get each other and it's a really comfortable environment when we are together. She had done a song with The Chainsmokers and was basically like, we HAVE to work with them. We had a session in Drew's apartment and he played us the beginning of the track that eventually became "Don't Let Me Down". We had a brief conversation about not overthinking anything and Drew was the one who was quickly like, don't mess with that chorus, thats it!  Me and Emily had just come back from Coachella and were talking about writing a song that could make people really feel something at a festival. Had no idea it would actually be that song.
DK: You've been writing songs with many other artists. Are there certain new cuts that you're particularly excited about?
Harris: There are a few cuts, but I've learned my lesson about talking about them before they come out. I've recently met and worked with Niall (Horan) from One Direction and will be working with him a bit on his solo record. I think he's got a lot to say so I'm interested to see where it goes.