Classic Songwriter Story: How Jud Friedman & Allan Rich Wrote The Hit "Run To You" For Whitney Houston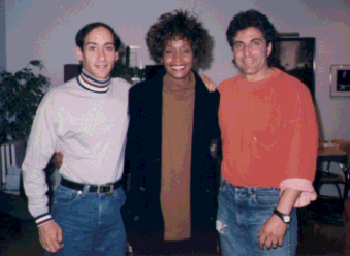 For many pop songwriters, the ultimate dream would be to place their song on a superstar artist for a spectacularly successful project. It is a dream that rarely comes true, but it happened for the songwriting team of Jud Friedman & Allan Rich. This Los Angeles-based duo placed their song "Run To You" with Whitney Houston for "The Bodyguard" soundtrack, which became one of the biggest-selling, most prestigious albums of the decade.
In a recent interview, Friedman & Rich recalled the entire story of "Run To You." They described how they first created the song, how it was placed, and how they had to rewrite the entire song so it would fit into the film. Finally, they recalled the tremendous joy they felt upon witnessing Whitney Houston record the song, watching the album become a massive hit, and then receiving Academy Award and Grammy nominations.
Friedman & Rich had previously written a #1 hit for James Ingram ("I Don't Have The Heart"), but that didn't necessarily give them an edge in placing a song for "The Bodyguard." After all, they were competing with many of the top songwriters in the industry for this hot soundtrack project.
Houston's label, Arista Records, had notified publishers and writers that they needed songs for "The Bodyguard," thereby initiating a massive song search. Arista was specifically seeking four key songs for Houston to sing, which would fit different scenes in the movie.
"The project was very wide open," recalled Rich. "It seemed like everyone and their mother was trying to place their songs with Whitney. Jud and I zeroed in on a specific scene towards the end of the film, which was a break-up type song, with the theme of 'I love you, but you're going away'."
Rich began working on the lyrics for "Run To You." "I was going through a break-up in my life at the time, which may have helped me write a lyric which reflected the feelings I was experiencing," said Rich. "I wrote the lyric in a few days, then I presented the lyric to Jud."
"I thought Allan wrote a beautiful lyric for "Run To You," said Friedman. "It inspired me to run over to the keyboard and start writing the music. I wrote most of the music, then we finished the song together. When it was completed, we recorded a very simple demo, with just piano, guitar samples and strings. Then we brought in a wonderful vocalist, Valerie Pinkston, to sing the demo. She sang the song beautifully, and we were very happy with the way it came out."
Rich then delivered the demo to his publisher, Carol Ware, Vice President of Creative at MCA Music. She loved the song, and immediately sent the tape to Gerry Griffith, Vice President of A&R at Arista Records. Griffith loved the song also, and played the demo for Clive Davis, the Chairman/CEO of Arista.
It was shortly thereafter that Rich received a momentous message on his phone machine. "I got a wonderful phone message, and I still have the tape of that message," said Rich. "I came home one day and the voice on the machine said, 'I hope this is Allan Rich that I'm calling. This is Clive Davis, and I think you're going to like this message. Whitney and I love your song "Run To You." Please call us as soon as possible.' And I flipped out!"
Rich & Friedman then called Davis back and he confirmed the good news. Eventually, the song was not only approved by Davis and Houston, but by Mick Jackson, the director of "The Bodyguard," actor/producer Kevin Costner and Gary LeMel, President Of Music at Warner Bros. Pictures. "There are so many people who have to approve a song for a major film & soundtrack," said Friedman. "Everything has to fall in place just the right way. We were very fortunate because everybody got it."
With their song seemingly set for the film, Friedman & Rich began working on other projects. But about a month later, they received a phone call from director Mick Jackson. "Jackson called and said, 'We still love your song, but there's just one little detail,'" recalled Friedman. "Already my hands are starting to sweat; I'm bracing for the news." Jackson said, 'We love the song so much, we want to use it earlier in the movie when they fall in love, instead of when they're breaking up. So could you change the lyric to make it a love song instead of a break-up song? It should be pretty easy, right?' My response of course was, No Problem! Then we got off the phone and basically collapsed on the floor in shock. Our songwriting lives were passing before us."
"Then we picked ourselves off the floor and made some phone calls. We spoke to Clive. He said, 'I love the song the way it is; it's a hit. Of course, take a shot at rewriting the lyric, but whatever you do, don't lose the hitness of it. If the rewrite doesn't work, we can use the song on a future Whitney project, maybe her greatest hits album.' When we got off the phone, we said there is absolutely no way we're going to miss this chance. We knew we might never get a cut with Whitney. We had to seize the moment."
Rich & Friedman ultimately rewrote the entire lyric except for the title. They then redemoed the song and sent the new version to Davis. Davis, Jackson and everyone involved loved the new version of "Run To You," so the song was finally set for the movie.
Soon after, producer David Foster started plans for recording "Run To You." Because he loved the arrangement of the original demo, he hired Friedman to do the programming and playing on the record. When the tracks were completed, it was now time for Houston to record her vocals for the song.
"It was on a Friday night that Whitney came into the studio," said Friedman. "It was great to meet her, and she was just a pleasure to work with. She was totally professional. Whitney actually had a cold that night, and her speaking voice was whispery and hoarse. But when she started singing, she sounded incredible. For Allan and I to be in the studio to hear her sing our song so beautifully, it was one of the greatest moments in our lives."
Finally, "The Bodyguard" movie and soundtrack was released in late 1992. The album quickly became a blockbuster, eventually selling about 30 million units worldwide. Friedman & Rich subsequently received two nominations for "Run To You": one for "Best Original Song" by the Academy Awards; and for "Best Song Specifically Written for a Motion Picture or Television" by the Grammy Awards.
"It was a fantastic time for us," said Rich. "We went to the Academy Awards, the Academy Award Nominees luncheon, and the Grammy Awards. I took my publisher Carol Ware to the Nominees luncheon as my date. I wanted to thank her for all her help and friendship during the five years I had been at MCA. When they called my name, and I went to the podium to receive my nomination award, Carol and I had tears in our eyes. We were both so happy."
Now, when Friedman & Rich look back on their success with "Run To You," they are very grateful to have had the opportunity to place their song. "There were so few slots for outside writers to get in on this project, especially considering that two of the main cuts ("I Will Always Love You" and "I'm Every Woman") were remakes," said Friedman. "In truth, it was a miracle that our song made it. Yes, we put in a lot of hard work, and we were very proud of our song. But we didn't have any ego about it. In fact, we felt humbled by this process, because we knew our song made it against such unbelievable odds."
Friedman is currently on the lookout for exceptional new, young artists to produce. In addition, he has recently launched a demo production company and full-service studio. You can contact him at his e-mail address: [email protected]. Additional info about his production & services can be found at his website: www.judfriedman.com.
Dale Kawashima is on Google+