Songwriter/Producer Nick Mira Talks About Writing & Producing Hit Songs For Juice WRLD And Other Artists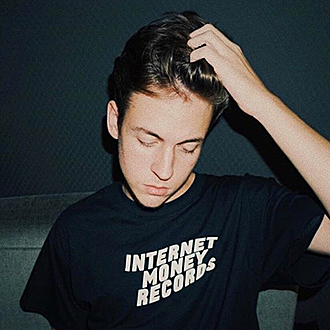 Nick Mira is a young, talented songwriter & producer who is enjoying his first big hit on the charts. He co-wrote & produced the single "Lucid Dreams" for rapper/singer Juice WRLD, which has been in the Top 10 of the Billboard Hot 100 for several weeks and reached #3 on the chart. Mira, who is based in Richmond, Virginia, also co-wrote & produced eight other songs on Juice WRLD's debut album, Goodbye & Good Riddance (on Interscope Records).
Notably, Mira is just 17 years old (he turns 18 in August), and he's already building a reputation as an excellent producer and creator of unique beats. He has licensed his beats to many other hip-hop artists, and he is part of Internet Money Records, a label owned by Taz Taylor that has signed a joint venture deal with Alamo Records & Interscope Records.
It was two years ago that Mira first connected with Juice WRLD, who was then an unknown artist. He created beats and sent them to the rapper, and they began a very productive collaboration. In addition to their hit "Lucid Dreams" (which samples Sting's hit "Shape of My Heart"), Mira & Juice WRLD wrote the single "All Girls Are The Same," which reached #41 on the Hot 100 and is still on the chart.
SPECIAL FEATURE: STREAMING AUDIO

Here's an excerpt of our interview with Nick Mira, who tells how he created the beat and produced the hit "Lucid Dreams" for Juice WRLD.
Mira has also had cuts with other hip-hop artists. He co-wrote & produced the Top 30 single "Fuck Love" for late rapper XXXTentacion (featuring Trippie Redd). He's also had cuts with Lil Skies, Tierra Whack and Miami Yacine.
Nick Mira Interview
We are pleased to do this new Q&A interview with Nick Mira. He tells how he got started creating beats, and how he connected with Juice WRLD and co-wrote "Lucid Dreams."
DK: How did you get started as a musician and producer?
Nick Mira: I always grew up around music, and I was always playing the guitar. Playing guitar was something I did for fun as a kid. Then as time passed, I got a keyboard from my cousins. At the time, I didn't know any scales or notes by heart or anything…I could just play by ear. And I learned the piano and played for fun.
As time went on, I learned about the whole beat game, and how you can make beats on computers and use all these different softwares to make real music that you can hear over and over again. And I just fell in love with it.
DK: Were there certain hip-hop artists or producers that inspired you?
Mira: I love Pharrell's production and Kanye West, and producers like Metro Boomin, Sonny Digital and Lex Luger.
DK: I visited your site (nickmira.com), and it says you have a production catalog and you license beats. Did you start licensing beats first, or did that come later?

Here's the video of Juice WRLD's hit "Lucid Dreams," which was co-written
by Nick Mira.
Mira: It came after I'd been doing beats for some time. I was making beats all day long, and that was my main priority when I started…I was just working so hard. And I was curious if there was any money that could come from it, because I didn't know about how you can sell music. So I learned about selling music and the beat game on YouTube and online. I learned you can put out your beats and sell them to millions of artists around the world.
About six months after I started making beats, I made my website and I uploaded videos of my beats onto YouTube. And then I collected traffic through there, to funnel it to my site and sell the beats.
DK: How many years ago did you begin shopping your beats?
Mira: It was probably the beginning of 2014. I was about 13 or 14 when I put my site up and began shopping my beats.
DK: How did you get such an early start at that?
Mira: I had a lot of free time, and I got so involved in it because I really fell in love with music, and making up beats and sounds. I submerged myself, and learned all I could about it, and I just wanted to be the best at what I do.
DK: When you're creating beats, how do you come up with ideas for those sounds?
Mira: Usually, it comes from a lot of messing around. I never intentionally go in with a certain mindstate of what I want to make or what I want something to sound like. It usually comes subconsciously from how I'm feeling that day. I would go to my keyboard or guitar, and just play something out…I'll mess around until I like what I hear. And I'll just take that part and form beats, and I'll form songs around it.
DK: You've been working a lot with Juice WRLD. How did you first connect with him?
Mira: About two years ago, my very close producer friend, Sidepce, introduced me to Juice. Juice contacted Sidepce on Twitter and he was like, "Yo, I'm looking for a producer." At the time, Juice was just starting out—he had like 300 followers on Soundcloud. Then Sidepce came to me and said, "Yo, I just found this crazy artist…he has mad talent, he's young, he sounds good and he wants some beats." And I was like, "Okay, there's no problem in sending him some beats." Ever since then, we've just dished beats to him and he would knock out songs and send us back the songs.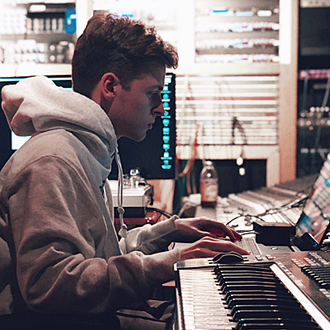 DK: You co-wrote nine songs with Juice WRLD on his album. Was "Lucid Dreams" one of the first songs you wrote with him?
Mira: We'd done a fair amount of songs before we did "Lucid Dreams." But it was still toward the beginning, because "Lucid Dreams" came out around June 2017. Juice dropped it with his first mixtape (called 999) on Soundcloud.
DK: With "Lucid Dreams," how did you create the track? I read that you sampled Sting's song "Shape of Your Heart" after hearing it in a movie.
Mira: It was in my sophomore year of high school, and I had this movie class where we watched movies and analyzed them. We were watching this movie called Leon The Professional, and at the end of that movie, Sting's "Shape of My Heart" plays. I heard it and was like…this just sounds crazy, it sounds beautiful. So when I got home from school that day, I looked it up and listened to it, and I really liked how it sounds. So I replayed it on guitar at the studio, and I tweaked with the notes a little bit…you know, it was a great formula for a song. So then I added drums on it. And then I hit up Juice and I was like, "You know, I've got this crazy beat—I need you to snap on this, do something crazy."
I sent it to Juice, and a week later he sent it back to me and I heard it. I was like, "Alright, this is cool." I didn't say anything else at the time; it was like the first day hearing it. And then the next day I played it, and I was just singing it back to back to back. It was so catchy.
DK: "Lucid Dreams" has become your first big hit. How does it feel to have your career reach a whole new level?
Mira: It's actually surreal in a sense. It's hard to believe it sometimes, because it was just months ago where we would be uploading the songs and they would get less than a thousand plays per day. And now they're just getting hundreds of thousands, or millions of plays per day. It's just crazy, and I'm extremely grateful for how things have turned out.
DK: In addition to working with Juice, what are some of your other projects?
Mira: I'm now a part of Internet Money Records, which is owned by Taz Taylor. He brings us (producers) to all the studio sessions that he has with artists such as Lil Skies and that caliber. We would knock out songs, and we'll have a bunch of songs in our hard-drive, just loaded up hundreds, just waiting to be dropped. And then they drop and we're like, "Nice—here's a credit here and there." And it's just really fun. But aside from that, and aside from working in person with the artists, sometimes artists will contact me and ask me to send them packs of beats. Then I'll put together curated beats especially for them.
Then another way, is we have this website that we own for kits; it's called Wavsupply.net. From this, we sell sounds, our melodies and our drums, that we create from scratch so producers can use them. And when other producers use our original compositions, samples and melodies that also attributes to being credited on the song, which was the case for XXXTentacion interpolating "Fuck Love." That was a composition that me and Taz Taylor put up on the site, and XXXTentacion found it on the site and grabbed it.

Here's the video of Juice WRLD's single "All Girls Are The Same," which was
co-written by Nick Mira.
DK: With your label Internet Money Records, are you developing new artists?
Mira: Yeah, we're definitely focused on building new artists. We just signed a deal with Alamo Records & Interscope Records, and they're allowing us to sign different artists and develop them.
DK: You're having success now working with hip-hop artists. Would you like to branch out and work with pop and other artists too?
Mira: Yeah, I'm definitely open to doing different lines of work, with any genre. Because in music, I've really just been in this hip-hop/rap lane, and I haven't branched out far yet. I've used sprinkles of different genres inside my music, such as [using my rock background] to put live instruments into my beats such as guitars. But I'm definitely down to venture out into different genres, and work with some bigger artists and just make some good music.