Alanis Morissette Talks About Her Greatest Hits Album, The Collection, And Her Single "Crazy"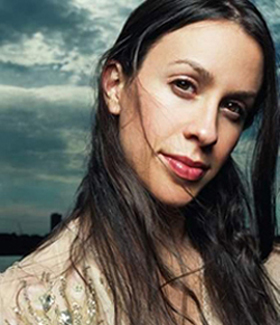 Over a 10-year span, seven-time Grammy winner Alanis Morissette has written many outstanding songs – some which were big hits, and others which were critically acclaimed but less commercial. This past year, she took time to reflect on her career, and compiled the new 18-cut CD The Collection, which includes cuts from her four, main studio albums (Jagged Little Pill, Supposed Former Infatuation Junkie, Under Rug Swept and So-Called Chaos), from her Feast On Scraps and MTV Unplugged CDs, and key soundtrack cuts such as 'Uninvited' (from City Of Angels) and 'Still' (from Dogma). The compilation also includes Morissette's new rendition of Seal's classic hit, 'Crazy.'
In a new interview, Morissette (who is still just 31) took time out to discuss The Collection, which is being released this week (Nov. 15). She also talked about her other projects, which includes her current concert appearances, her new song in the upcoming The Chronicles Of Narnia soundtrack, and her next album project, which she will begin working on in January.
Morissette spoke on the phone from Paris, France for this interview. She had just finished a concert there, and she was heading to London for the U.K. Rock & Roll Hall Of Fame, where she was set to perform 'Subterranean Homesick Blues' as part of a tribute to Bob Dylan.
'I'm excited to be releasing my first hits compilation,' said Morissette. 'Ever since I was young, my fantasy was to be able to create a collection record. 2005 was a year of acknowledgement and reflection for me. It felt like a perfect time to have all these songs in one place. The CD not only includes the obvious hits, but my personal favorites that aren't as well known. It was a gift to me to get that objectivity ' to be able to look back at my songs.'
Morissette explained how she selected these cuts for this compilation. 'It was obvious that the hit singles should be included. Then I added songs that are near and dear to my heart, such as 'That I Would Be Good' (from Supposed Former Infatuation Junkie) and 'Simple Together' (from Feast On Scraps). I remember writing 'That I Would Be Good' in my closet. There were a lot of people in my house and so I closed the closet door, lit a candle, and wrote this song in about 15 minutes. Basically it was when I was in the pressure cooker that was following up Jagged Little Pill, and that song became a kind of mantra or meditation that helped me through the pressure.'
"Simple Together' is the saddest song that I've ever written ' hands down. There's a simplicity and directness to it ' the most distilled version of sadness I've ever put into a song.'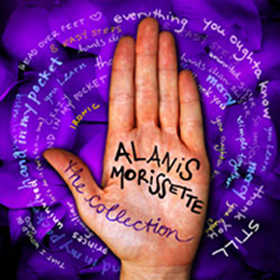 In addition, The Collection includes one new recording, Morisette's version of Seal's 'Crazy.' 'It's a song that I was obsessed with as a teenager, and when I did the Gap (commercial) campaign, the lovely folks there asked me to submit a list of my favorite songs. 'Crazy' was one of the first I chose because it brings back so many memories of my teenaged years. The main line, 'You're never going to survive/Unless you get a little crazy' is to me one of the simplest yet most profound statements. Seal and I exchanged sweet emails when I was about to cover his song.'
Morissette made the conscious decision not to include any of her new compositions on The Collection. 'I like that the album is an actual retrospective. 'Crazy' is the only new song. I look at this CD and I feel really proud. It's inspiring me to listen to these songs, as I proceed to the next chapter and record my new songs.'
This January, Morissette will begin writing and recording songs for her next, studio album project. 'I write many of my songs from [notes in] my journals,' she said. 'Usually when I start writing and recording an album, I have about two journals full. But I now have five full journals, so I will have a lot to write about.'
Amidst her busy schedule, last month (Oct. 2005) Morissette also wrote a song specifically for the movie, The Chronicles Of Narnia: The Lion, the Witch and the Wardrobe. The film (which stars Tilda Swinton and Jim Broadbent) is based on the C.S. Lewis book, which was published in 1950, and is the second installment of the writer's seven-part Chronicles Of Narnia series. 'It was fun to do this project and write the song for the character Lucy in the film,' she said.
Dale Kawashima is on Google+