Great Success Story: Writer/Producer Brent Maher & The Judds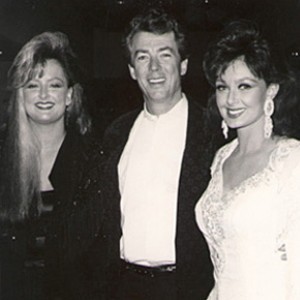 Brent Maher has been a top producer/writer in Nashville for more than two decades. He has produced hits for many country and pop artists, including Kenny Rogers, Shelby Lynne, Michael Johnson and Kathy Mattea. But Maher is undoubtedly best known for his phenomenal success working with The Judds. He helped discover this mother & daughter duo, produced all of their albums, and co-wrote many of their classic hits.
Maher recently recalled the complete story of his working relationship and friendship with Naomi & Wynonna Judd. He described how he first met The Judds and recorded their early demos, how he co-wrote such hits as "Why Not Me" and "Rockin' With The Rhythm Of The Rain," and how the duo went on to achieve multi-platinum success and receive numerous Grammy and other top industry awards.
Maher first met Naomi Judd at a hospital in Nashville, because Naomi was a nurse helping to take care of his teenage daughter, Dianna, who had been injured in a car accident. Dianna also knew Wynonna, because they attended the same high school. Maher was aware that Naomi & Wynonna were singers, having seen them perform on the Ralph Emery TV show.
"When my daughter Dianna was released from the hospital, Naomi approached me," recalled Maher. "She said, 'Can I give you a tape?' I said sure. It took me a few weeks to actually listen to it. My wife Janel told me I had to listen to their tape, because Naomi had been so nice to Dianna in the hospital. When I heard the demo, the recording was very rough, but it totally fascinated me. It was just very fresh and original, with unique songs and harmony ideas. There was a Bonnie Raitt song, a bluegrass tune, and a mambo, latin-styled tune which was very different. And of course, Wynonna's voice came across loud and clear; it was something special."
Maher then called Naomi right away. He said he really liked the demo tape, and that they should get together and talk about it. The subsequent meetings marked the beginning of Maher's creative, working relationship with The Judds.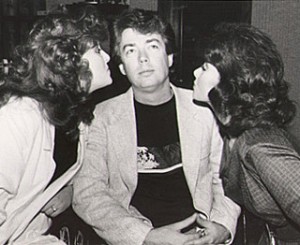 "We probably worked together for about nine months, just tossing ideas around," said Maher. "Musically, I needed to find 'Point A,' where the stylistic focus should be for the group. During this time, I approached songwriters and publishers for great songs that would be suitable for them. We came up with two songs that really defined the initial boundaries of The Judds. The first song was 'Mama He's Crazy' (by Kenny O'Dell), which was your traditional, great country song, a midtempo ballad. Then there was 'Had A Dream' (by Dennis Linde), which was a bluesy/country/rock song that defined the funky side of The Judds."
"After a year, I took Wynonna & Naomi into the studio, just the two of them," added Maher. "We did guitar-vocal demos with harmonies. In the studio, it was very clear that the Judds had a special talent and uniqueness. They had that 'star quality.' It wasn't just their great voices and natural beauty, but they also had a special spark."
With these new demos completed, The Judds' manager, Woody Bowles, played the demo tape for Dick Whitehouse, who was head of Curb Records' Los Angeles office. Whitehouse immediately loved the tape, and set up an important meeting with Joe Galante, President of RCA Records in Nashville. This meeting was attended by Whitehouse, Galante, the Judds, Bowles and Maher. Everything went well at this meeting, with The Judds making a very positive impression with Galante
"Afterwards, Naomi, Wynonna, Woody and I left to go to Old Charlie's restaurant, while Dick and Joe stayed back at the office to wrap up the deal," said Maher. "About 30 minutes later, Dick came to the restaurant and said, 'Congratulations girls, you're now on RCA Records!' And Naomi & Wynonna just broke out in tears."
Now with the record deal in place, it was time to record their first album. As producer, Maher wanted the master recordings to retain the appealing, pure sound of The Judds' guitar-vocal demos. "I didn't want to lose the innocence and freshness of hearing them perform with just acoustic guitars," explained Maher. "You didn't really need to add much more instrumentation. But we wondered, could we make a record that way, with just subtle backing? We felt we could do that. But the songs had to be great, because average tunes won't survive sparse production. Fortunately, the material was a very strong asset for The Judds' records."

Here's the audio of The Judds' hit "Why Not Me," which was
co-written by Brent Maher.
Another important part of the creative process was the substantial pre-production work Maher and The Judds completed before the masters were even recorded. Pre-production demos were recorded of every song that was planned for each album. Each demo consisted of just guitars, vocals and some harmonies. Maher wanted to make sure each song worked well for the Judds in this pre-production stage, before it would be recorded for the album.
Maher described the album sessions for The Judds. "The studio process, especially cutting the tracks, always went well," said Maher. "We never came out of a session empty-handed, because we knew from our pre-production that each tune absolutely fit like a glove. The tracking dates were a lot of fun and very positive."
When these sessions were completed, The Judds debuted in 1983 with a six-song, mini-album on Curb/RCA Records. "Had A Dream" was the first single, and it reached #16 on the Billboard country chart. But the second single, "Mama He's Crazy," was the true breakthrough, becoming the first of many #1 hits for the duo. For this single, The Judds received their first Grammy Award, plus awards from the Country Music Association (CMA) and Academy Of Country Music (ACM).
For the follow-up album (the duo's first full-length album), Maher co-wrote the leadoff single and title cut, "Why Not Me." Maher actually co-wrote this song towards the end of the album project. "I knew we needed one more uptempo tune for the album," said Maher. "So I called up Harlan Howard and asked if we could get together to write a song that weekend. On Sunday we got together at Harlan's house, and Sonny Throckmorton also came over to write with us. Sonny and I worked on the melody and Harlan worked on the lyrics. Harlan said 'Why Not Me' wasn't a great title, so the rest of the song had to be killer. We finished the song in one day."
"Why Not Me" became a major hit (also #1), which led to the duo receiving another platinum album and multiple awards for The Judds. Maher, Howard & Throckmorton were honored by the ACM for writing "Why Not Me," which won the "Song Of The Year" award.

Here's the audio of The Judds' hit "Rockin' With The Rhythm
Of The Rain," which was co-written by Brent Maher.
For the Judds' next album, Maher co-wrote "Rockin' With The Rhythm Of The Rain," which became the title cut and another #1 single. "'Rockin' With The Rhythm' was the first song I sat down and wrote with Don Schlitz," said Maher. "I started playing a shuffle rhythm on my guitar, and Don said, 'I like that groove.' Then we started writing, and we got on a roll. Within 45 minutes, the song was finished. Don's grasp of lyric and the English language is just enormous. He's a very quick and prolific writer. And from that, Don and I wrote many songs together and we became dear friends."
The success story of Maher and Yhe Judds continued for several more years and albums, with a long string of hit singles. The Judds and Maher developed a smooth system of working together. Maher would look for song material for the Judds and occasionally co-write, and prepare all the recording sessions. The Judds would return to the studio (in between their concert touring) to record pre-production demos, then later return to record their album tracks. This process would be repeated shortly after each album was completed.
Unfortunately, in 1990, Naomi was diagnosed with chronic, acute hepatitis, which forced her to retire from The Judds the following year. After the duo's farewell tour, Wynonna launched her very successful solo career in 1992. For her The Other Side album in 1997, Wynonna reunited in the studio with Maher, who produced the album and co-wrote two songs.
As he looks back on his years with the Judds, Maher recognizes what a special situation it was for everyone involved. "Anytime a producer or writer has the opportunity to work with gifted artists, where everyone respects each other and works together to create music which will have a life or legacy, it's truly ideal," explained Maher. "We really had great, great times together."
"One of the things I appreciate now is how well the records seem to stand up," added Maher. "People tell me there's a timeliness to the Judds' music, superseding any trends. I'm proud to have worked with Wynonna and Naomi to create music which lives on and on."