Kelsea Ballerini Talks About Writing Her Hit Songs "Peter Pan" and "Yeah Boy," And Her Debut Album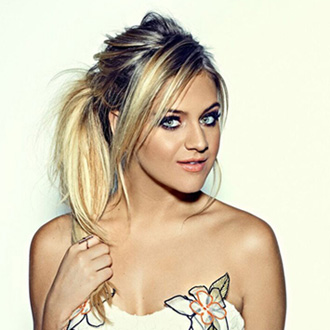 During the past two years, 23-year-old singer/songwriter Kelsea Ballerini has made the transition from promising newcomer to rising country star. It was in May 2015 that Ballerini released her debut album, The First Time (on the Black River Entertainment label), and she quickly had success when her first single, "Love You Like You Mean It," became a #1 country hit.
Ballerini followed up her first hit with her playful second single, "Dibs," that also went to #1. But it was her third single, the ballad "Peter Pan," which had the biggest impact. Not only did the single reach #1 on both the Billboard Hot Country Songs and Country Airplay charts, but Ballerini became the first female country artist to go #1 with her first three consecutive singles from a debut album. In addition, "Peter Pan" was acclaimed as a memorable, unique song that bolstered her credentials as an excellent songwriter.
SPECIAL FEATURE: STREAMING AUDIO

Here's an excerpt of our interview with Kelsea Ballerini, who tells the funny story of how she co-wrote her hit, "Yeah Boy."
Currently, Ballerini is continuing her hot streak—her fourth single "Yeah Boy" is already a country Top 10 hit and is moving higher. In our interview with her that starts below, Ballerini said that "Yeah Boy" will be the final single release from her debut album. She is already halfway through the process of writing and recording songs for her second album, which will be released later this year.
Besides her chart success, Ballerini has been the recipient of many top awards and nominations. She was a 2016 ACM Award winner for New Female Vocalist of the Year, and she received two more nominations this year. Ballerini was also nominated for Best New Artist at this year's Grammy Awards, and she performed on the show with pop act Lukas Graham, doing a mash-up of their hits "Peter Pan" and "7 Years."
In addition, Ballerini has been busy performing live on the road. Last year, she opened for country band Rascal Flatts' tour, and then she headlined her own U.S. tour. She currently is on tour with Thomas Rhett, and this summer she will be opening for Lady Antebellum.
We are pleased to do this new Q&A interview with Kelsea Ballerini. This is the second we've done with her—the first interview was done for her July 2015 article. For our new interview, she tells how she co-wrote her hits "Peter Pan" and "Yeah Boy," and she discusses her upcoming new album.
DK: Congratulations on your great success. When you released your debut album two years ago, could you envision that you'd have four hit singles that would keep the album going strong for two full years?
Kelsea Ballerini: Not at all. I think as a new artist, you always make your first project, really hoping that it finds the light (laughs)…that it does something. But I'm a super-practical person too. When we put out my first single "Love You Like You Mean It," I was like, "I want this song to be a Top 30," because I think if it's a Top 30, that means that it's played on most stations—most people that listen to country music have probably heard it once or twice. So [hopefully it would be] at least familiar. And so to me, that was my first personal goal with it, but then it just kept going. I think I learned that…Okay, just keep pushing your goals and yourself, and then it's been way bigger and better than I  could have ever imagined.

Here's the video of Kelsea Ballerini's #1 hit single, "Peter Pan."
DK: "Peter Pan" is a great song, and it's really made people aware of your songwriting ability. Can you tell me how you co-wrote this song?
Ballerini: Well the thing is, I'm a songwriter before I'm an artist. The day that being an artist quits me, which I know will happen, it's (still) gonna be the biggest gift to be able to write songs for the rest of my life. It's my favorite thing. So when we were picking the singles for my album, we really wanted to start with "Love Me Like You Mean It" and "Dibs," because they were just fun, and there was nothing really like that on the radio at that moment. So we started there, but yeah, it was super-important for me to very quickly show people [my] songwriter side. And then, when we were playing "Peter Pan" on a radio tour, in every show we did, I got to see it connect with people.
When we were writing the song, (co-writer) Jesse Lee came in the room. She was like, "I have a title, but I'm gonna be honest with you. If we don't write this well, I love the title so much, I'm just gonna tell you straight up, I might go write it somewhere else." We were like…"Okay." And I think it presented us with this really healthy challenge in the room, to give this 'Peter Pan" idea the time that it deserved to be a great song. And then we actually wrote it in like 45 minutes, and it was one of my favorites.
DK: "Yeah Boy" is another hit and a fun song. How did you co-write this song?
Ballerini: It's actually kind of funny. For some reason, I saw this Doritos commercial, where Flavor Flav (of the rap group, Public Enemy) says, "Yeahhh…Boy! You know I'm Flavor Flavilicious!" (laughs). I think it was a Super Bowl commercial. And I couldn't get it out of my head…I don't know why it's in my head (laughs). So we end up Googling this "Yeahhh…Boy" thing for an hour. And after we've been researching this for an hour, we should at least write a song called "Yeah Boy" now, and it just wrote itself.
DK: That's funny. I never would've thought that Flavor Flav was the inspiration for your song.
Ballerini: It's so random, so random (laughs). I'm glad you asked that.
DK: I also like your song "The First Time," which I noticed that you wrote by yourself. This song could also be a hit. Are there plans to release another single from your album, after "Yeah Boy"?
Ballerini: "Yeah Boy" is the last [single from the album]. You know, I put out this record when I was 20. I feel like as a songwriter I've matured a lot—I've definitely grown up a little bit as a girl, as a young woman. I have a different story to tell now, and I'm really anxious to tell it. So we're wrapping up [the first album] with "Yeah Boy."
DK: On your song "The First Time," the song starts out with a nice piano intro. I know you play guitar—do you also play piano?

Here's the video of Kelsea Ballerini's hit single, "Yeah Boy."
Ballerini: I don't. It's funny, we just cut a song called "High School" that I wrote by myself for this next record, and it's turning out the same way. I wrote it on my guitar and I played it to my producers on the guitar, but for reason they just go towards piano-driven ballads, which we love. It's all sounding good. But no, I don't play piano.
DK: Can you discuss the songs you're recording for your next album? How far are you along with your album?
Ballerini: The new album will come out later this year. I would say we're halfway done at this point. I'm writing everything—either co-writing or writing by myself. And without saying too much, I feel like it will be kind of a snapshot of my life the last few years, through a break-up, through growing up, through a new set of insecurities and confidences, through meeting the guy I just got engaged to, to all of it. And I really just kind of wanted people to hear it from me, you know.
DK: On your first album, you worked with a certain group of songwriters. For your new album, are you mostly writing with the same people or are you working with other writers?
Ballerini: It's funny, on my first record I could not get in the room with a hit writer to save my life (laughs). I could not. And so the very last week before we had to be done with the record, I got in the room with (hit songwriter) Josh Osborne. And I was so nervous, because he was the biggest writer I'd ever written with. And we ended up cutting the song we wrote ("Square Pegs"). So for me, moving into this next record, I really wanted to get in the room with (hit songwriters) Shane McAnally and Hillary Lindsey, all these people, because I aspire to be as good as them one day. But I also wanted to keep that naiveness…that me and my friends had [before we ever wrote a hit].
So I think there's a little bit of both. I definitely have songs with people that have lists of hits that I can't even imagine, but I'm also still writing with Forest (Glen Whitehead), who I wrote three of my four singles with. So it will be a little bit of both. After [we finish this phone interview], I'm actually going to write with Hillary Lindsey which I'm really excited about. She's one of the reasons I even write songs.
DK: You've had a great two years since your album came out. How would you sum up how things have been going for you?
Ballerini: It's hard to sum up. Like I said, we just made an album that me and my friends…we never knew any different. We just made something that we were proud of. And to see that [the album] has connected, I think has been a really beautiful thing as a songwriter. [For us] to have the four songs see the light of day on the radio is a big deal. And I think for me, as an artist but especially as a songwriter, it makes me really dig deeper to figure out what it was that connected, and hold onto it for dear life (laughs).