Country Singer Kelsea Ballerini Talks About Her Hit "Love Me Like You Mean It" And Her Debut Album, The First Time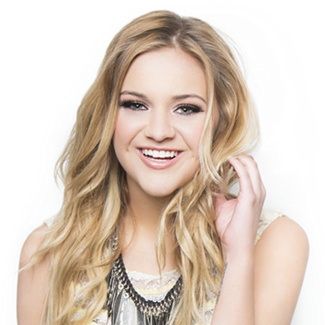 Like the title of her debut album, The First Time, singer/songwriter Kelsea  Ballerini is enjoying a lot of impressive firsts this year. In an era of dominant bro country, the 21-year-old performer is the first female solo artist to land atop the Billboard Country Airplay chart in three years. Carrie Underwood was the last to be number one with "Blown Away" in November 2012. The success of Ballerini's debut single, "Love Me Like You Mean It," propels her into the prestigious position of being one of only 11 country female artists like Underwood and Faith Hill to rise to the top rung with debut singles on the Billboard Country Airplay chart.
"I've had a couple of moments where it's sunk in, and it's been awesome," the new starlet said. "It's fun right now. I still can't believe that it's happened."
Ballerini started writing songs as an emotional release while she was in middle school in Knoxville, TN.  The first song she wrote was "Oh, Momma" as a Mother's Day present when she was 12. Soon after, the teenage tunesmith decided she wanted penning songs to be not just a passion, but a professional pursuit.
In this new interview, Ballerini talks about making the leap of faith to move to Nashville at 15, where she turns to for inspiration, and giving access to strangers to enter her world of vulnerability.
BC:  How did "Love Me Like You Mean It" develop with your co-writers Josh Kerr, Lance Carpenter, and Forest Glen Whitehead?
Ballerini: I was signed to my publishing deal (Black River Publishing), but I hadn't signed a record deal yet. That was my dream. I was in that discovery period of figuring out how I wanted to say what I wanted to say. I was with three of my guy friends. We were eating pizza and listening to Rihanna and stumbled across "Love Me Like You Mean It."  We didn't know if it was anything. We were writing songs that were fun. I loved it while we were writing it, but Forest, one of the writers on it, did a demo of it. That's when it clicked with me. This sound and the confidence of this song—that's what I want to do. That's actually the song that got me my record deal.
BC: When did you first start songwriting, and when did you realize you had a special gift for it?
Ballerini: I had been dabbling in it for probably like six months. It was a weird time in my life. My parents were splitting up. My dog ran out and got hit by a car and died. I was at this breaking point where there was a lot going on. I went upstairs. I wrote this song called "Bring on the Rain" and after I wrote it, I was so okay. Before that, I was so not okay. That's when I realized even if it wasn't supposed to be on a [national] level like this, I just knew that it was something important in my life. From that moment on, I kept doing it.
BC: About three years later at age 15, you came to Nashville to pursue songwriting. Did you move here exclusively for that reason? Your mom must have been very supportive.

Here's the video of Kelsea Ballerini's hit single, "Love Me Like You Mean It."
BC: How did you know what steps do take? You get here in town as a teenager, and it can be overwhelming to somebody who is older.
Ballerini: It's still overwhelming because there's not a set way to do it. Everyone's story is different. I finished high school and I was writing by myself all the time, and then writing with anyone who would write with me. I always approached it as help me learn. I never asked for anything. I always just wanted to learn and make those connections and protect those. I went to college for a couple of years and found the right people, and started with the publishing deal.
BC: What was it like when you first made the transition from writing solo to sharing your ideas with other writers?
Ballerini:  It's definitely different. I was so used to picking up a guitar and being as vulnerable as I wanted to be and not worrying if people were there or not. Then, going into a room of strangers, who would say, "Tell me about your life. Are you heartbroken? Are you dating?" All of a sudden you're an open book with these new people, [but] it's so fun. I've found that my very personal songs, I really like to write by myself, and the happy songs I love to write with other people.
BC: What helps to inspire you to write?
Ballerini: It really depends. It can be anything.  One of my favorite things to do, if I'm not inspired by anything, I go on Pinterest and they have a quote section. I'll pull a word or phrase and write around that. That's my new go-to, if I don't have anything that's sticking in my head.
BC: Who are your songwriting influences?
Ballerini: I've always, whether it's artists or songwriters, been drawn to strong females like Hillary Lindsey, Natalie Hemby, and Nicolle Galyon. A, their songs are incredible. B, they just get after it, and they're so cool. I got to meet these girls in person, and they're just awesome.
BC: What works best for you—lyrics or melody?
Ballerini: I love both. I try to be a chameleon and write. If I'm with someone who is a really strong lyric person, I go to melody, or if I'm with someone who is really strong with music, I go to lyrics.

Here's the lyric video of Kelsea Ballerini's new single, "Dibs."
BC: Compare what it's like playing a song that you and other co-writers have written with performing that song in front of an audience?
Ballerini: It's really awesome lately. People know these songs. Watching them go from an idea to being written to being recorded to being put out there, people knowing them and singing them back, that' s a new thing. It's a really cool thing as a songwriter to watch.
BC:  You came to Nashville not to be just a songwriter but also an artist.
Ballerini: Honestly, I don't think I would be an artist if I wasn't a songwriter. It's definitely the kind of foundation of what I do. My label was awesome enough to let me write everything on my album and let that be who I am.
BC: Do you have time to fit in writing now with all the success that's happening?
Ballerini:  It's definitely harder. It's gotten really busy. I think I'm going to start trying to have the writers come out on the road with me every now and then. I want to make sure to keep that creative side of me.
BC: Your new single is "Dibs."  What's the story behind that song?
Ballerini: I was in a room with three of my guy friends. We were writing this slow sad song, and it was one of the songs that it wasn't working for anyone. We were all banging our heads against the wall. I had the title idea ("Dibs"), but I didn't know what it was and I said, "Guys what about this?" I kid you not. We wrote that thing in like 45 minutes, and we jammed on it for so long because we loved singing it.
Bill Conger is a freelance writer for various publications including Bluegrass Unlimited, GACTV.com, Bluegrass Music Profiles and ParentLife. He can be reached at [email protected].He is also on Google+