Keaton Simons' "Beautiful Pain" Named July "Best Song Of The Month"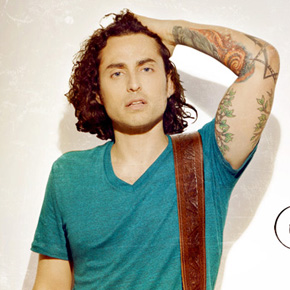 Keaton Simons, a talented pop/rock/blues singer/songwriter based in Los Angeles, has won the SongwriterUniverse 'Best Song Of The Month' Contest for July, for his song "Beautiful Pain.' This song is included on his new album, Beautiful Pain, which he released in April (2013) on his label Best Revenge Records, and is distributed by ADA (Alternative Distribution Alliance).
'Beautiful Pain' is a well-crafted, midtempo, acoustic-rock song which provides a solid showcase for Simons' songwriting ability, and his expressive lead & harmony vocals. The song starts off in a softer, understated manner, and then gradually builds in emotion and intensity. On this recording, Simons played all the instruments except for the drums, which were played by Robin DiMaggio (who has worked with Paul Simon, David Bowie and others). "Beautiful Pain" was produced by Simons and Mikal Blue (who is known for producing Colbie Caillat, Jason Mraz and Five For Fighting).
Simons was born and raised in Los Angeles, where members of his family have worked in the film & TV industry. He learned to play guitar at age 12, and he also learned to play piano. During high school, Simons formed a band, and when he was 17 (after graduating early from high school), he co-wrote songs with Tre Hardson of the hip-hop group, The Pharcyde, for Hardson's solo project. He also played live gigs with the Black Eyed Peas and Snoop Dogg.
For college, Simons attended Evergreen State College in Olympia, WA, where he subsequently graduated with a Degree in Ethnomusicology (studying world music). "Near the end of college," recalled Simons, "I was asked to write some songs for a movie. I wrote & recorded five songs for the movie, and these recordings helped launch me as a solo artist. These songs led to me signing a label deal with Madonna's label, Maverick Records (in 2003). Unfortunately, my album wasn't released after Maverick was absorbed by Warner Bros. Records."
In 2007, Simons signed a deal with CBS Records, and he released his debut album,Can You Hear Me, the following year. Then in 2011, Simons began work on his latest album Beautiful Pain, with producer Mikal Blue. "It was great working with Mikal, and I also co-wrote songs for the album with Jason Mraz ("Is There Any Other Way"), Jason Reeves ("If I Hadn't Forgotten"), and Glen Phillips ("Gonna Shine Brighter") of Toad The Wet Sprocket.
Currently, Simons is promoting his album, and he's filmed a video of "Beautiful Pain" which was directed by Nick Spanos. Notably, the video was executive-produced by actor David Duchovny (The X-Files), who is an investor in Simons' label. Simons has also partnered with Fred Croshal of CEG (Croshal  Entertainment Group) who handles management & marketing. In addition, Simons recently performed live on theEllen DeGeneres Show.
Top Five Songs Of The Month
Here are the Top Five Songs which were submitted for this month's contest, with the songwriter credits, plus their e-mail and website links. You can listen to the winning songs by clicking the music players below.
"Best Song Of The Month" Winner
Song Title:
Beautiful Pain.
Written by:
Keaton Simons of Los Angeles, CA . Performed by Keaton Simons.
More Best Songs Of The Month
To enter the next "Best Song Of The Month" Contest (the deadline is the last day of each month), please
Click Here