Emily Warren Co-Writes Hit "New Rules" For Dua Lipa, Collaborates With The Chainsmokers ("Side Effects") And Records Solo Album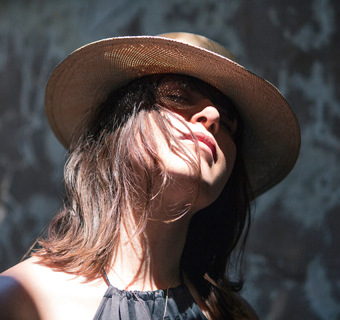 It was two years ago (in 2016) that pop singer/songwriter Emily Warren emerged as a hit songwriter, when she co-wrote the Chainsmokers' Top 5 hit, "Don't Let Me Down" (featuring Daya). Now just two years later, Warren has had several other successes, including co-writing this year's worldwide hit "New Rules" for Dua Lipa. In addition, she was the featured vocalist on the Chainsmokers' Top 10 hit "Paris," and she's toured and co-written other songs with the group.
On top of this, Warren is currently reaching a new level of success in two ways. First, she's the featured vocalist on the Chainsmokers' new single "Side Effects," and she co-wrote the song. On this cut, Warren is the lead vocalist featured throughout the song.
Second, Warren is about to launch her solo artist career, and she'll be releasing her debut album on October 6. The album is titled Quiet Your Mind, which she is releasing independently. This album contains 11 songs, and includes four cuts that are already available for streaming: "Paranoid," "Hurt By You," "Something to Hold On To" and "Poking Holes."
SPECIAL FEATURE: STREAMING AUDIO

Here's an excerpt of our interview with Emily Warren, who tells how she wrote (with Caroline Ailin & Ian Kirkpatrick) Dua Lipa's hit, "New Rules."
It's rare for a behind-the-scenes songwriter to not only have hit success as a writer, but to emerge as a popular artist whose voice can be increasingly heard on radio, and she can be seen on TV and in videos. Warren may have started out as a songwriter who mostly sang on demos (to pitch to other artists), but now many music fans have discovered her as an artist, and are appreciating her appealing and distinctive vocals.
Born and raised in New York City, Warren started writing songs when she was 10, and she learned to play piano and guitar. For college, she was accepted into the NYU (New York University) Tisch School/Clive Davis Institute, and she subsequently graduated from NYU. Soon after, she signed a music publishing deal with Dr. Luke's Prescription Songs.
In addition to co-writing the hits "Don't Let Me Down" and "New Rules," Warren has co-written cuts for Fifth Harmony, Shawn Mendes, 5 Seconds of Summer, David Guetta, Alessia Cara, Bebe Rexha, J Balvin, Jessie J, Anne-Marie, Jason Mraz, Becky G, Sean Paul, Charli XCX, Frenship, Omi, Skizzy Mars, Noah Cyrus, Little Mix, Lost Kings, Niykee Heaton and Krewella. Also, Warren co-wrote the new Chainsmokers' song "This Feeling" that features Kelsea Ballerini.
We are pleased to do this new Q&A interview with Emily Warren. She discusses the making of her solo album Quiet Your Mind, and she tells how she co-wrote "New Rules" for Dua Lipa and "Side Effects" with the Chainsmokers.
Note: this is the second article we've done with Warren. In our 2016 article, she recalled how she started in the music business, and how she co-wrote the hit "Don't Let Me Down" for the Chainsmokers (feat. Daya).
DK: I like your new song "Paranoid" from your solo album, and the video is good too. Can you talk this song and video?

Here's the video of the Chainsmokers (featuring Emily Warren) single,
"Side Effects."
Emily Warren: I wrote "Paranoid" with a couple of my closest friends and favorite collaborators. And I did the video with my friend Matt Porter, who's been doing all my videos. He came up with the idea that the video should be based on [the look of a] horror film, and he sent me a picture of The Cabin In The Woods and then a picture of a (black & white) Hitchcock movie, and we decided together that the Hitchcock idea was the way to go.
DK: On your album, did you work with a smaller group of writers and producers, or with a lot of different people?
Warren: Yes, it's just a couple of producers on the whole album, and there's only two other writers on it too. Mac & Phil produced most of it, and Nick Ruth did a couple of songs. The other writers are Britt Burton and Scott Harris.
DK: You've done a lot of work with the Chainsmokers, and you have a new hit, "Side Effects," with them.
Warren: Yeah, I'm very excited about that. And it's great that "Side Effects" [is on the charts] with my album coming out soon. I've gotten very lucky with the timing of that.
DK: How did you co-write "Side Effects"?
Warren: I've been working with the Chainsmokers for a long time, and I wrote this song in Copenhagen with Corey Sanders and Sly Sivertsen. Corey is from Wales and Sly's from Denmark. We wrote that song, and we sent it to Drew (Taggart) and Alex (Pall), and they immediately were like, "We want to jump on this and get involved." And they did their thing on it. It was an unusually quick turnaround for a song. I'm used to things taking up to a year or more, but "Side Effects" was released within a few months of writing it, which was really fun and exciting.
DK: How was it decided that you would be the featured vocalist?
Warren: We went back and forth for a little while, about whether or not I was going to feature on it. We've done a few things together and I toured with them, so it's always fun to be on songs together, because we get to hang out. It ended up that everyone was just very happy with the original demo [that I sang], so that's what we went with.

Here's the video of Emily Warren's single, "Paranoid."
DK: How did you first hook up with the Chainsmokers? Was your hit "Don't Let Me Down" one of the first songs you wrote with them?
Warren: "Don't Let Me Down" was the first song we wrote together, but I met them around a year before that. There's a song I wrote called "Until You Were Gone" that got pitched to them by my publisher, and they ended up reproducing it and put it out with my voice on it (in 2015). From that song, we ended up doing a session together with me, Scott Harris and them. And we wrote "Don't Let Me Down" the first time we worked together.
DK: You do a lot of writing for other artists, and you work with the Chainsmokers. At what point did you decide to record and release your own album?
Warren: There were a few different factors. One thing was that people were leaving my voice on a few things, like "Capsize" (by Frenship), plus the Chainsmokers songs. I was more and more down to have my voice on stuff. And (years ago) I also started in a band, so I think I always had that kind of bug in me.
Then there started to be a handful of songs that I wasn't really comfortable with having anyone else cut, because they were too personal. When there were two or three songs that I wanted to hold onto, I realized…Maybe it's time for me to make my own body of work. Also, I think what made it easy before to not put songs out, was that I hadn't fully found my voice or what I wanted to say. And through three years of writing with other people and for other artists, I figured out more of what I wanted to say and what I wanted to sound like.
DK: You co-wrote "New Rules," which was a big hit for Dua Lipa. Can you talk about how you wrote that song with (hit songwriters) Caroline Ailin & Ian Kirkpatrick?
Warren: It was a funny one, because we really wrote it because Caroline was going through basically that [situation] at the time, where she kept going back to someone that she knew she shouldn't. At the writing session we were talking about it a bunch, and we thought…Alright, why don't we write the song that's gonna stop you from doing that? And that's how "New Rules" came about. This song was really fun to write and very rewarding as a songwriter, because it's for the purpose that it's now served, in helping a lot of people resist going back to someone that's bad for them. It was great seeing something with a message that's positive take off as it did, and Dua killed it. I think the whole thing was a perfect storm of timing, with Dua's voice, the great video and the message. I'm really proud of how that one turned out.

Here's the video of Dua Lipa's hit "New Rules," which was co-written
by Emily Warren.
DK: Was "New Rules" written specifically for Dua?
Warren: It wasn't written specifically for Dua. We'd really just written it to pitch. At the very beginning, [the song] didn't have a lot of interest. People always ask, "Do you know when a song's going to be a hit?" And honestly, the short answer is no. I think with that song in particular, I had kind of forgotten about it, just because people weren't excited about it when we first wrote it. And then Ian's manager pitched it to Dua just as her album was closing, and they told us it was going to be her single, and it was kind of out of nowhere (laughs).
DK: It was "New Rules" that became Dua's breakthrough hit in the U.S.
Warren: Yes. I had been working with Dua for a while, for maybe three years. I also wrote "No Lie" that she did with Sean Paul. From when I met her, you knew that she had whatever it is, and it's just been really fun to be involved in that with her.
DK: With you as a writer, I know you write melodies and lyrics, and you sing. Do you also play instruments like piano or guitar?
Warren: Yeah, I play piano and guitar. In sessions when there's a producer in the room, I would kind of take the back seat for the most part. But at the same time, I think an understanding of chords has been super helpful to me because I feel if you can't come up with a melody, or something's not clicking, then it's helpful if you know where the song needs to go structurally.
DK: Are there any songs on your new album that you wrote by yourself?
Warren: I wrote "Something to Hold On To" by myself. I think that's actually it. It's funny, I've gotten very accustomed to collaborating. I find it really fun to be in a room full of people, bouncing ideas off of each other. So although I probably should sit down more by myself, I've put that on the back burner the last few years.
DK: You have your own album coming out and you still write for other artists. So how do you balance your artist career with your songwriting career?

Here's the video of the "Don't Let Me Down" by the Chainsmokers
(feat. Daya), which was co-written by Emily Warren.
Warren: I still do both. I think for me, the balance is crucial, because the artist thing is really just supposed to be for fun, and I think this has helped me not put too much pressure by switching and putting all my eggs in one basket. It definitely takes time to do both—the album took longer to make than I would have liked (laughs), but I guess that's the by-product of doing two things at once. But like I said, I think everything happens for a reason. And the timing of "Side Effects" coming out plus my album release…it's better than anything we could have planned for. So it's all good.
DK: Are you planning to do any live shows, and are you putting a band together?
Warren: Yes, I've put a band together; I'm playing a festival in September in San Diego that I've done every year. It's cool, because it's stepped up a little bit every year. Two years ago I had one person playing with me, and last year I had two people playing with me. And this year I have a full band. So that will be fun. And we'll be doing a couple headline shows in New York and L.A. when the album comes out.
DK: I don't know if the Chainsmokers would be into it, but I think it would be cool if you and your band were the opening act for their show, and then you would sing some of your features with them for their show. That would be a great show.
Warren: Hell yeah, I'm down for that (laughs).
DK: In terms of you writing for other artists, do you have any cuts or singles coming out that you're excited about?
Warren: I don't know if I can talk about [all the cuts coming out], but I'm super excited about the new songs I've just written with the Chainsmokers. And I have a song called "Say My Name" by David Guetta (feat. Bebe Rexha & J Balvin) that's on his new album.