Songwriter Emily Warren Has Breakthrough Hit, Co-Writing "Don't Let Me Down" For The Chainsmokers (featuring Daya)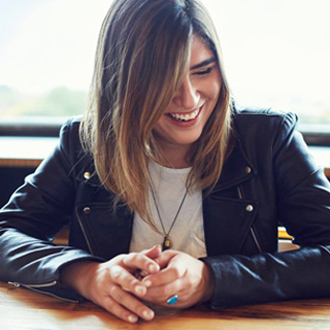 Emily Warren is a promising, young pop songwriter who has emerged during the past few years as a top-tier songwriter. She's co-written key cuts for Shawn Mendes, Fifth Harmony, 5 Seconds of Summer, Jessie J, Becky G, Omi and other artists.
Now in 2016, Warren has reached a new level of success, co-writing the Top 5 hit single "Don't Let Me Down" by The Chainsmokers (featuring Daya). This song (co-written by Andrew Taggart of The Chainsmokers & Scott Harris) has become a worldwide hit single, reaching the Top 10 in many countries including the U.S., Australia, Canada, Germany, the Netherlands, Austria, Sweden, Ireland and Switzerland.
Warren, who is 23, was born and raised in New York City, and she currently splits time between New York, Los Angeles and London. During high school, she formed a band called Emily Warren & the Betters, and they released an EP. For college, she was accepted into the Tisch School/Clive Davis Institute at New York University (NYU). Notably, just two years later (in 2013), she signed a music publishing deal with hitmaker Dr. Luke's company, Prescription Songs.
In 2014, Warren co-wrote the Jessie J single, "Masterpiece," which became a hit in several countries overseas and reached #65 on the Billboard Hot 100. Warren has also had cuts with Shawn Mendes, Fifth Harmony, 5 Seconds of Summer, Becky G, Omi, Tiesto, Melanie Martinez, Frenship, Karmin, Niykee Heaton, Krewella, Katy Tiz, Skizzy Mars and Astrid S.
In addition to co-writing for many established artists, Warren is also excited to be collaborating with a talented new U.K. artist named Ava Lily. Lily is completing an album and will be releasing a single in a couple months.
We are pleased to do this new Q&A interview with Emily Warren. She tells how she got started as a songwriter, signed a publishing deal, and co-wrote for artist projects. She also tells how she co-wrote the hit, "Don't Let Me Down."
DK: How did you get started with music and songwriting? I read that you began writing songs when you were 10.
Warren: My family is quite musical, so I was always surrounded by music growing up. My dad was always playing guitar and singing to us, my twin brother used to perform in the opera, and my two older brothers were always playing hip-hop and reggae around the house, so I had all kinds of music around me when I was a kid. At 10, I was taking piano lessons from an amazing woman named Jen Bloom. One day at the end of a lesson she sat at the piano and played me a song she had written, and I remember realizing for the first time that people actually wrote songs. And the rest is history—I wrote my first song that same night.
DK: For college, you began attending the NYU Tisch School/Clive Davis Institute in 2011. How did you land a music publishing deal with Prescription Songs, just two years later?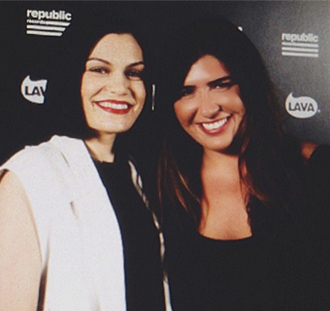 Warren: Funny story actually—I had a band while I was in high school called "Emily Warren & The Betters". We used to play at local venues in and around New York City. Rhea Pasricha, who was an intern at Atlantic Records at the time, found us on MySpace and came to a show. A few years later, after the band had split up and I was trying to figure out what I was going to do next, I was digging through my emails to see if I knew anyone in the industry I could talk to. Rhea's email popped up and I asked to set up a meeting—she told me she had moved out to L.A. and was leaving Atlantic Records that same week to take an A&R position at Prescription Songs, and asked that I send her some music. Pretty soon after she played my stuff for Luke, I flew out to L.A. to meet everyone and less than a year later she signed me!
DK: As a songwriter, is your strength writing topline (melody & lyrics), or do you also create tracks and produce?
Warren: Generally I'm doing lyrics and melody, but I play piano and guitar as well, so I often get involved in writing the chords in a session. As far as full on production, I do quite a bit of vocal production—that's something I really enjoy—but I haven't really dipped into making beats… yet. To be totally honest I don't have the patience for it at this point, but I definitely will start doing more of that eventually.
DK: What was your first big cut as a songwriter? Was it your single "Masterpiece" with Jessie J?
Warren: Yup! "Masterpiece" was the first song I wrote that was released as a single. It was wild—I was still in college at the time and remember genuinely not believing it was happening until the night it showed up on iTunes. I was with my best friend Rachel up late talking one night and BOOM—there it was. We both started hysterically crying. Such a surreal feeling. I still get it whenever something comes out—the fact that I get to write songs every day is incredible, but the idea that some of them get picked up by artists and sung to the world is just insane. I am actually doing what I love as a job and I can understand how rare and special that is.
DK: You've also had some big cuts with Fifth Harmony, 5 Seconds of Summer and Shawn Mendes. How did you hook up with these top artists?
Warren: Well first of all, I am very fortunate in the fact that I have an incredible team. My manager, Zach Gurka, and my publisher, Rhea Pasricha, are seriously the best in the biz. They are always putting me in great rooms with amazingly talented people and those sessions lead to the opportunities. The Shawn Mendes songs, however, came through one of my friend, Scott Harris. Scott is the first person I ever did a writing session with and still my favorite. He wrote Shawn's first single, "Life of the Party" (an absolutely gorgeous song) and ended up getting very close with Shawn and super involved in the project, so he pulled me in on a few songs for the first album. Shawn's the man and an incredible artist—that was a fun one!

Here's the video of the hit "Don't Let Me Down" by The Chainsmokers
(featuring Daya), which was co-written by Emily Warren.
DK: You have a big hit now, co-writing "Don't Let Me Down" for The Chainsmokers (featuring Daya). How did you write this song (with Andrew Taggart & Scott Harris)?
Warren: I met The Chainsmokers in 2015 when they did a song I had written and ended up featuring on called "Until You Were Gone". Shortly after, Scott (Harris) and I went in for a session with Drew (Andrew Taggart, one half of The Chainsmokers). We walked in and he played us the track to what is now "Don't Let Me Down" and we both freaked out—such a jam!!! We wrote the song in a few hours and had an all-around great time. Drew is incredibly talented and creatively the three of us just click. I am floored by what's happened with our little song baby—again, such a surreal feeling. Whenever I hear it on the radio it's a full body takeover—definitely doesn't get old. I can't even believe that something we created is being played all over the world. And there is nothing better than sharing this with Scott and Drew—I absolutely love them both to death and it's such a treat that we get to experience this all together.
DK: You started out as an artist and recorded an EP. Are you still working on music as an artist?
Warren: I am and always have been a writer first and foremost. I only started singing so that I had a way to share the songs I was creating, so I have been very lucky in the last few years to work with so many incredibly talented people who challenge and encourage me, and really get the chance to hone my craft. On top of that, I really have developed a passion for writing with artists—there is something so incredibly fulfilling in helping someone communicate what they have in their head, and having my hands in all different projects keeps things really fresh and exciting for me which is how I like to operate. That being said, some artists have started to leave my vocal on songs that I've written, like The Chainsmokers did with "Until You Were Gone" or more recently a song called "Capsize" that I did with a band called Frenship. Also, at the end of the day, there are some songs that I write that I don't think I would ever be comfortable giving to anyone else. So, yes—when the time is right, I will definitely be putting out my own music.
DK: Are there any other cuts or singles you're working on, that you can talk about?
Warren: Yes! I've got a few things in the cooker I'm pretty excited about. What I'm most excited about right now is my dear friend and incredible artist, Ava Lily. I met Ava in 2014 while on a writing trip in London and the second she opened her mouth to sing I knew immediately—whatever "it" is, she's got it. We've really locked in on the sound now and will be finishing the album this summer, with a single coming in the next couple of months. I'm really really excited about these songs. Ava is an incredible talent and above all else a true artist—and those are hard to come by. I am certain that she is going to put out a very special, timeless, and important body of work and I'm really excited and quite honestly feel very lucky to be a part of it all.