Carleigh Nesbit's "Your City Skies" Named January "Best Song Of The Month"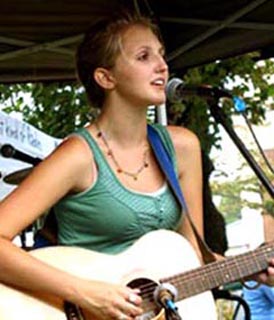 Carleigh Nesbit, a promising, young Americana singer/songwriter based in Charlottesville, VA, has won the SongwriterUniverse 'Best Song Of The Month' Contest for January, for her song 'Your City Skies.' This song is featured on her debut 9-song CD Flower To The Bee, which she released independently last September (2008).
'Your City Skies' is an uptempo, acoustic folk tune, which has an appealing, breezy quality. This is an impressive song and arrangement, because it demonstrates that Nesbit (who just turned 18) already has the ability to create and perform authentic, rootsy Americana music. 'Your City Skies' also showcases Nesbit's expressive lead & harmony vocals, plus fine music support by Andy Thacker (mandolin), Charlie Bell (dobro), Ann Marie Calhoun (fiddle), Stuart Gunter (drums) and Bob Bowen (bass). This recording was expertly produced by Jeff Romano, who produced all the songs on Nesbit's album.
Nesbit was born and raised in Charlottesville, where she was introduced to music by her parents and several local music teachers. She was inspired by listening to such artists as Gillian Welch and Emmylou Harris. When she was nine she began taking guitar lessons, and when she was 13 she took singing lessons and started to write songs. Nesbit subsequently enrolled at the Blue Ridge Irish Music School, where she formed a trio called Pixy-led with two friends, Fiona Balestrieri and Marie Borgman. 'We still play together a lot,' said Nesbit, who also performs live as a solo artist and as a duo with songwriter/musician Carl Anderson.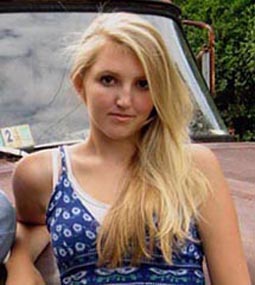 It was in 2007 that Nesbit was introduced to producer Jeff Romano by her singing teacher, Devon Sproule, who is also a singer/songwriter. 'Jeff liked my music, and he encouraged me to write and record a full album,' she recalled. 'We started recording the album in September 2007, and it was great working with Jeff ' he's a terrific producer and musician who plays many instruments. I was also happy to work with several other top regional musicians for my album.'
Nesbit discussed what inspired her to write 'Your City Skies':  'It seems that everyone strives to write love songs about people. 'Your City Skies' is a love song about my hometown and surroundings ' the place where I come from.'
Currently, Nesbit is a senior in high school, and she's considering college choices for next fall that will allow her to continue performing and recording. 'I've already written enough songs for another album, which I'll starting working on later this year,' she said. In addition, Nesbit will be steadily performing live shows, including a gig at the famed Bluebird Café in Nashville, and several festival shows this summer.
Top Five Songs Of The Month
Here are the Top Five Songs which were submitted for this month's contest, with the songwriter credits, plus their e-mail and website links. You can listen to the winning songs by clicking the music players below.
"Best Song Of The Month" Winner
Song Title:
"Your City Skies."
Written by:
Carleigh Nesbit of Charlottesville, VA. Performed by Carleigh Nesbit.
More Best Songs Of The Month
To enter the next "Best Song Of The Month" Contest (the deadline is the last day of each month), please
Click Here