Grammy-Winning Artist Colbie Caillat Talks About Her Excellent New Album, Along The Way, Which Is Her Solo Country Debut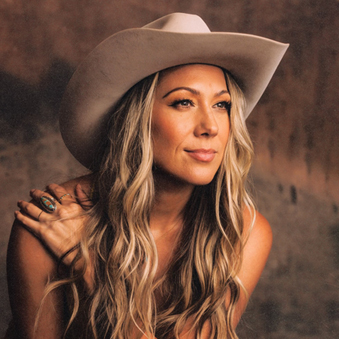 Colbie Caillat is a an acclaimed singer/songwriter who is known for being a platinum-selling artist and a Grammy Award winner. She has released two albums that have been certified platinum: Coco (in 2007) and Breakthrough (2009). In addition, she's written and recorded several hit singles—"Bubbly," "Realize," "Fallin' For You" and "I Do"—that reached the Top 30 or higher on the Billboard Hot 100 chart.
In recent years, Caillat has made a smooth transition into country music. Her acoustic-pop, guitar-based sound has always had elements of country, and now she has fully embraced the country genre. She moved to Nashville seven years ago, and she now collaborates with some of country music's top songwriters and producers.
Caillat has just released her debut solo country album, called Along The Way. This is an excellent album that ranks with her best work. It contains many songs that are well-produced and sound ready for country & pop radio, and the album flows well from beginning to end. Caillat has released this album on her own label, Blue Jean Baby Records, and it was expertly produced by Jamie Kenney.
SPECIAL FEATURE: STREAMING AUDIO

Here's an excerpt of our interview with Colbie Caillat, who tells how she made a smooth and natural transition into country music.
Along The Way is full of songs that feature Caillat's expressive, heartfelt lead vocals, and her thoughtful, personal songwriting. There are many highlights, including the first single "Worth It," which has a very hooky chorus that's easy to sing along with. Other key songs are her new single "Meant For Me," the opening cut "Wide Open," and "Still Gonna Miss You," which has an appealing melody.
Another highlight on the album is "I'll Be Here," which features Caillat singing a duet with Grammy-winning artist, Sheryl Crow. This song was written by Caillat with three top songwriters: Babyface, Brett James and Jason Reeves.
Caillat, who is originally from Southern California, grew up in a musical family. Her father is Ken Caillat, a renowned producer & engineer who co-produced the platinum Fleetwood Mac albums: Rumours, Tusk and Mirage. He's also engineered projects for Michael Jackson, Lionel Richie, Warren Zevon and others.

Here's the video of Colbie Caillat's single, "Worth It."
When she was a teenager, Caillat learned to play guitar and started writing songs. Then in her early 20s, she signed with Universal/Republic Records and quickly had pop success. Her debut single in 2007, "Bubbly," became an instant smash that reached the Top 5 on the Billboard Hot 100 chart. She followed it up with her single "Realize," which hit the Top 20. The success of "Bubbly" and "Realize" propelled Caillat's debut album, Coco, to triple platinum status.
In 2009, Caillat returned strongly with her second album, Breakthrough. The album went platinum, and contained the hit, "Fallin' for You." Then in 2011 she released her third album, All of You, which had the hit, "I Do." Caillat has also released her albums Christmas in the Sand (2012), Gypsy Heart (2014) and The Malibu Sessions (2016).
In 2019, three years after Caillat moved to Nashville, she formed the country band, Gone West. This quartet featured Caillat, hit songwriter & artist Jason Reeves (who co-wrote the hits "Bubbly" and "Realize"), Justin Kawika Young and Nelly Joy. In 2020, Gone West released their album, Canyons, and they had a country chart single, "What Could've Been."
After the breakup of Gone West, Caillat began to focus on her solo career again. She has spent the past two years writing and recording the songs for her new album, Along the Way.
Colbie Caillat Interview
We are pleased to do this new Q&A interview with Colbie Caillat. She discusses her new album, and the transition she's made to country music and living in Nashville. She also tells how she wrote her early hit, "Bubbly."
DK: From 2007 to around 2011, you had four big pop hits including "Bubbly," "Realize" and "Fallin' For You." Can you talk about that period in your career, in your early 20s?
Colbie Caillat: It was something that I never expected and it came quite quickly for me. This was incredible and terrifying at the same time. But I wrote these songs that I loved that connected with people, and I loved singing. So I figured it out as I went.

Here's the video of Colbie Caillat's single, "Meant For Me."
I was so fortunate at how fast everything happened. My friends put my songs on MySpace, and I got a fanbase that grew naturally. So for me, it was this incredible experience. There was this balance of trying to appreciate what was coming, but also learning how to navigate it all.
DK: After your early years of pop success, you eventually made the move to Nashville and embraced country music. How did you decde to make the transition to country music?
Caillat: It was very natural, how everything progressed. I was born and raised in Southern California, and I grew up going to Hawaii. But I'd never lived anywhere different. And I had a lot of friends in Nashville. I had been going there to write and I worked with a lot of country artists over the years. So it was like…Well, I'm going to live somewhere different and Nashville sounded fun. So my fiance and me at the time, we moved to Nashville and I started learning more about country music and falling more in love with it. Then we started our band Gone West, and we loved the songs we were writing. We loved all the country instruments and elements. So it was this natural progression.
SPECIAL FEATURE: STREAMING AUDIO

Here's an excerpt of our interview with Colbie Caillat, who tells how she wrote her new song "Worth It" with hit songwriters Liz Rose and AJ Pruis.
After Gone West broke up, I wanted to continue with country music for my solo career and with this new album. You know, it's been a long time since I released music as a solo artist. I took a lot of time to write it. I wanted it to be…if I had something to say, I would write it. And every instrument is beautiful and tasteful and really matches the lyrics.
DK: Your new album is called, Along The Way. How does your title fit into the theme of what you're doing with your music now?

Here's the video of Colbie Caillat's new duet with Sheryl Crow,
"I'll Be Here."
Caillat: It's about life and relationships and lost and love, and I was thinking how you have all these experiences throughout the journey of your life, and we all have these chapters. It's about these relationships that I wrote about on this album, and learning who I am as the woman that I am now. It's something that I thought was very fitting of my experiences along the way.
DK: On your new album, you wrote several songs with hit Nashville writers Liz Rose and AJ Pruis. How did you connect with them, and what makes the three of you a good writing team?
Caillat: I've written with Liz Rose for about 15 years now, and we always talked about gettting back in together and writing. Then after I wrote my first song (after the breakup of Gone West) in the fall of 2020, I felt ready to write with people. But I didn't want to write with just anyone. I didn't want to do what I'd previously done on previous albums, where you book a ton of sessions and write with a ton of people. I wanted it to be with close friends that I felt comfortable with. So I told Liz I was ready to write, and she said, "Perfect. There's this guy AJ (Pruis) that I've been writing with, and I think you'll love him." So the three of us got together and we wrote "Worth It," and I felt so comfortable around them. There's the wisdom of Liz and her calmness, and then AJ's energy and his beautiful melodies and guitar playing. as well as lyrics. We felt like a good fit and we couldn't stop writing together. It just happened that way…they were like my therapists for this record.
DK: "Worth It" is one of my favorite songs on your album. How did you write this song with Liz and AJ?
Caillat: I'm so glad you like it. I was telling Liz and AJ about the breakup that I was going through, and how much I still love and care for Justin (Kawika Young), and I cherish our relationship. It wasn't a bad breakup. I thought it was important to share how beautiful it was, and how much love there still was. So telling Liz and AJ that, and then AJ said, "You know, I was messing around with this idea of 'Worth It'," and he played a little of the chorus he had. I was like, "My gosh, this is so fitting and perfect." So we kept going with it and it's one of my favorite songs on the record.

Here's the video of Colbie Caillat's song, "Wide Open."
DK: I also like your new single, "Meant For Me." Can you tell the story of writing that song?
Caillat: I wrote that as well with Liz and AJ. I had been dating someone else for a little bit, and we ended things. I was just thinking about how I was meant to be with that person for all these good things that we learned, but I'm also not meant to be with them (for other reasons). So I wanted to write about it, but I didn't know what direction to take it. So I told Liz and AJ I had an idea, and we got together and we came up with that. And Liz wrote that beautiful twist of, "Meant for me to lose," which melts my heart.
DK: Your song "I'll Be Here" features Sheryl Crow, Babyface, Jason Reeves and Brett James. How did that song come together?
Caillat: That song has been a long work in progress. I originally wrote it with (hit songwriter) Brett James back in my house in California about 14 years ago. I had recorded it and wanted it to be on one of my earlier albums, but we didn't put it out back then because we couldn't get the production right. Then it was on my album Gypsy Heart and it was called "Never Gonna Let You Down." At that time, Babyface and Jason Reeves were involved with writing the song.
I always liked the original version, and my manager loved it and we wanted that song to have another chance. So we recorded mostly the original version, and the title was, "I'll Be Here." And I'm friends with Sheryl Crow…she's a neighbor, and she let me tour with her years ago. I really wanted a female duet for that song, so I was grateful that Sheryl said "Yes," to be on it.
DK: Besides the songs we've discussed, what are your favorite songs on your new album?
Caillat: There are songs that I wrote by myself like "Blue," that have a lot of meaning to me. That was the first song I wrote for the record. Then there's my song "Two Birds," and I love the lyric I was able to do. You know, I don't often write by myself, so I'm really proud that I was able to write those songs and be so honest. And now that people are hearing the album and listening to those songs, it makes me happy.

Here's the video of Colbie Caillat's song, "Still Gonna Miss You."
Another one of my favorites is called "Still Gonna Miss You" (written with Jason Reeves). And then my other favorite is "Wide Open," which is the opening track of the album. That song really sets the tone for how I'm livin' life now…being okay with what is, being happy if something works out, and okay if it doesn't.
DK: I read that your album is being released by Blue Jean Baby Records. Is this your own label?
Caillat: Yes, I started the label for this record. You know, I've been with a major label in the past, and they all have pros and cons. And being an independent artist can be very challenging as well. But I wasn't on a label when I made this record, and I really wanted to stay on that path with my team, and I was able to handpick the team that would help me create this record and then release it.
DK: I visited the tour page of your website, and it says you'll be playing shows in Brazil and one in Texas. Will you be doing more touring in the U.S.?
Caillat: Yes I am. We're trying to figure out a tour for next year in the U.S., and actually I'll be going overseas, too. We're looking into all of that now. I'll be playing old songs and the new record as well.
Here's the link to Colbie Caillat's site: https://www.colbiecaillat.com/
And here's the link to our 2019 Interview with Colbie Caillat about her band, Gone West.