Country Band Gone West (featuring Colbie Caillat) Talks About Their Singles, Their EP And Writing Their Songs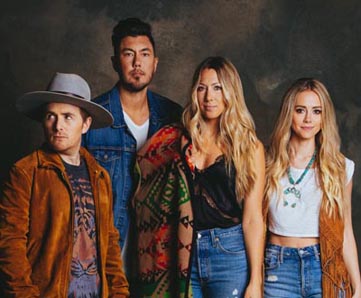 During the past six months, a talented new country group called Gone West has emerged, that consists of four singer/songwriters who are now joining forces. The band consists of Grammy-winning, hit artist Colbie Caillat, who is making a natural transition into country music. Gone West also features Jason Reeves (who has co-written hit songs with Caillat), Justin Kawika Young (a Hawaiian music award-winning artist) and Nelly Joy (a member of the country duo JaneDear Girls, who has co-written a hit for Big & Rich).
Notably, Gone West reunites the hit songwriting team of Caillat & Reeves, who wrote many songs together for Caillat's solo albums. The duo wrote together almost all the songs for Caillat's double platinum debut album, Coco (in 2007), including the hit singles "Bubbly" and "Realize." Caillat & Reeves also wrote together for all of her albums, including her gold album Breakthrough (2009), All of You (2011), Christmas in the Sand (2012), Gypsy Heart (2014) and The Malibu Sessions (2016).
Although Caillat and Reeves are known for writing together, Gone West features creative contributions from all four of its members, and they're all involved in the songwriting. Also, the group prides itself on its unique, four-part vocal harmonies.
The band decided to form last year, and in January (2019) they released their debut EP, Tides (on Triple Tigers Records). The EP includes the songs "Gone West," "This Time," "Home Is Where The Heartbreak Is," and "Confetti." In addition, Gone West has recently released its new single, "What Could've Been."
Gone West is on tour this summer, playing shows in Virginia, Delaware, California, Utah, Minnesots, Arkansas, Wisconsin and Texas. The group is also completing their debut album.
Interestingly, Gone West is not only a musical union, but a family affair. Reeves and Joy are married, and Caillat and Young are engaged.
We are pleased to do this new Q&A interview with all four members of Gone West. The members discuss their songwriting, and what makes the group unique.
DK: Colbie, you and Jason have been collaborating for a decade. How did the two of you meet and start writing together?

Here's the video of Gone West's song, "Gone West."
Colbie Caillat: We got introduced by a mutual friend named Anna (Rambeau)—she's someone who worked with Jason and someone I had known for years who works with my dad (producer/engineer Ken Caillat). She had us meet in L.A. and it was really cool, because we were both fairly new at songwriting and we had never co-written with anyone before. And the night we met, we wrote a song together. We wrote every song on my first album during that whole next year together, just for fun.
DK: Jason, you and Colbie used to be based in Los Angeles. Do you all live in Nashville now?
Jason Reeves. Yes, we all live in Nashville. I live in Nashville with my wife, Nelly (Joy), and I've lived there for about 10 years. And Colbie and Justin (Kawika Young) have lived there for about three years.
Nelly Joy: And I've been in Nashville for 14 years.
DK: How did you decide that you wanted to be in a group and form Gone West?
Reeves: Well, I think it was the evolution of me meeting Colbie 14 years ago, then meeting Justin and meeting Nelly. It just slowly evolved from us working together in different combinations, and then we went on tour together for Colbie's album, The Malibu Sessions. That was a few years ago (2016), when it was all four of us onstage singing harmonies and playing mostly acoustically, that sparked the idea that we could put a name to it and call it a group.
Justin Kawika Young: After The Malibu Sessions, we thought this could be something. We said, "Let's put a writing session on the books," and we did that. Then we wrote our first song together as a band and it went well. For our second writing session, it was with (hit songwriter) Tom Douglas. We played him that first song we had written together, and he really encouraged us officially make it a group and pursue it. But it's really been a natural evolution, with each step being incremental.
DK: Justin, can you and Nelly talk a little about your music background? I read that you're a prominent Hawaiian artist, and that Nelly co-wrote a hit for Big & Rich.

Here's the audio of Gone West's new single, "What Could've Been."
Young: I grew up in Hawaii, doing Hawaiian music and Island reggae, and I had a career there doing solo stuff. There's a rich and well-supported local music scene there, where three of the top radio stations play [local] artists; I was fortunate to grow up in that environment. Then I moved to L.A and started playing out, and that's where I met Colbie, and it led to me joining her band.
Joy: I got my start in the industry in a band called the JaneDear Girls (which was signed to Reprise Records Nashville), and I learned so much from that experience. Susie Brown (of the JaneDear Girls) and I pretty much wrote that whole album together. And in the process of that, something I've always wanted to do is write songs for other people. I love it when another artist sings a song I wrote…it's exciting and awesome. Anyway, I was lucky, because as our band was breaking up, John Rich of Big & Rich, who was my mentor when I first moved to Nashville…he asked me if they could record a song called "That's Why I Pray." And I was like, "Of course." I'd written this song with Sarah Buxton and Blair Daly, who are amazing songwriters. And Big & Rich's version went on to do really well.
DK: I looked at the writing credits for Gone West's songs, and it looks like each song was written together by the group. So when you're in a writing session, what's your songwriting process?
Caillat: Usually with co-writing, there's two or three people in the room. But in this case (with Gone West), it's usually four or five people in the room. So we've had to learn how to navigate that, and give everyone a chance to give their input. And our songs have truly been a collaboration with the four of us. One of us would have an idea started, and we'd all finish writing it together. And sometimes there's another songwriter (besides Gone West) in the room.
With our song "Home Is Where The Heartbreak Is," we went into that session with (hit songwriter) Liz Rose. Liz had the song title, and we loved the title, so we wrote a song around that.
DK: You've just released your single "What Could've Been," and your EP came out earlier this year. Will you be recording a full album?

Here's the live video of Gone West performing their song,
"This Time."
Caillat: We are almost finished with the album. When we get back in town in August (after the tour), we're going go add some salt and pepper, finish it up, and we'll release it when the time is right…hopefully sooner than later.
DK: Now that you're finishing your album and you're touring, what would you say is the band's vision as Gone West?
Reeves: That's a great question. My favorite part about [being in Gone West], is that it's very unique to have four people who were essentially solo artists and writers on their own, come together to write together. That's cool to me, because it's like a team of some sort. But I think our vision is to really emphasize harmonies and use our four unique voices in a new way, because most bands don't have four lead singers. And at various points on this record, all of us sing lead at different times. That's what I think is the most exciting part of it.
Caillat: Yeah, I think the four-part harmony aspect…it's really fun to make the record that way. And getting to tour live…when you're out there and all your vocals come together, it feels like this beautiful wall of harmonies, and it kind of give us the chills. It's a really cool experience to get to sing harmony with people.
Young: From a songwriting perspective, one thing that we've been intentional about, is making sure that all the songs we wrote are attached to something that was real for us or for people around us. Nashville has a wonderful culture of songwriting, but they write so many songs, that it can sometimes turn into a bit of a mass production line of a song per day. So we tried to make sure that we spent extra time on our songs. And if it wasn't right, we would spend another week working on a certain part so we loved every bit of it, and make sure that it had some truth to it for all of us.