Bridget Benenate Talks About Co-Writing The Hit "Breakaway" For Kelly Clarkson, Plus Her Other Hits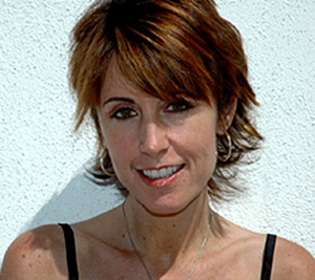 Los Angeles-based Bridget Benenate has quietly emerged as one of the most in-demand, pop songwriters in the music business. This past year, she co-wrote the pop/AC smash hit 'Breakaway' for Kelly Clarkson, which has become one of the longest-running hits in the history of the Billboard AC chart (it's still #2 after a full year). In addition, she has written seven new singles which have either been recently released, or are coming out shortly.
Benenate's success is the culmination of a long journey in the industry, from her start two decades ago as a teenage singer/writer who fronted a band signed to Mike Love's (of the Beach Boys) production company. She struggled to make a living in the business for over a decade, but now her career is in high gear. Benenate currently collaborates with top writer/producer Matthew Gerrard, she has many cuts set for release on albums and in movies, and she is building her own home studio.
In a new interview, Benenate talked about her teenage years as a new artist, the period in her 20s when she strove for success playing in bands, and the more recent events which led to her current career as a hit songwriter. She also discussed her writing process and inspiration, including how she collaborates with Gerrard and other writers.
Benenate was born in Warren, MI (near Detroit), where she lived until she moved with her family to Santa Barbara, CA when she was eight. Although her family (including five brothers) moved into a house with a swimming pool in Santa Barbara, her father (who was a house painter) had to stay in Michigan to work for two more years.
'We played music all the time in the house,' recalled Benenate. 'My parents always played records ' they were music lovers. My mom and dad were tone deaf, but they would sing their hearts out! At an early age, I learned to sing, play piano and drums, and I also played violin in elementary school.'
When she was 14, Benenate got into her first band (called Over Easy), which included two of her brothers. 'We would rehearse cover songs in our basement, and we played all the clubs and school dances in our area. For awhile, we were the most popular band in Santa Barbara.'
Then at 17, she joined a different band (still with her two brothers) called the Dreamers. 'By this time I'd started to write songs, and I wrote all the songs for the Dreamers,' she explained. 'For our first gig, Mike Love was in the audience and he liked the band, so he offered us a production deal (which the group signed). We then got to open up for a lot of Beach Boys concerts for a year. We also received interest from several labels, although we didn't sign a label deal.'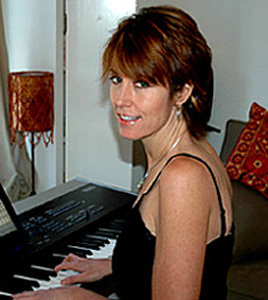 t was during this period that Benenate did land her first cut, writing a song with Jim Messina and Ric Streeter called 'Big Tease,' for Messina's album One More Mile. Then after the Dreamers broke up, she moved to Los Angeles to continue pursuing her artist career. However, Benenate didn't achieve the artist success in L.A. that she was seeking.
'When I came to L.A. I got involved, twice in a row, with horrible production deals,' she recalled. 'I was trapped in these contracts, and I couldn't get out of them. It took me four years before I was free. I was also in a series of bands throughout my 20s, but nothing quite clicked.'
Benenate and Gerrard began writing for (and with) many artists, which led to a flurry of cuts. They wrote seven songs with Christian/pop star Jaci Velasquez for her Unspoken album, including the #1 hit 'You're My God.' The duo then worked with Curb artist Nate Sallie, who had a #1 Christian hit with 'Whatever It Takes,' which won an ASCAP award for being the Most Played Christian song of 2003. 'You're My God' also received an ASCAP award. In addition, Benenate & Gerrard had a Christmas single with Hilary Duff ('Santa Claus Lane') and a cut with Lindsay Lohan.
Despite her success, Benenate did want to stress that everything doesn't always click for a songwriter. 'In 2003, I went to Nashville on a writing trip,' she explained. 'The trip was set up by Debby Dill (Senior Vice President of Windswept Pacific), whom I love, and who's been so supportive of me. However, this particular trip was a disaster ' I blew it. I was hooked up with Jeff Steele and other great Nashville writers. When I got to their place [to write], by the time I walked in and took my jacket off, they had practically finished the song! I was amazed at how fast they could write, and how good they are at their songwriting craft. [By comparison] I'm such a slow writer. I just think it's important for other writers to know, that sometimes you bomb. The music business is tough, and most of us stumble sometimes.'
Back in L.A. Benenate resumed working on a variety of projects. She wrote a song with rock icon Alice Cooper called 'Stand,' which featured a rap by Xhibit, and was included on the Unity album for the 2004 Olympics. Best of all, she was about to enjoy her biggest success to date, with Kelly Clarkson's smash 'Breakaway' (co-written by Gerrard & Avril Lavigne). This song was actually written two years before, when Benenate & Gerrard worked with Lavigne on a song for her first album, Let Go.
'Avril came over to write with us,' she said. 'Avril talked about her life and what things were important to her ' she was the inspiration for the song. Matthew began creating the melody and track, and I started working on the lyrics. I remember staying in bed for three days, writing 25 versions of the lyric. I love being in bed and writing lyrics, and having my dog Jet and my kitty Dash on the bed. Anyway, we finally finished the lyric, then we completed the demo.'
As it turned out, 'Breakaway' didn't quite fit for Lavigne's album, and other artists passed on the song before it was eventually placed with Clarkson, and featured in the soundtrack to the Disney film, The Princess Diaries 2. 'I want to credit Mitchell Leib (President, Music & Soundtracks, Walt Disney Pictures & Television) for helping to make this song a hit,' said Benenate. 'Mitchell was a big believer in this song – he placed it the film and got it to Kelly Clarkson.'

Here's the video of Kelly Clarkson's hit, "Breakaway," which was
co-written by Bridget Benenate."
'Breakaway' was released as a single in July 2004, and it gradually climbed up the pop and AC charts. The single tied a Billboard record, for longest stay at #1 (22 weeks) on the AC chart by a female artist. Benenate recalled her reaction to the success of 'Breakaway': I couldn't believe it. It's weird to be driving in the car and hearing it on the radio. It was a great feeling, and I also like that the song has a positive message.'
"Breakaway" is still being played on the radio, but Benenate & Gerrard haven't rested on their laurels. They've been busy writing many more songs and securing cuts. The duo has written or co-written the following songs, which have either just been released as singles, or will be out soon: 'Lost Without You' (the U.S. single by Australian star Delta Goodrem); 'Be Strong' (Goodrem's next single in Australia); 'I Still Hear It' (the Webb Sisters on Universal Records); 'Change The World' (the cartoon group Bratz Rock Angels, co-written by Stephen Booker); 'What Are You Waiting For' (Christian/pop star Natalie Grant); and 'It's A Beautiful Thing' (Australian artist Tammin Sursok, co-written by Stephen Booker). Also, Benenate & Gerrard wrote the new theme song for Hong Kong Disneyland, which has been recorded by Chinese star Jackie Cheung and released as a single.
In addition, the duo has five cuts coming out on the debut album of Caleigh Peters on Hollywood Records. Peters is the daughter of movie producer Jon Peters, and the god daughter of Barbra Streisand.
All of these successes have given Benenate the financial opportunity to build her own home studio (she just purchased the Korg Oasis), and to further develop her production skills. 'I want to experiment with producing – to be more creative on the production side,' she added.
Lastly, when asked what advice she would give to aspiring writers, she said, 'Always carry a hand-held tape recorder with you. When you have ideas, sing it into the tape recorder. If you don't have your tape recorder with you, call your answering machine, and leave your idea on the machine. If you want to be a successful writer in the industry, you need to stick with it and see things through. And when you think you've written a hit, don't get discouraged if it doesn't happen right away.'
Dale Kawashima is on Google+