Writer/Producer Adam Anders Tells How He Co-Wrote The Backstreet Boys' Hit "More Than That"
Update: Adam Anders has become a top music producer of many hit TV shows & movies, including the hit TV series Glee and the movie Rock of Ages. He also has a label, Deep Well Records.
New York-based writer/producer Adam Anders is enjoying his first major hit. He co-wrote (with the team of Franciz & LePont) the latest Backstreet Boys single, "More Than That." The song is also featured on the Backstreet Boys current album, Black & Blue, which has sold more than seven million copies in the U.S.
"More Than That" could be the first of many hits for Anders, who is quickly establishing a reputation as a rising, young writer/producer. He already has eight, additional cuts on major labels set for release, and he is collaborating with top songwriters such as Pam Sheyne (co-writer of hits for Christina Aguilera, Dream and Jessica Simpson).
Anders was born and raised in Stockholm, Sweden, where both of his parents were prominent, touring musicians. Anders would often go on the road with his parents, learning about the music business at an early age. When he was just 12, he formed a band called Blue Windows, which also included his older brother and sister. The group recorded two albums, with Anders singing and playing bass.
Most of his family eventually moved to Tampa, Florida, and Anders enrolled in music classes at the University of South Florida, while still attending high school. "I was fortunate to be able to enroll in a special program at South Florida, studying jazz bass performance. So by the time I graduated from high school, I had also completed my college, music education."
Anders then moved to Nashville, where he tried to land gigs as a bass player. However, he initially experienced a difficult period trying to break into the music business. To make ends meet, Anders would work the night shift in factories, and then try to find music gigs during the day.
"I worked at several factories, including a job loading trucks at a Pepsi plant," recalled Anders. "The strangest job I had was at the Golden Flakes potato chip factory, where my job was working at a conveyor belt, separating the bad potato chips from the good ones! As a result, it was a big step up for me, when I was able to leave the factory jobs, and start working at a Circuit City store, where I sold computers."
By 1995, Anders did find fulltime work in music, landing a gig as bass player and backup singer for Contemporary Christian artist, Steven Curtis Chapman. In addition, Anders subsequently did programming and production work for Chapman, and co-wrote a song, "Next Five Minutes," on Chapman's platinum album, Speechless.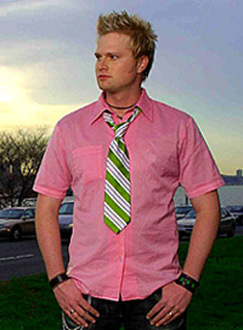 It was in 1997 that a momentous event occurred, when Anders met writer/singer Nikki Hassman (whom he married). "I met Nikki when I was on tour with Steven Curtis Chapman," explained Anders. "She had just been signed by Tommy Mottola [CEO of Sony Music] as an artist. Nikki asked me to write with her, and we collaborated on many songs for her album project. I ended up producing and co-writing about half the album. Unfortunately, the album was never released, but it did push my writing and producing career into high gear. I started writing like crazy."
Anders eventually relocated to Los Angeles, where he also started writing songs for movie projects. For the Rugrats In Paris soundtrack, Anders co-wrote (with Nikki Hassman & Maribeth Derry) the ballad "When You Love," which was recorded by Sinead O'Connor and produced by Wyclef Jean. This song was selected by the film's producers over submittals by many, big-name writers.
"When You Love" helped attract the attention of Kathleen Carey, Senior Vice President of Sony/ATV Publishing, who subsequently signed Anders to a co-publishing deal in December 1999. Barbara Cane of BMI was also a big supporter of Anders, and she referred him to many people in the industry.
It was in early 2000 that Anders made a trip to his native Sweden, to reconnect with the now flourishing, pop music scene there (home of hot writer/producer Max Martin). "I went back to Sweden and made the rounds," explained Anders. "I began collaborating with the team of Franciz & LePont, and we decided to try and write a song for the Backstreet Boys. I came up with the lyric and parts of the music for 'More Than That,' and then the three of us finished writing the song at their studio. Franciz & LePont had a friend who knew Kevin Richardson [of the Backstreet Boys], so they were able to play the song for the group, who were in Stockholm recording vocals with Max Martin. Everyone loved the song, and we got the cut."
"More Than That" has become a career breakthrough for Anders, especially with the song being released as the third single from the Backstreet Boys' album. In addition to its success on the Billboard "Hot 100" chart, the song has also become a hit in several other countries.
Anders could be taking time off now to enjoy his newfound success. But instead, he is working virtually non-stop in the studio, trying to build upon the exposure and credibility he has gained with "More Than That." He has produced and co-written eight cuts set for U.S. release, including four songs with Epic artist Tony Vincent, and cuts with Cece Winans (Sparrow), Nidia Rojas (Hollywood), Alecia Elliot (Universal), and Billy Crawford (V2).
"I'm very pleased to have had the success with 'More Than That," said Anders. "It was a big break to get the Backstreet Boys cut, and I'm definitely thankful. But I feel like I'm just getting started. I'm working very hard right now, trying to write and produce the best songs possible. I'm excited about what's hopefully to come."
More information about Adam Anders can be found at his website:
www.andersmusic.com
Dale Kawashima is on Google+