Special Interview with Teresa LaBarbera Whites, Senior Vice President of A&R at Columbia Records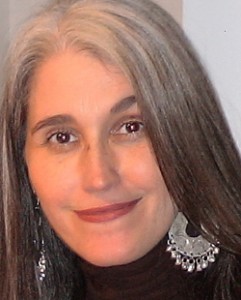 Update: Teresa LaBarbera Whites is now an independent A&R exec who continues to work with Beyonce.
Teresa LaBarbera Whites, who has recently returned to Columbia Records after six years at Jive Records, has been one of the most successful A&R execs in the music industry for the past 20 years. During her first tenure (14 years) at Columbia, she discovered and signed Beyonce & Destiny's Child, Jessica Simpson and other artists. And during her years with Jive, she A&R'd hit albums by Britney Spears, the Backstreet Boys and Pink.
A Texas native, LaBarbera Whites is based in Texas (near Fort Worth) but travels frequently to the east and west coasts, and overseas. She began her career in the music industry as a regional A&R scout for Sony Music, which included work for both the Columbia and Epic record labels. Five years into her work as a regional scout, Columbia put her on the label's A&R staff. While working as a scout for Columbia, she met Beyonce Knowles (then age 9) and Kelly Rowland (then 10) of Destiny's Child, which later became her first signing. LaBarbera Whites worked closely with Destiny's Child for many years, helping to nurture and develop their music and careers. In addition, she discovered pop star Jessica Simpson when she was 17, and helped oversee Simpson's multiple hit singles & albums.
The number of hit songs & albums LaBarbera Whites has been involved with, as an A&R exec is truly impressive. With Destiny's Child (which included Beyonce, Kelly Rowland & Michelle Williams), the group had such chart-topping albums as Destiny's Child (including the hit "No, No, No Part 2"), The Writing's On The Wall (the hits "Bills, Bills, Bills," "Say My Name," "Jumpin' Jumpin"), Survivor ("Independent Women Part 1," "Survivor," "Bootylicious," "Emotion") and Destiny Fulfilled ("Lose My Breath" and "Soldier"). LaBarbera Whites subsequently nurtured Beyonce's solo career, A&R-ing her first solo album Dangerously In Love, which won five Grammy awards and featured the hits "Crazy In Love," "Baby Boy," "Me, Myself And I" and "Naughty Girl". In addition, she A&R'd Kelly Rowland's debut solo album Simply Deep, which went gold in the U.S. and platinium abroad and included the #1 hit "Dilemma."
For Jessica Simpson, LaBarbera Whites A&R'd such hit albums & singles as Sweet Kisses (the hits "I Wanna Love You Forever" and "I Think I'm In Love With You"), Irresistible (the title hit "Irresisible"), and In This Skin, which gave Simpson her only #1 on the Mainstream Top 40 charts with "With You." Also while at Columbia, she handled A&R projects with Solange Knowles and Michelle Williams.
During her six-year period with Jive Records, LaBarbera Whites A&R'd Britney Spears' multi-platinum albums Blackout (which contained the hits "Gimme More" and "Piece Of Me"), Circus (the hits "Womanizer," "Circus," "If U Seek Amy"), plus her upcoming new album which features the smash hit, "Hold It Against Me." LaBarbera Whites also A&R'd three albums for the Backstreet Boys: Never Gone (the hit "Incomplete"), Unbreakable ("Inconsolable") and This Is Us.
LaBarbera Whites also A&R'd other notable albums by Jive artists such as What's Left Of Me by Nick Lachey (with the title hit "What's Left Of Me"), Just Like You by American Idol finalist Allison Iraheta and Sorry for Partying by Bowling for Soup.
We are pleased to present this special Q&A interview with Teresa LaBarbera Whites. She discusses her new artist projects at Columbia, plus her work at Jive Records. She also offers insights for songwriters & artists, on how they can develop their music and succeed in the music business.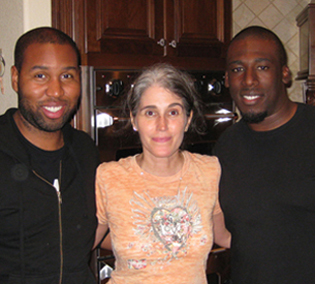 DK: Congratulations on your return to Columbia. Why did you decide to return to this label?
LaBarbera Whites: Returning to Columbia was like coming back home. I started my career there over 20 years ago.  It's great to be working with Beyonce again (who is signed to Columbia) on her new album. Beyonce is an amazing artist, songwriter, producer and performer– she does it all. I've known her since she was a child and have watched her mature into the legendary musical force that she has become.  I'm not sure if there's anything much cooler than that.
DK: When did you first meet and work with Beyonce?
LaBarbera Whites:  I met Beyonce when she was just nine-years-old. I signed Destiny's Child two years later when she was 11, and she was 13 when the first Destiny's Child album came out.
DK: You have a unique situation as an A&R exec, being based in Texas instead of Los Angeles, New York or Nashville.
LaBarbera Whites: I live in the country, in the middle of nowhere, near a really small town called Granbury, Texas.  I split my time traveling between New York, Los Angeles and Nashville and occasionally travel overseas to work in Sweden and the U.K.  I'm always traveling, whether it's for recording sessions or to meet with songwriters, artists and producers. I try to be hands-on in the studio for the younger artists who need more guidance with the recording process. With our established artists I feel I'm that person they turn to when they need another perspective, a creative opinion or someone to just bounce ideas off of. I think it's essential to be face to face with people whenever you can, especially when talking about the creative process.
Living away from the major music industry cities gives me a great perspective on the music business. When I'm home in the country, I can step outside of the business, if only for a minute, and just focus on the music and the creative process. I also own a Bed & Breakfast (hotel) in Granbury. I've hosted two songwriting retreats at the bed & breakfast for Britney Spears' album. The songwriters switch off writing with different collaborators each day. They hang out together in a big house for a week, living and working together and focus specifically on songwriting for a particular artist.  It's been great. I love being able to do it this way. The business of making records has become too much about the business and the creative process has suffered as a result.  All very formulated and scheduled.  I'm trying to get back to the old school approach, writers hanging out, sometimes with the artists, sometimes just with other writers and creating the songs that become the soundtracks of our life.  Like I imagine the legendary Brill Building might have been. The important element is fostering a comfortable and creative environment.  That allows me to bring writers from lots of different genres together to create great songs that sound fresh. As we all know, it all starts with a GREAT song.
DK: What is your next A&R project for Columbia?
LaBarbera Whites: I'm beyond thrilled to be working with The Dixie Chicks. I'm a huge fan of Marti, Emily and Natalie…their writing, their performances and who they are as amazing women.  I'm really looking forward to working on the X-Factor project as well. And of course, I'm looking forward to signing new artists. I've got to find the next big star! I love the excitement of discovering a new artist, as well as a new songwriter. It all goes hand in hand. Artists need hit songs and hit songs need artists.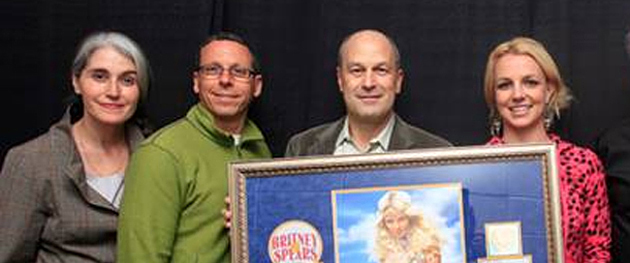 DK: During your years at Jive Records, which albums or singles were you most proud to have worked on?
LaBarbera Whites: I'm proud of them all.  I was fortunate at Jive that I got to work with some incredible artists. Working with Britney Spears will always be a career highlight for me. She is an amazing performer and a wonderful person to work with. Our first album to work on together was the Blackout album and her hits "Gimme More," and 'Piece of Me'. Blackout was such a different sound for her. That's what made it so exciting for me, creating a new sound with her for her fans.  I was also an Executive Producer on Britney's Circus album with such great songs as "Womanizer", 'Circus' & 'If U Seek Amy'.   My approach to every album I work on is to help the artist create a body of work that the fans will want to listen to from beginning to end.  The album tracks are as important as the singles are to me.  I love them as much as I love the singles. Even though it wasn't a single, one of my favorite songs on the Circus album was "Unusual You'.  After all, I'm a fan too.
For the Backstreet Boys, I brought in the song "Incomplete" for their Never Gone album. They hadn't made a record in a few years so it was important they come back with a contemporary song. It was more of a rock song, which was a completely different sound for them. It was great to hear them make this song their own and watch it become a hit with their fans around the world. Finding the perfect union of artist and song is always a great feeling of accomplishment for me as an A&R person. I had always been a fan of Nick Lachey's beautiful voice and signed him to Jive where we made his What's Left Of Me album. I still remember the day they played me 'What's Left of Me' for the first time. There's nothing more exciting than hearing a hit song for the first time.  While I worked at Jive, I also had the very lucky opportunity to meet and work with Pink.  She is truly an amazing artist'and woman.  To hear her albums, I'm Not Dead and Funhouse for the first time gave me chills. It was an honor just to do her paperwork.
I love working with new artists, discovering and developing who they are and who they will become as a recording artist.  Allison Iraheta (American Idol finalist) has one of the most amazing voices.  Being in the studio with a young voice like hers, so full of soul and power reminded us all (me and the producers she was working with) why we got into the music business. Ry Cuming is a new artist from Australia that I signed to my label, BellaSonic Records. Ry has a beautiful voice and is such a poignant songwriter'the stuff we girls love. He's currently on tour now with Maroon 5.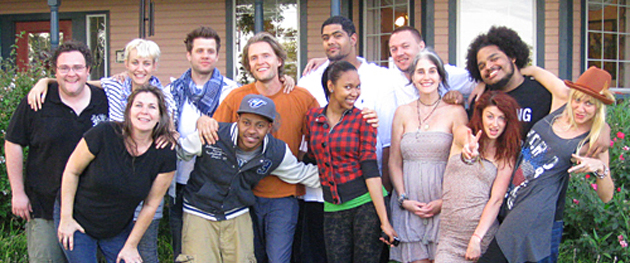 DK: As an A&R exec, what type of artists do you look for?
LaBarbera Whites: I look for artists who have the originality and creativity to make people notice, an artist with the ability to make a difference. I want to be moved. I want to be entertained.  I want to experience some emotion, any emotion, when they perform. I look for all types of artists; I'm a fan of all types of music. If they're great I want to hear them. I don't want to sign an artist who is following; I want to find the next leader; the person that will influence the next generation. An artist that will work as hard as I will. It's a team effort on everyone's part. No one gets there alone. It's a lot of hard work, but when we get it right, the pay off is the ride of a lifetime.
DK: I know you work with superstar writers such as Max Martin and Dr. Luke. Are you also looking to discover talented new songwriters?
LaBarbera Whites: I'm so fortunate to work with some of the most talented songwriters and producers in our business. But I'm always looking to discover a new songwriter. I don't get caught up in who wrote or produced a song–it doesn't have to be a big-name writer. It just has to be a big song. The only thing that separates a hit songwriter from an unknown songwriter is one hit song. As an A&R executive, I believe it's as important to find new songwriters and producers, as it is to discover new artists. They will hopefully create something fresh and new. I started my career as an A&R scout so development is second nature to me. Finding people early, helping mold them into the musical influence they are hopefully destined to become. That's the fun stuff.
DK: As you review so many songs, what thoughts come to mind about the quality of each song?
LaBarbera Whites:  I feel the business of songwriting has gotten a bit lazy. Somebody dropped the bar and no one has picked it up yet. Both A&R executives and writers need to raise the bar. Don't settle for 'good' but insist on 'great'.  Fans deserve that. I like to get songs that are thought through, with a memorable chorus or melody, a clever or poignant lyric. Simple and catchy will also do. I get so many songs where nothing happens. No emotion, no feeling, no action, nothing. I can't remember anything I just heard. And if I can't remember it, chances are the fans won't either. And worse, they won't care to hear it again. I keep hoping concepts will make a comeback in songwriting.
DK: You must get so many song submissions from writers & publishers. How do you respond to all these pitches?
LaBarbera Whites: I believe that communication is key. Some people who pitch me songs will laugh when they read this, since they'll say that I never get back to people. To be honest, I get so many songs (hundreds per week) that it's impossible to get back to everyone.  If I hear a song that I think is right for a project, I will get back to that publisher or writer. I'm very hands-on with communication once I hear something that has potential. And sometimes if I hear a great song but it's not right for the current artist projects I'm working on, I will save the song for possible use in the future. I've got some songs I've had for years.
I try to give every song an honest listen. I like to listen to songs in the car or on the plane, where I can give the song my full attention. If I'm listening while I'm on the phone, or busy doing other work, it's not fair to the writer.
DK: What advice would you give to new artists, and to songwriters, on how can they break into the music business?
LaBarbera Whites: For songwriters, be open to working with as many people as you can.  The important thing is to learn from others.  Don't be too precious. Be willing to rework an idea, listen to someone else's perspective on your songs. Get yourself into sessions with more established writers you can learn from.  Write with writers from different genres; show a wider range of your work. If you're an established writer, go to another country and get a different flavor and perspective on your songwriting or producing. It's big world out there with lots of wonderful influences you can incorporate into your writing.
For a new artist trying to break in I would say do everything you possibly can to get noticed. You should be performing everywhere you can, building a fan base, a media base, a website –anything that will lead to people finding out about you. These days, artists can virtually promote themselves without ever leaving their room. Educate yourself on these things. You're not the only person that wants to be a star'the competition is fierce and they number in the hundreds of thousands around the world. And if you get a label deal, it doesn't mean you can take it easy; you have to work even harder to continue to build your career. You have to be willing to work as hard as I will. And I work really hard.
Dale Kawashima is on Google+