Joe Adamek & Betsy Ade (of the band Well-Known Strangers) Wins July "Best Song Of The Month"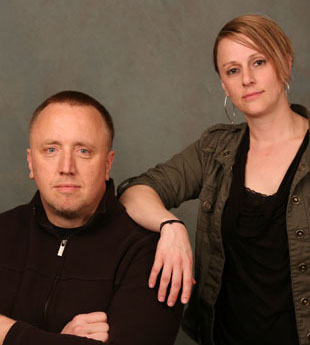 Joe Adamek & Betsy Ade of the pop/folk/rock band Well-Known Strangers (based in Racine, Wisconsin), has won the SongwriterUniverse "Best Song Of The Month" Contest for July, for their song "Aligned." This song is included on their debut 4-song EP, Found, which was released independently in June (2015).
"Aligned" is a well-crafted, acoustic/pop song which has a heartfelt lyric theme and an appealing melody. Each verse contains fast-paced phrasing which helps build energy toward the chorus, which is the song's main highlight. This recording provides a fine showcase for Betsy Ade's expressive lead & harmony vocals, and the arrangement includes an excellent string arrangement which features cellist Sacia Jerome. "Aligned" was expertly produced & mixed by Nick Radovanovic, who has mixed cuts for Melissa Etheridge and Eric Hutchinson, and is a member of the Seattle-based band, Acceptance.
Well-Known Strangers consists of six musicians who have played in different bands in the Midwest, and are part of the regional music community. Adamek plays lead & rhythm guitar, and along with Ade (who plays guitar & mandolin), are the main songwriters in the band. The other members are Roger Gower Jr. (drums), Sacia Jerome (cello & background vocals), John Kulas (bass) and Jon Wolf (rhythm guitar).
"We've known each other for about 15 years," said Adamek, in a joint interview with Ade. "We've been in different bands but we kept in touch, and when we played together at a friend's wedding last year, we clicked musically and decided to form a new band." Notably, Ade is a member of two bands: Well-Known Strangers, and Candy Apple Crush.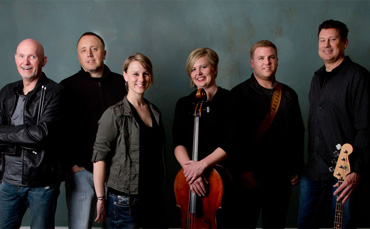 Both Adamek and Ade discussed how they wrote "Aligned." Adamek: "'Aligned' was created as a song that spoke about accepting things for what they are…to find peace with a relationship that didn't quite work out." Ade: "I connected with this song's universal idea…finding peace within yourself, and moving forward."
Currently, Adamek & Ade are busy writing songs for another EP (or album), and they're pleased that their songs are already receiving some local and international airplay. In addition, the band is preparing to do more live shows.
"We can feel the momentum building," said Adamek. "It's been really gratifying as the word has gotten out, and people have been so enthusiastic about the band. It feels incredible and very validating."
Top Five Songs Of The Month
Here are the Top Five Songs which were submitted for this month's contest, with the songwriter credits, plus their e-mail and website links. You can listen to the winning songs by clicking the music players below.
"Best Song Of The Month" Winner
Song Title:
"Aligned"
Written by:
Joe Adamek (of Racine, WI) & Betsy Ade (Kenosha, WI).
More Best Songs Of The Month
To enter the next "Best Song Of The Month" Contest (the deadline is the last day of each month), please
Click Here