Wayne Kirkpatrick Talks About His Hall Of Fame Career, Co-Writing Hit Songs For Eric Clapton ("Change The World"), Amy Grant And Little Big Town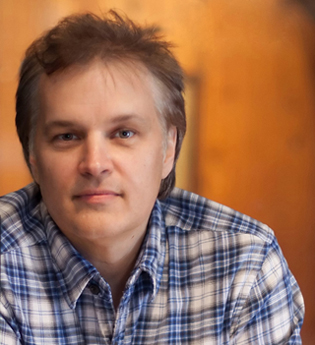 Wayne Kirkpatrick has had a successful career as a hit songwriter and producer for almost three decades. Perhaps best known as the Grammy-winning songwriter who co-wrote the classic hit "Change the World" for Eric Clapton, Kirkpatrick has also co-written pop hits for Amy Grant ("Every Heartbeat," "Good For Me"), Michael W. Smith ("Place in this World") and country hits for Little Big Town ("Boondocks," "Bring It On Home," "Little White Church"). Notably, Kirkpatrick will be inducted into the Nashville Songwriters Hall of Fame this October (2018).
In recent years, Kirkpatrick has explored new musical projects beyond his success in pop, rock and country. In 2015, he was nominated for a Tony Award (Best Original Score) for co-writing the songs for the hit Broadway musical, Something Rotten! In addition, this year he co-wrote the songs for the animated movie Small Foot, which will be released soon by Warner Bros. Pictures and features the voices of Channing Tatum, James Corden, Zendaya, Common and LeBron James.
SPECIAL FEATURE: STREAMING AUDIO

Here's an excerpt of our interview with Wayne Kirkpatrick, who tells how he wrote (with Tommy Sims & Gordon Kennedy) the classic hit song, "Change the World," which was recorded by Eric Clapton (feat. Babyface)
Born in the town of Alexandria, Louisiana, Kirkpatrick moved to the larger city of Baton Rouge, LA when he was 14. He learned to play guitar and piano, and he began writing songs during high school. For college, he attended Louisiana State University (LSU) before moving to Nashville to attend Belmont College (now called Belmont University), which is known for its music and music business curriculum.
After college, Kirkpatrick broke into the music business and had success with Christian/pop artists Amy Grant and Michael W. Smith. Then a few years later, he had his biggest hit, co-writing "Change the World" for Eric Clapton, which was produced by Babyface and featured his background vocals. Impressively, "Change the World" won Grammy Awards in 1996 for Song of the Year and Record of the Year, and the song was featured in the hit movie, Phenomenon (starring John Travolta).
Kirkpatrick also became a successful record producer when he collaborated in the early 2000s with country group, Little Big Town. He produced three of their hit albums (The Road to Here, A Place to Land, The Reason Why), and co-wrote their hits "Boondocks," "Bring It On Home" and "Little White Church."
On top of this, Kirkpatrick co-wrote eight songs for the double platinum album The Life of Chris Gaines, which was the fictional rock persona created by superstar Garth Brooks. One of those songs was "Lost in You," and it became a Top 5 pop hit.
We are pleased to do this new Q&A interview with Wayne Kirkpatrick. He discusses his early years collaborating with Amy Grant and Michael W. Smith, his big hit "Change the World" for Eric Clapton, and his work with Little Big Town. He also tells how he co-wrote songs for the Broadway musical Something Rotten! and the animated film, Small Foot.
DK: Congratulations on being inducted into the Nashville Songwriters Hall of Fame. How does it feel to receive this honor?
Wayne Kirkpatrick: Well, it's quite a thrill and an honor. I never really imagined that I would be included in such an elite group of songwriters.

Here's a video of Eric Clapton performing his hit "Change the
World," which was co-written by Wayne Kirkpatrick.
DK: I read that you're from Baton Rouge, LA. How did you get started with music and when did you move to Nashville?
Kirkpatrick: I started writing songs the summer before I went into high school. That's when I moved to Baton Rouge from a smaller town called Alexandria. I taught myself to play guitar and from there, started writing songs.
I found songwriting to be a way of expressing myself and exploring what I felt about things, because obviously high school is a time where you do a lot of that, anyway. So I  fell in love with songwriting, but I didn't really know that you could do that as a career. When I went into college, I first went to Louisiana State (LSU) and I was studying landscape architecture as something to fall back on. Then about two-and-a-half years into that, I realized it wasn't what I wanted to do. It was around that time that I found out about Belmont College, which is now Belmont University.
At Belmont, they had a music business program and a recording studio. So I came up to Nashville to look at the school, and I fell in love with the school and with Nashville. I thought…this is where I want to be.
At the time, I thought I wanted to be a singer/songwriter, but ultimately the songwriting side of it was the part that stuck with me. I knew I could write songs that I would sing, but could I write songs that somebody else would want to sing? And that became the challenge for me, and the goal.
DK: As a songwriter, is your strength writing the music, the lyrics, or both?
Kirkpatrick: I actually like writing both equally. The benefit to doing both, especially in the collaboration setting, is I will take the role that is needed. If I'm working with someone who only writes music, then I'll take the lyricist role. And then if someone only writes lyrics, I will take the music-writing role. I do enjoy both roles equally.
DK: Early on, you had success writing with Christian & pop artists Michael W. Smith and Amy Grant. How did you connect with Michael and Amy?
Kirkpatrick: I hooked up with them through their manager, Mike Blanton. He also ran Reunion Records, which was the label that Michael was on. It was actually my brother Karey (Kirkpatrick) who connected me with Mike Blanton. He also went to Belmont College, and he took a music business class, and for his final project he interviewed Amy Grant. And through that process, he got to know Mike Blanton's receptionist, and he was able to leave a cassette tape with her, and she passed it on to him. Then he heard it and liked it, and from there I started to develop a relationship with him. And through that, I pitched him songs, and a couple songs ended up on Amy Grant's Unguarded album (in 1985). So that's how I connected with Amy—at first I would pitch her songs I had written, and later on we would get in a room and write together.

Here's the video of Amy Grant's hit "Every Heartbeat," which was
co-written by Wayne Kirkpatrick.
With Michael W. Smith, he had been playing with Amy Grant and opening for her, and then he did his own solo tour. Mike Blanton suggested that I go on the road and be part of his band, which is what happened. I became part of Michael's first touring band, and being on the road was how we started writing together. And that developed into a long-term collaboration, where Michael and I wrote several albums together.
DK: I like your two big hits with Amy Grant: "Every Heartbeat" and "Good For Me." How did you write these songs with Amy?
Kirkpatrick: "Every Heartbeat" was an idea that started with (songwriter/artist) Charlie Peacock. He had started the music for it, and I think he was singing the title. The song was being considered for Amy to record, but it needed lyrics and a little more musically. So I got together with Amy, and we hashed out what the song should say and what it should be about. Then we ended up writing it and it became the second single from her album, Heart in Motion.
"Good For Me" was a similar situation. That was a song that the music had been written by a couple of L.A. writers (Tom Snow & Jay Gruska). We liked this song, but we didn't really care for the lyric. So I was fortunate to be at the epicenter of Amy's creative team that was trying to either come up with songs, or restructure songs that were on the table. And "Good For Me" was one of those cases.
DK: In 1996, you had the great hit "Change the World" for Eric Clapton. How did you write this song with Tommy Sims and Gordon Kennedy?
Kirkpatrick: The germ of the idea for "Change the World"  had been circulating, and that started with Tommy. I'd been working with Gordon and Tommy—they're accomplished session players. I was producing a lot back then, and I would use them on sessions all the time. So we would hang out a lot, and Tommy played this idea that he had started, and we had always thought…that could be something. At one point, I had taken the germ of the idea and I started working on it, and taken it in a direction lyrically that I thought it should go in.
Then, flash forward to a time where me and Gordon were considering putting a band together and trying to get a record deal. And so we were doing a lot of songwriting. We were writing a batch of songs, and Gordon was like, "Hey, maybe we should do 'Change the World.' Then I said, "Well it's not finished yet." And he said "Okay, give it to me and I'll finish it up." I said okay. So we were never in the same room together—Tommy had started it and handed it off to me, I worked on it for a while and got it to a certain place, and then Gordon took it over the finish line.

Here's the video of Amy Grant's hit "Good For Me," which was
co-written by Wayne Kirkpatrick.
It was probably around 1992 when we finished the song, and then it was pitched around and nothing really happened with it. Then Tony Brown, who was Wynonna's producer, heard the song and he was going to record it with Wynonna. [Soon after] Kathy Nelson was in his office, and she was music supervisor for Touchstone Pictures (in Los Angeles). And Tony had said, "Hey, let me play you this song I'm getting ready to cut on Wynnona," and he played her "Change the World."
It was about a year later that the song came out on Wynonna's album. (In the meantime), Kathy Nelson happened to be looking for a song for a movie called Phenomenon (starring John Travolta) that she was working on. She was looking for a song that could be a vehicle for Eric Clapton and Babyface to do together. And she remembered that song, and she presented it to Clapton and Babyface (who was producing), and that's how it ended up in their hands. I always credit Tony Brown for being the person that pitched the song to Kathy Nelson, who ended up playing it for Eric Clapton and Babyface.
DK: A few years later, you wrote & produced a few hits with Little Big Town. How did you connect with them and write these songs?
Kirkpatrick: I first connected with them when I wrote with them for their first album. We really hit it off, and we got together several times during that first album (called Little Big Town). I thought this record was great, and they seemed poised to be the next big thing in country music. But then the record didn't do what everyone expected it to do. So after a year or so, the group was moving on to do another record. We wrote & recorded a song called "Boondocks," that the label execs (at Sony Records) liked and thought was a hit. But then there was a regime change at Sony and they were cleaning house. The execs got fired and Little Big Town was dropped from the label.
During that time, I kept working with Little Big Town, and we had written & produced several songs together at that point. Then it became a two-year hunt for the group to find a label to be interested in them. They eventually landed with an independent label called Equity Records. And with a negotiation, we were able to bring "Boondocks" with us. Equity Records made it the lead song from their new album (The Road to Here), and it became their first significant hit. Then I produced and wrote a whole album with them, and we had a song called "Bring It On Home" which was their second hit, and a song called "A Little More You," which was also a single.
Throughout this process, we were just creating music that we liked, and hoped that somebody else would like it eventually.
DK: More recently, you collaborated with your brother, Karey, on a hit Broadway musical called Something Rotten! How did you get involved with writing songs for a musical, and was it a big challenge to write a musical?

Here's the video of Little Big Town's hit "Boondocks," which was co-written
by Wayne Kirkpatrick.
Kirkpatrick: I would say it's probably the hardest thing I've ever done. Karey and I have always wanted to write a musical. In high school I was in theatre, and so was he. We went to a magnet school in Baton Rouge that was like a college prep school, and we had to declare a major. My major was theatre, and my brother was the same way.
(Over the years), we had always wanted to write musical and we talked about writing a musical. And it just so happened, there was a guy named Kevin McCollum, who my brother had worked with at Disney World when they were in their 20s. Karey went to L.A. and went to film school, and Kevin McCullum went out to L.A. too. So they became friends, and I got to know Kevin through my brother.
Kevin eventually left California and got into producing theatre, and he had his first big Broadway hit, which was Rent. And even back then, Kevin would ask us what we were up to. We would say, "We're thinking about writing a musical." And Kevin said, "Well, I'd love to hear what you guys come up with."
So we had that open door, and then Kevin went on from Rent to produce several other hugely successful Broadway shows. So me and my brother knocked around this idea for a musical, and we casually talked about it for 15 years. At some point we said, "You know if we're ever gonna do this, we need to carve out time and get serious about writing it." And then the big question was, How do you pitch a musical? Do we need to write all the songs first?
Then Karey said, "We should call Kevin and ask him." So that's what we did, and Kevin said that his musical Avenue Q started with just two songs and an idea.
So I went out to California (where Karey lived), Kevin came out to Califonia, and we went to dinner and pitched the idea. Then we went back to Karey's house and I sat at the piano and played Kevin a few music ideas that we had, and that's how it started. Then Kevin went back to New York with copies of the songs, and he lived with it for a week or so. Then he called and said, "I think you guys have something here—we should talk about moving forward."
So that's how it started. At that point, my thought was…Uh Oh, now we have to write this (laughs). And from that point forward, it took us about four-and-a-half years from the time we got really serious about it, until the time the show opened. Along the way, thanks to Kevin, we got a great director (Casey Nicholaw) attached, so we were surrounded by seasoned Broadway veterans that we were able to lean on as we were going through the process of writing it.
DK: Currently, you're working on a new animated movie called Small Foot that's coming out soon. Did you write the songs for this movie?

Here's the video trailer for the hit Broadway musical, Something Rotten!
The songs were co-written by Wayne Kirkpatrick.
Kirkpatrick: Yes, I worked on all the songs that are in the movie. There's about six songs. Because of our work in Something Rotten!, we were given the opportunity to get into the animated world. You know, one thing happens and it opens the door for other things to happen. So Small Foot is a movie that Karey started off writing and ended up directing. When he first started on it, it was just going to be a straight, animated movie. Then about a year-and-a-half ago, they decided to turn it into a musical of sorts, so I was brought in to participate in writing the songs. It was yet again a new experience for me, writing songs for an animated movie.
DK: Wayne, you've worked in several genres of music, plus Broadway and movies. As you look back on your career, how does it feel to have success in many different ways?
Kirkpatrick: I don't think it's something I could have purposely mapped out. Looking back, it all seems to make perfect sense (laughs), like there was a grand plan for it all. But there really wasn't on my part, other than just going through the doors that were open and following the songs, really. This sense of having to reinvent yourself as the trends change, as music changed, while at the same time remaining true to yourself. I can only do what I can do. I just try to recognize where my strengths are and where my flaws are, and play to my strengths.