The Warren Brothers Continue Their Hit Songwriting Success, Co-Writing Recent Hits for Chris Young and Jason Aldean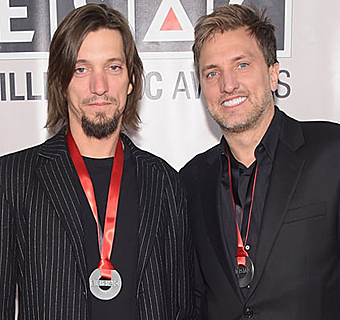 The hit songwriting duo, The Warren Brothers, are enjoying a terrific year. The duo, which consists of brothers Brett Warren and Brad Warren, have co-written two big hits in the past 12 months. Their current Top 10 country hit is "Sober Saturday Night" by Chris Young featuring Vince Gill, and last summer their song "Lights Come On" (recorded by Jason Aldean) become a #1 country hit. They also co-wrote the new single by Blake Shelton, called "Every Time I Hear That Song."
These two singles are just the latest in a run of hits for the duo, who have co-written seven #1 country hits. They've previously had hits with Tim McGraw (the Grammy-nominated "If You're Reading This," "Felt Good on My Lips," "Highway Don't Care"), Toby Keith ("Red Solo Cup"), Keith Urban ("Little Bit of Everything"), Faith Hill ("The Lucky One"), Martina McBride ("Anyway", "Wrong Baby Wrong"), Dierks Bentley ("Feel That Fire"), and Jerrod Niemann ("Drink To That All Night").
In addition, the duo has written songs for many other A-list country artists such as Lady Antebellum, Thomas Rhett, Cole Swindell, Gary Allan, Tyler Farr and Billy Currington. On top of this, the brothers have penned songs for rock bands including Lynyrd Skynyrd, Nickelback, Hinder and Boys Like Girls, and for soul artist Joss Stone. The duo are signed to a music publishing deal with Big Loud Shirt, a top independent company in Nashville.
In 2013, the Warren Brothers won a Daytime Emmy Award for co-writing "Good Afternoon America" with Little Big Town. Also, their song "That's the Beat of a Heart" featured a guest vocal from Sara Evans and was included on the soundtrack to the 2000 film, Where The Heart Is.
Besides their excellent songwriting career, in the late 1990s and early 2000s Brett and Brad Warren enjoyed notable success as country artists. They released four albums: Beautiful Day in the Cold Cruel World (in 1998), King of Nothing (2000), Well Deserved Obscurity (2004) and Barely Famous Hits (2005). These albums produced nine charting singles, with the highest being "Move On."
We are pleased to do this new Q & A interview with Brett Warren of the Warren Brothers. He recalls the stories behind some of theu hit songs. There's a funny story about how he wrote a song with Florida Georgia Line and it became a hit for Jason Aldean. There's also a heartfelt story about "If You're Reading This," the song they wrote with Tim McGraw. Warren also offers tips to young songwriters who are trying to break into the music business.
BC: How did your latest hit, "Sober Saturday Night," develop?
Brett Warren: We got together (with Chris Young) about 11 am, and spent pretty much the whole day trying to write this uptempo hit song, and it just wasn't happening. It wasn't that good. On the way out the door I was sitting at the piano, and I started playing this music. And Chris was like, "What's that?" I said, "Nothing, I'm just goofing around." He goes "I've got a title, 'Sober Saturday Night.' It's about a guy who is broken up with his girl—she broke his heart. He's getting over a sober Saturday night and can't go out without her." After sitting there staring at each other for five hours trying to write a hit song, in 30 minutes we wrote one [without] trying.

Here's the video of the hit "Sober Saturday Night" by Chris Young featuring
Vince Gill, which was co-written by The Warren Brothers.
BC: The video for the song has the girl who broke up with the guy dying in a car wreck. Did that thought cross your mind when you wrote the song?
Warren: I don't know for sure what was in Chris's mind. I kind of saw it a little different. We wrote it where it made sense for whatever reason, whether the guy is sober so he's not going out anymore, or the girl broke up with him so he's still waking up on Sunday mornings feeling like crap, just because he's not with her and doesn't have any desire to go out because he's broken up. I think the video expanded on it a little bit. Personally, I didn't see it as the girl getting killed, but when I saw it I was like, that's awesome…I love it! It's just one more layer of people interpreting music. Sometimes things are so spelled out in music, and I think that's great. Sometimes it can be a little bit open-ended, and I think that's great as well.
BC: How does the songwriting process work for you and Brad?
Warren: We're always collecting titles and ideas, things that sound cool. Songwriter Kim Williams, a good friend of ours, recently passed away. He wrote a bunch of Garth Brooks' songs. He was hilarious. He used to say, "They're all good titles if you write them right." There is a little bit of genius in that.
We'll come into the writing room and talk for five or ten minutes. We try to jump in and grab that early mojo of the mixture of the room. We tried to get what everybody's feelings are, all that tension they're coming in to write with. We'll throw out titles, and somebody will say, "Yeah, that's cool." We try to suss it out. Most of the time it's working for everybody, but sometimes they're like "Man, this would be better if it was an uptempo song and not a ballad," etc. Sometimes these track guys come in and they've got a bed of music that's awesome. There's no set way.
BC: Are you lyricists or melody guys, or a bit of both?
Warren:  We're both, but with a lot of the young kids coming out and our experience, it seems here lately that writing lyrics has been something we've leaned more on. Because a lot of these youngsters may have good ideas, but [they may not know yet] how to write it, color it, and paint it where it means two or three different things in each verse. How to phrase something and turn a lyric has been what we've been doing a lot more of lately. The whole game has changed.
I had a guy (a big publisher in town) the other day that said I'm really proud of you and your brother. He said it's really hard to be a veteran in this town. You've got to be able to stay who you are but kind of veer a little bit.
My brother (Brad) is an unbelievable guitarist and can play other instruments and can sing harmony. We've played live forever. I could play acoustic guitar, harmonica, and drums. We could go into the studio, and we would do our demos. It would be me and Brad and like four other studio musicians. It was really cool.

Here's the video of Jason Aldean's hit "Lights Come On," which was
co-written by The Warren Brothers.
Now with track music, I don't even bring an instrument any more half the time. In today's writing sessions, being able to come up with a lyrical idea and help the artist get where they're going lyrically [is important]. We wrote with Michael Hobby and (rock band) A Thousand Horses. Their vibe is totally different than when we write with Tim McGraw. We're able to put on different hats and know these people and what they're going for lyrically, and that's most of what we do now. We've had to chameleon and being versatile has kind of helped us.
BC:  Did being artists give you a better insight as songwriters?
Warren: When we write with artists, we know what they're trying to do because we were artists at one time. We try. We don't always nail it. They're like, this is what we're thinking sonically, lyrically. We want it to be a little more traditional, or we want it to be more progressive musically.
BC: You guys have shown a great sense of humor and personality. How does that come into play in your writing?
Warren: It helps us out, because people want to be around other people that are upbeat and positive and have fun. Rodney Clawson is probably one of the hottest songwriters in this town. I think he had six number ones last year, and he wrote 160 songs, so 154 times he wrote a song that wasn't a big hit. All of those 154 times, how much fun the person had in the room definitely plays into it. It's not like those are the only six good songs. My point is having a good personality—being funny and have fun with the artist—makes them want to be around you.  We've written four or five times with Michael Hobby, and he had such a great time. He cut a couple of our songs, and he called me one night and he said, "I'm looking for a song that's like this." I sent him a song called "Preaching to the Choir," and they cut it. There's a chance that could be the next single. We didn't write that with Michael, but the fact that he wrote with us and liked us and trusted us, and knew that we got what his band was trying to do, he just called us.
BC: How did your hit "Lights Come On" with Jason Aldean develop?
Warren:  We write with Big Loud Shirt (music publishing company), and they're affiliated with Florida Georgia Line. Their manager sent us an email and said, "Hey, I know you're writing with Tyler (Hubbard) and B.K. (Brian Kelley). They need a show opener rock song that comes out slamming." I said, "Let's write the song about all the people that come to the shows, driving tractors and getting up early, but they save their $50 and go to a Florida Georgia Line concert on Friday night." That was sort of how we started it.
There's one thing you don't want to hear when you're writing with an artist, and that's to hear them say this would be good for somebody else. If you're writing with Tim McGraw, the last thing you want to hear him say is, "Man, this would be great for Lady Antebellum." That's usually an artist's way of saying I don't really like this song for me.

Here's the video of Keith Urban's hit "Little Bit Of Everything," which
was co-written by The Warren Brothers.
We're in the room and Brian Kelley (of FGL) goes, "Man I know this is crazy—we're writing this for us, but this would be a smash for Jason Aldean." Me and Brad we're like, 'No, don't pull that B.K. This is for you. This is a Florida Georgia Line show opener." He's like "Man, I love it. We would cut it." We left there thinking that's the kiss of death. We're never going to get a cut. B.K. meant it. That was a Friday afternoon, and he sent it to Jason Aldean on Saturday or Sunday and Jason cut it on Monday, and I think it was a single to radio within like two weeks. Now, when I write a song, I send it to B.K. and go who do you hear this for? I'm kidding (laughs).
BC: You mentioned Tim McGraw, and you've written several songs for him. Can you tell me about the one that got a Grammy nomination, "If You're Reading This?"
Warren: That was Tim's idea. He said, "I read this Time magazine article. It was called "If You're Reading This," and it was all these letters from soldiers writing home. Wouldn't it be cool to write a song and the whole thing was just a letter?"
We drove over to his house, and the three of us finished it. We weren't thinking this is going to be a big radio single or whatever. We knew we had written something really cool. We were high-fiving. Tim said, "Faith, get in here, you've got to hear this." We played it for her, and she was like, "Oh, my gosh! That's awesome." We put a work tape down, and that was it.
[Soon after] Tim was playing some songwriter event in Washington, D.C. He said he liked the song so much he had a few acoustic guitar players learn it, and he did it acoustically. Carole King happened to be there, and she walked up to him, and she said, "I think that's one of the best songs I've ever heard." A week later, he just decided that even though it wasn't on his record and it wasn't a single, and there was no recording on it, he was just going to play it live on the ACM (Awards).. He thought it would be a cool event, knowing that we had been at war for a few years and there were a lot of sons, fathers, daughters, brothers, and people who had lost their lives in this war already.
We didn't know he was going to do it. He texted us and said whatever you do, make sure you watch the show tonight. He comes on, and it's just him with dim lights and his two acoustic guitar players, and he had a string quartet behind him. They played that song live, and when the song ended, the lights faded off of Tim, and standing behind him was 100 family members of soldiers who had died in the war. They walked down off the stage through the crowd, and I remember seeing the whole front row at the ACM Awards. People were sobbing. Martina McBride was like, "I've never been knocked out more by a performance in my life." Still, to this day, there's only one recording of that song, and that's the live performance recording.
You know what's cool? Here's this iconic country artist. He didn't make the song or the moment about him. It was all about the song and the lyric. Not everybody has the confidence and the security to be able to pull something like that off. Tim nailed it.

Here's the video of Toby Keith's hit "Red Solo Cup," which was
co-written by The Warren Brothers.
BC: Thank you Brett for doing this interview. Lastly, what kind of advice do you have for songwriters?
Warren: It's a craft. There's natural God-given ability, but you've got to work at it and you've got to put the hours in. It is a job, and you do get better. And you've got to be able to take a punch because you'll write a great song and hear a hundred no's, and then you'll write a song that you don't think os great and everybody loves it. That's just the way it is. You never know. You've got to be able to write something that you're absolutely passionate about and play it for people, hear them go, "Eh, I don't really like it.' And not have it knock you off your horse.
BC: Is that what happened with "Red Solo Cup," your Toby Keith hit? I read that you guys were goofing around when you wrote it.
Warren:  We were literally joking around, and we were laughing so hard when Jim [Beavers] started belting out those verses.
A friend ("Butter" of the country duo, Trailer Choir) of ours played it for Toby Keith on the bus one night when they were drinking beer. Toby said, "That is the dumbest song I've ever heard. Play it again." He played it again, and he said, "That's the dumbest song I've ever heard. I have to record it." And I think they're getting close to five million downloads. I don't know…it's ridiculous. So you've just got to stick around and put the time in. I've written songs that I think are way better songs than that, but no matter what I write, I'm sure "Red Solo Cup" will be on my gravestone.
Bill Conger is a freelance writer for various publications including Bluegrass Unlimited, ParentLife, Homecoming, and Singing News and is currently writing a biography on The Osborne Brothers with Bobby Osborne. He can be reached at [email protected]. He is also on Google+