Country Star Walker Hayes Talks About His Hit "Your Broke Up With Me," His Album Boom, And Writing His Songs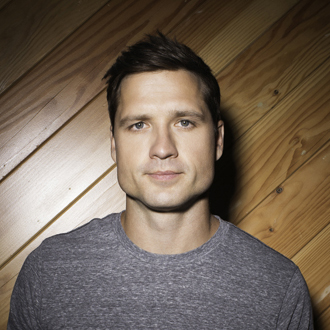 Singer/songwriter Walker Hayes was tempted to give up his dream of making it in the music business. After a decade of ups and downs, he had hit another low point and couldn't decide whether to persist or hang it all up. That's when a pivotal moment happened that now has begun to reshape his destiny.
The Mobile, Alabama native had inked a deal with Capitol Records Nashville which released the singles "Pants" and "Why Wait for Summer" in 2010 and 2011 respectively. Unfortunately, neither song moved past #40 on the Billboard charts, and Hayes soon lost his contract. Instead of hitting the road to perform, the father of six worked the graveyard shift in retail while continuing to write songs.
Eventually, Shane McAnally (hit songwriter & producer) and Jason Owen (artist manager) relaunched Monument Records, and brought Hayes on board as one of two flagship artists. His first single for the new partnership, "You Broke Up with Me," has become a breakthrough country hit. In addition, Hayes wrapped up a fall tour with Thomas Rhett and is on the road with Kelsea Ballerini.
We are pleased to do this new Q&A interview with Walker Hayes. He discusses the fair-weather friends that inspired his current single, why he can't do a good job performing a song unless he's lived it, and he opens up about the tumultuous road he's traveled in the music business.
BC: How did the song "You Broke Up with Me" develop?
Walker Hayes: I wrote that song after I got my most recent record deal. As soon as my project was exposed to Nashville, and Nashville found out I was going to make another project with another label, a lot of fair-weather friends that I hadn't talked to in 4, 5, 6 years, who had abandoned me more or less, started coming out of the woodwork, saying I'd love to get in a writer's room and write with you, I'd love to grab coffee and reconnect. Honestly, my feelings were a little hurt. Where have you been? Everybody does it to everybody, especially in this town. The phrase that came to mind was "hey, you broke up with me" in order to make myself feel better about moving on and working with new people. That's where the idea came from. Obviously, we wrote it in a way where everybody could personally insert their own experience.  I think that's what makes it a successful song right now.
BC: Your songwriting is autobiographical quite a bit. Why are you willing to put yourself out there?
Hayes: At first, it's a little bit difficult. For instance, yesterday I wrote a song about my struggle with alcohol. The first time I share that song with (others) I feel vulnerable. I feel afraid.  Do I want them to know all this about me? Usually, the more specific and the more honest I go, the more people can relate. Honestly, I'm pretty terrible at selling a song that I did not experience.
If I see a bumper sticker and think that's a clever phrase, I'm going to write that song. Usually, that song never does very well for me. It never captures the attention of my audience. It doesn't wind up on an album because I don't have that gift. I feel like my strength is writing stuff that I've actually experienced and singing about it. While it is sometimes uncomfortable and maybe awkward at times, it's what I do best.
BC: I hear some rap influences in your music. What artists did you grow up listening to?

Here's the video of Walker Hayes' hit single, "You Broke Up with Me."
Hayes: I grew up listening to everything. My first country record was Tim McGraw's record with "Don't Take the Girl." My first CD was Mariah Carey's Vision of Love. My dad was a classically-trained opera singer. He also sang in barbershop quartets and was a music minister. So, I was well-inundated with church music—Southern gospel and hymns. I played lots of sports, and a lot of what we gravitated towards was on the hip-hop side. When I picked up the guitar, John Mayer was becoming very popular. Really, I listened to the top songs on all radio stations…I always loved radio and jukeboxes. I came from the buying record age. I bought tapes and CDs. I stood outside on album release days and waited in line.
BC: Now, people are waiting for your music. Your album, boom. is produced by hit songwriter, Shane McAnally. He has an artist background too. What was it like working with him?
Hayes: One thing that's easy about working with Shane is trusting him. His history tells me that whatever he has to say is probably valuable information. I value every little tidbit of input he's ever had to say about my project or advice he has to give. Also, one thing Shane is very gifted at—he gets out of the way of a project. He's a talented producer, but I've yet to hear a project where you hear it and it's all Shane. He has a way of walking into a room with an artist or writer and bringing out the best in us and making us reach our full potential and then sprinkle a little bit of his magic dust on it. He's so gifted in the way he relates. You mentioned that he was a previous artist. I feel like that's what makes him such a dangerous mentor is that he's been there. He knows exactly what an artist is going through and what we're going for.  I think he does a great job mentoring us and writing where he needs to write and encouraging us the right way.
BC:  I understand the album's title, boom. comes from you saying that word quite often. Do you say that only when you're in a good mood? What do you say when you're in a bad mood?
Hayes: I say boom whenever my kids make a great play on the baseball field. Boom! Whenever something great happens with our project, like for instance, on Monday if I get a call and our song moves from #10 to #9, boom!
I overuse that word, and I'm not apologetic about it. I just love it.
BC:  You've had quite the journey the last 10 years. Can you talk about what you've had to go through to get to this point?
Hayes: We've been through a lot. I've experienced every emotion I think you can experience on Music Row. I've been scared. I've been sad. I've been depressed. I've been happy. I've been on top of the world. Things have come easy, and things have come really, really hard. It's taken a long time to get here, but life has changed a ton in the past year, and it's all because of the song. Someone told me the week I got here that everybody that gets to this town, we're one song away. I think that's the truth. For some people that one song…it happens the second week they're here. My journey is not much different than the majority of people in Nashville. The majority of the artists you hear on the radio have had struggles that tested us, times that we endured. For me, it was having to work at Costco to make ends meet. Even then, nothing looked great on the horizon. At that moment me and my wife had a choice—do we leave or do we stay here? We couldn't make up our mind, and that bought us the time to find Shane and Monument Records and begin this project.

Here's the video of Walker Hayes' song, "Beautiful."
I consider myself one of the fortunate ones that get to do this for a living. I can't believe I am one of those.
BC: On your album, you wrote some songs with co-writers, but there are several you wrote by yourself.
Hayes: A lot of those songs are specific to me. I guess I could have had a co-write come in, but I got so far down the road that I was almost done with it. So, there's really no need to bring a co-writer. Two of those songs are "Craig" and "Beautiful." Those are 100% true stories that happened to me. Then, there are a lot of songs that I come up with the ideas, and I know exactly who is going to be the best match to finish that with.
I can finish a lot of songs alone, but it usually takes longer and it's not as fun as sitting around with your buddies.
BC:  How would you describe your style of songwriting?
Hayes: It's authentic. The hardest thing I do with each song is to try to get out of the way of the idea. The last thing I want anybody to do, for instance, when they hear a song like "Craig" is go, "Man, what a clever song!" I don't want them to do that at all. I just want them to hear it and go, "I need to meet this guy Craig, or I need to be more like that guy Craig." I want my style to remain vulnerable and authentic. I don't want anybody to ever think I went into a room and said I'm trying to write a hit. I'm really trying to express myself with my music in a way that someone could turn on my album in the car and go, "I'm not alone."
BC: You toured with Thomas Rhett last year. Did you learn anything from him, and did you two write songs together?
Hayes: I learned from Thomas how to treat an opening act. He was so kind to us and welcoming and inviting. His show is perfect for his fans. He gives them a little bit of everything. Even his covers are wisely selected. His show is a science. It's so great, and his energy is amazing. The way he carries himself is inspirational.
We did get a chance to write. Who knows? We'll see what will happen. We wrote three songs together. I can't wait to see if they have a life somewhere.
Bill Conger is a freelance writer for various publications including Bluegrass Unlimited, ParentLife, Homecoming, and Singing News and is currently writing a biography on The Osborne Brothers with Bobby Osborne. He can be reached at [email protected]. He is also on Google+