Hit Songwriters Billy Steinberg & Tom Kelly Tell How They Wrote Madonna's Classic Hit, "Like A Virgin"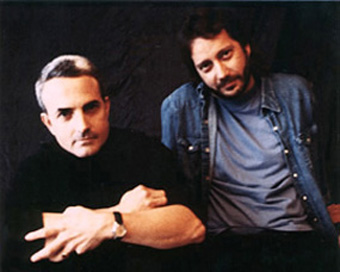 Billy Steinberg & Tom Kelly have written many memorable songs over the past two decades, including five, #1 Billboard pop hits. One of their compositions, "True Colors," has been a major hit for both Cyndi Lauper and Phil Collins. However, it is their song "Like A Virgin" which has undoubtedly had the greatest impact. Still Madonna's biggest hit, "Like A Virgin" was named by Rolling Stone & MTV as the #4 song on their list of the "100 Greatest Pop Songs." Most recently, the song was prominently featured in the movie musical, Moulin Rouge
In a recent interview, Steinberg & Kelly recalled how "Like A Virgin" was originally conceived and written, how the demo was recorded, and how the song was placed with Madonna.
"It was in 1983 that Tom and I wrote 'Like A Virgin'," explained Steinberg. "It started with the lyric first. I was driving around in my pickup truck and I got the idea for the song. The idea came out of a personal experience. I was in a devastating relationship, and when it finally ended and I met someone new, I came up with the line, 'I made it through the wilderness…I was beat, incomplete, I'd been had.' All of the lyrics just poured out."
SPECIAL FEATURE: STREAMING AUDIO

Listen to the original demo of "Like A Virgin," written by Billy Steinberg & Tom Kelly. Demo vocals by Tom Kelly.
When Steinberg had completed the first draft of the lyric, he showed it to Kelly. "I especially related to the lyric at the time, since I was going through a tough divorce," said Kelly. "Initially, I tried to compose a ballad or midtempo song to accompany the lyric, but it wasn't working. Out of frustration, I started to clown around, performing the song in an uptempo, Smokey Robinson-style, with falsetto vocals. Lo and behold, it worked."
When the song was written, Kelly & Steinberg recorded a simple, keyboard-based, eight-track demo at Kelly's home studio. "I had just purchased a Roland Jupiter 8 keyboard," recalled Kelly. "We used the Jupiter 8 to create the main keyboard and bass tracks. For the drum track, we used an old Linn drum computer. We demoed the song quickly, and kept it simple. I sang the falsetto in a Smokey-style voice, then we added some background vocal parts."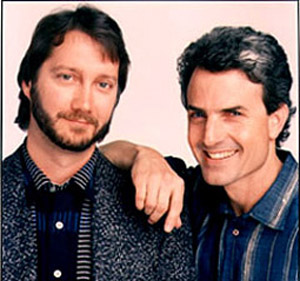 Steinberg & Kelly were both very happy with the completed song and demo. They felt that "Like A Virgin" was a very original song, and that it could be a hit if the right artist recorded it. However, the song was passed on by many record labels, producers and artists over the next year.
"We tried to place 'Like A Virgin,' but everyone looked at us like we were nuts," said Steinberg. "Some people even asked us to change the title. I knew that compared to most mainstream pop lyrics, the title and theme might seem a bit jolting and risque. But I liked the idea of writing a lyric concept which hadn't quite been done before."
It was in 1984 that the duo had a momentous meeting with A&R exec Michael Ostin, who was then Senior Vice President at Warner Bros. Records. Steinberg & Kelly played Ostin many songs that were more in a rock vein, which presented the duo as potential artists. It was only at the end of the meeting that they played "Like A Virgin."
"We were nervous about playing 'Virgin' for Ostin, but at the end of the meeting we finally played it," explained Kelly. "When he heard it, he flipped over the song. He said it would be great for his artist Madonna to record. Madonna at that time wasn't a major artist yet [it was before "Borderline" and "Lucky Star" became hits], but it was clear that she would be a perfect artist to sing this song."
It was shortly thereafter that Ostin played the song for Madonna, and it subsequently became the title track and first single from Madonna's second album. "Like A Virgin" went on to become a #1 worldwide hit, and spent six weeks atop the Billboard "Hot 100" singles chart. The spectacular success of the single resulted in "Like A Virgin" becoming a milestone achievement for Steinberg & Kelly, as well as for Madonna.
"It was one of those moments in time and space when everything came together," explained Kelly. Steinberg added, "When you're songwriters [rather than self-contained artists], and you write a song like 'Virgin,' then you have to find the right singer to place the song with. We were lucky that Madonna came along, because I don't think anyone else could have put the song across quite like she did."