Vance Joy Talks About His Debut Album Dreaming Your Life Away, And Writing His Hit "Riptide"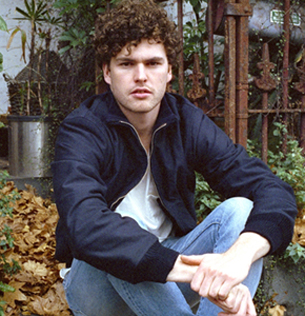 During the past year, Australian singer/songwriter Vance Joy has emerged as one of the top new artists to watch. His breakthrough single "Riptide" has helped Joy become known internationally, and he has signed with Atlantic Records and released his excellent debut album, Dream Your Life Away.
Notably, Joy is currently on tour in the U.S., and he's been selected by Taylor Swift to be the opening act on her upcoming world tour.
Joy (whose birth name is James Keogh) grew up in Melbourne, Australia, and he graduated with a law degree before he decided to pursue his music career. He began singing at open mic nights, and soon after he started to headline his own shows. In March 2013, he released his debut EP God Loves You When You're Dancing," via the indie label Liberation Music.
Joy performed at South By Southwest in Austin, TX in spring 2013, and he caught the attention of Atlantic Records A&R exec, Stefan Max. Atlantic subsequently signed Joy, and re-released his EP, which included the single "Riptide."
"Riptide" has turned out to be the song which has launched Joy's career worldwide. Not only was the song a hit in Australia, but it's become a hit in the United Kingdom, Sweden, Switzerland, Italy, Germany, Austria, Canada, Belgium, Israel, Poland and Slovakia. In the U.S., "Riptide" has reached #32 and is moving up the Billboard Hot 100, and was #1 on the Billboard Alternative and Rock Airplay charts.
The gradual, rollout success of "Riptide" allowed Joy some time to complete his full album, Dream Your Life Away. He decided to record the album in Seattle, WA with producer Ryan Hadlock, who is known for his work with the Lumineers (producing their self-titled debut album and hit "Ho Hey"), Johnny Flynn and rock band Gossip. The result is a strong album which contains key songs such as "Riptide," "Mess Is Mine," "Wasted Time," "Georgia," "Winds Of Change" and "First Time."
During the next few months, Joy has a concert tour scheduled in the U.S. and Australia, with many gigs as a headliner. Then in May 2015, Joy begins a massive, stadium & arena tour with Taylor Swift as the opening act.
We are pleased to do this Q&A interview with Vance Joy. He discusses the songs on his debut album, how he wrote the hit "Riptide," and his upcoming tour with Taylor Swift.

Here's the video of Vance Joy's hit single, "Riptide."
DK: I enjoyed listening to your whole album. Which are your favorite songs besides "Riptide", and what ideas inspired you to write these songs?
Vance Joy: I like a few songs at the moment. "Georgia"—I had this guitar riff hanging around for ages and nowhere to put it that worked—finally on New Year's Day this year I stumbled across the right melody. "My Kind Of Man" was inspired by the Lynyrd Skynyrd song "Simple Man." "Wasted Time"— I saw a cover of a Spencer P. Jones song (being performed) at an Open Mic Night in Melbourne and the lyrics stayed with me, and I pinched the idea about a guy who can't believe how lucky he is to have such a rad girl.
DK: You originally signed with the Liberation Music indie label in Australia. Were they instrumental in helping to develop your career?
Vance Joy: I had a pretty strong vision of what I was as an artist but they have been extremely helpful in allowing me to build myself and share my music with the world.
DK: During the past year, you signed with Atlantic Records. Is there a particular A&R exec at Atlantic that you work closely with?
Vance Joy: Yes there is. His name is Stefan Max, and he believed in me and my music from day one and is instrumental in my team. 
DK: When did you write "Riptide," and what inspired you to write this song?
Vance Joy: I completed it in 2012 but started writing it in 2008. It kind of came in two different waves. I think I was in a great headspace and things were flowing easily, and I just followed my instincts. It was a mash up of images and things I had overheard people say around the time.
DK: When you first wrote "Riptide," did you think that this would be the song to launch your career?

Here's the video of Vance Joy's song, "First Time."

Vance Joy: No—I only knew that I had about 4/5 songs I was proud of.
DK: Congratulations on your upcoming tour with Taylor Swift. Is Taylor Swift a fan and supporter of your music?
Vance Joy: I am very grateful for having been chosen as support by Taylor. She did a really good cover of "Riptide".
DK: For your album, you worked with producer Ryan Hadlock. How did you decide to work with him?
Vance Joy: I am a fan of his previous work. He worked with the Lumineers and Johnny Flynn recently. I spent a lot of time listening to Johnny Flynn's first album. I appreciated the production without being conscious of it—I liked the sound, but at that time I never thought about who produced the music. 
DK: You'll be touring extensively in the coming year. Will you also be recording, to release new songs in 2015?
Vance Joy: I am not sure if I'll release any stuff in 2015, but I am always open-minded about songs and am happy for them to come strolling and trickling in.
Dale Kawashima is on Google+