Interview With Pop/R&B Legend Valerie Simpson Of Duo Ashford and Simpson, About Writing Their Classic Hit Songs "I'm Every Woman," "Ain't No Mountain High Enough" And Other Songs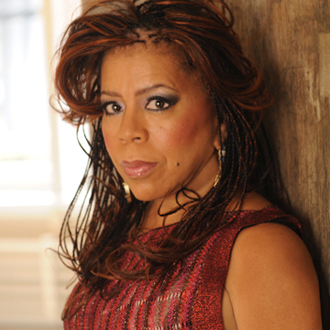 Valerie Simpson has long been known as one-half of the legendary duo Ashford & Simpson. The duo, consisting of Simpson with her late husband Nickolas Ashford (who passed away in 2011), wrote and often produced many pop & R&B classic hit songs, including the female anthem "I'm Every Woman" (which was a hit for both Chaka Khan and Whitney Houston) and "Ain't No Mountain High Enough" (a hit for Marvin Gaye & Tammi Terrell, and for Diana Ross).
Ashford & Simpson ranks with some of the great writing teams in pop music history, and they were major contributors to the hit success of Motown Records. In the late 1960s, they wrote several duet classics for Marvin Gaye & Tammi Terrell, including "Ain't No Mountain High Enough," "Your Precious Love," "Ain't Nothing Like The Real Thing" and "You're All I Need To Get By."
The duo also were key songwriters & producers for Diana Ross, particularly when she left The Supremes to launch her solo career. In the early '70s, Ashford & Simpson wrote & produced almost all the songs on Ross's first solo album (Diana Ross), including her hits "Reach Out and Touch (Somebody's Hand)," "Ain't No Mountain High Enough" (a #1 hit), and "Remember Me." They also wrote & produced Ross's 1971 album Surrender, and her 1979 album, The Boss (which included the hit single, "The Boss').
SPECIAL FEATURE: STREAMING AUDIO

Here's an excerpt of our interview with Valerie Simpson, who tells how she and her husband Nickolas Ashford wrote their classic hit songs, "Ain't No Mountain High Enough" and "I'm Every Woman."
In addition to their hits for Motown artists, Ashford & Simpson wrote hit songs for Chaka Khan, Whitney Houston, Quincy Jones and other artists. The duo's biggest hit is probably "I'm Every Woman'—they originally wrote it for Khan, who had her first solo hit with the song in 1978 (after leaving the group, Rufus). Then in 1993, "I'm Every Woman" was recorded by Whitney Houston for her blockbuster album & movie, The Bodyguard. Houston's version became a worldwide hit, and further established "I'm Every Woman" as a female empowerment anthem.
On top of their success as songwriters & producers, Alford & Simpson became known as recording artists, releasing four albums that were certified gold (on Warner Bros. Records), and having such hits as "Solid," "Found a Cure" and "Street Corner."
Over the years, the duo has received many honors and awards. In 2002, they were inducted into the Songwriters Hall of Fame, and in 1996 they received ASCAP's highest honor, the Founders Award. The duo also received the Rhythm and Blues Foundation Pioneer Award in 1999.
In recent years (following the death of Ashford in 2011), Valerie Simpson has remained active as a songwriter and artist. In 2012, she released a solo album called Dinosaurs Are Coming Back Again, and she continues to write songs and perform live shows. Notably, she is being honored at an event this month (December 2018) by The ASCAP Foundation; she will receive the the distinguished ASCAP Foundation George M. Cohan Friars Foundation Award.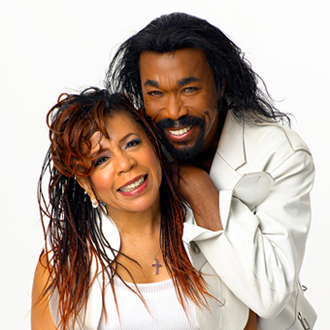 Valerie Simpson Interview
We are pleased to do this new Q&A interview with Valerie Simpson. She discusses her great career, and how she and Nick Ashford wrote the classic hits "I'm Every Woman," "Ain't No Mountain High Enough." "Solid" and "Reach Out and Touch (Somebody's Hand)".
DK: Back in the 1960s, how did you meet your husband Nick, and start writing together?
Valerie Simpson: Well, Nick came to my church, which was up in Harlem at the time, and he saw me singing in a group. He was a visitor, so after service we met and started talking, and I found out that he wrote gospel songs. And because I played the piano, it was just a natural thing, even though I wasn't a songwriter at that point. With the group I had at the time, we decided that we wanted some original material. So he and I, you know, took to each other and started writing these songs.
DK: Your first hit was "Let's Go Get Stoned" for Ray Charles. How long had you and Nick been writing together, before you had this hit?
Simpson: It was about a year. We wrote "Let's Go Get Stoned" with another singer, Joshie Jo Armstead…we were all out there pounding the pavement around the Brill Building. Actually, we were just trying to get an advance, not so much a hit. We just wanted to make a little money (laughs). That's how it was.
DK: After having the hit with Ray Charles, how did you and Nick decide to write and produce songs for Motown Records?
Simpson: Holland-Dozier-Holland (Motown's hit writer/producers) came to New York scouting songwriters, and someone gave them our names, and we had an appointment to see them. I was busy doing jingles at the time, which was very lucrative (laughs). So Nick went up with our little demos and played them for Holland-Dozier-Holland. They were impressed—we almost had a real production in our demos…we had drums, guitars, voices and everything. So they offered us a contract at Motown, and we were like over the moon! It was a songwriter's dream.
DK: I read that you would go to Detroit to work at Motown, but you continued to live in New York. Is that right?
Simpson: Yeah, that's exactly it. We never stayed in Detroit. It's funny, because Nick originally lived outside of Detroit, but he had to go to New York to get back to Detroit (laughs). But we always lived in New York and we would do our work here in the city, and then fly in to Detroit for about a week, to go over the songs with the artists or produce somebody. This relationship (with Motown) was nice—we were always like guests, as opposed to somebody they got tired of seeing.
DK: When you were working at Motown, how did you hook up with Marvin Gaye & Tammi Terrell and become their main writers?

Here's the video of Whitney Houston's hit "I'm Every Woman,"
which was written by Ashford & Simpson.
Simpson: At Motown, they were producing Tammi Terrell as a solo artist, and then they decided that it would be stronger if she would team up for duets with Marvin. And so we sent them "Ain't No Mountain High Enough" as a duet for them. This was with Johnny Bristol and Harvey Fuqua producing them.
Once they did this song and it was such a big hit, right behind it we [wrote the hit] "Your Precious Love" which they also produced. Then we decided…Well, we're sending them the demos, which gives them every indication of how to produce —maybe we should produce the records ourselves. So we asked Berry Gordy (founder of Motown) for a production contract so that we could produce "Ain't Nothing Like The Real Thing." Then Berry put us in competition over our own song with Johnny and Harvey, because they produced the first two hits. But [our version] came out a little stronger, and that's how we got our production deal.
DK: I've always loved your song "Ain't No Mountain High Enough," which has such a positive, uplifting concept. How did you and Nick come up with the idea for this song?
Simpson: That's really borne out of real life, because in the early days Nick was a visitor to New York, and he was determined. He told me he was walking down Central Park West (in Manhattan), and looking at the buildings and seeing them as mountains, and what he had to overcome. And he was determined that New York was not going to do him in, and he was gonna make it, even though the odds were certainly against him, being a struggling songwriter (laughs). But he said that the buildings really looked like mountains to him, and that's when the thought came…"Ain't no mountain high enough, ain't no valley low enough." You know that determination, which is probably what people feel (when they hear the song), even though we turned it into a love song. But the energy and the initial thrust came out of that overcoming.
DK: "Ain't No Mountain High Enough" was a hit first for Marvin Gaye & Tammi Terrell. But then a few years later, it became a bigger hit for Diana Ross, with her version having a spoken word part and an orchestra. So was it your idea to cut it with Diana and make it a bigger arrangement?
Simpson: Yes. It had a lot to do with the times. People weren't doing 3-minute songs anymore. Isaac Hayes (and other artists) had 7-minute songs. So we wanted to test that theory a little bit. We thought "Ain't No Mountain High Enough" was a good song that we could embellish. We knew that Diana had a really sexy talking voice, so Nick wrote some additional speaking lines in the front of the song, and we just extended it and did it completely different. That seemed to fit and work well. You know, we were never afraid to change up an idea or try it another way.

Here's a video of Diana Ross performing her hit "Ain't No Mountain
High Enough," which was written by Ashford & Simpson.
When we turned [this new version] in to Motown, Berry (Gordy) didn't like that we took so long to get to the hook. He was very hook-orientated (laughs). He told us that it took too long to get to the hook. But Nick told him it was like an orgasm…you don't want it to happen right away…it's a build…you gotta do it slowly (laughs). So Berry didn't want to put it out because we didn't change it. But the DJs picked it because they liked it, so we won out in the end.
DK: How did you and Nick like to write together? I know you play piano. Did you write the music and Nick wrote the lyrics?
Simpson: Oh for sure, Nick wrote the lyrics. There are a few songs that I might have had some input to the lyrics, but 90% of the lyrics were his. And I have to say that because he was a great singer as well, we'd work on a melody. I would write the music, but we'd work on the melody line.
DK: Did Nick write the lyrics for your female anthem, "I'm Every Woman"?
Simpson: Yes. We knew that producer Arif Mardin wanted a song for Chaka Khan, and I started playing that music. And Nick just simply said…"I'm Every Woman." But he didn't know yet what the rest of the song would be. So I told him, "Just put your hand on your hips and just tap into your feminine side and it'll come to you" (laughs). And that's what he did.
DK: Another special song of yours is "Reach Out And Touch (Somebody's Hand)." It's a very meaningful song that is still relevant today. What inspired you and Nick to write this song?
Simpson: We were in a studio [when we wrote it]. I don't play organ, but I got on the organ and that melody just came out. Nick came over and said, "Play that again." And I did, and he just put those words on it…"Reach out and touch somebody's hand." And so consequentially, it's sung a lot in churches, in celebrations. And I've done it at many funerals and awards ceremonies. It's that kind of song that's universal, and it's the hope that we all have…that we want to do. It wasn't a huge hit at the time, but it's certainly stood the test of time.
DK: After being successful at Motown for several years, you and Nick signed as artists with Warner Bros. Records. Why did you decide to leave Motown and sign with Warner Bros.?
Simpson: Our contracts were up…we had seven-year contracts (at Motown). So when [the contracts were done], we negotiated with Berry, and he knew that we wanted to be artists at that point. You know, we'd been there seven years and you're not the new kids on the block anymore. So how would we be received as artists (at Motown)? Were they excited about this idea? We didn't think so…we felt like we were the songwriting machine and producing machine for them, and even though they were going to allow us to sing, it wasn't like they thought we were going to be big singers. So we decided to go somewhere, where we'd be seen as fresh…where people would be excited about the prospects of Ashford & Simpson as singers.

Here's a video of Yolanda Adams performing "Reach Out and Touch
(Somebody's Hand)," to honor Diana Ross at 2007 Kennedy Center
Honors. This song was written by Ashford & Simpson.
DK: You talked a little about "I'm Every Woman," which is such a great song. Can you talk more about how you and Nick wrote this song?
Simpson: We did a good demo of it, but Arif (Mardin) was just the most fabulous arranger, and he was using "A" class musicians…everybody that we knew and loved. It was one of those songs where you knew it was a hit. Arif knew it, and he put some more magic on top of it. And then you've got Chaka Khan, and she's stepping out…this was her first solo record and she delivered a great performance. So all the pieces fit together beautifully. And I think that it's another song that's stood the test of time. Through the women's movement it's become more powerful, because of the necessity for women to feel that feeling. And I use it myself when I'm not feeling so great. I would put it on and it's very inspirational.
DK: In 1993, Whitney Houston recorded "I'm Every Woman" for The Bodyguard soundtrack and it became an even bigger hit. How did Clive Davis (label CEO) and Whitney decide to do this song? Did you pitch it to them?
Simpson: No, we didn't have anything to do with [Whitney recording it]. It's just a cherry on top of a huge cake, that you didn't expect to happen. I remember that Whitney was pregnant when she recorded the song. She was pregnant and feeling great, and the song sounded wonderful. And Whitney asked me and Chaka to be in the video with her. So I have fond memories of that time.
You know, it's an interesting thing when two singers have two different versions of the same song. And Whitney even pays respect to Chaka at the very end (of her version), saying "Chaka Khan!" So there's no animosity or jealousy. And because it's very empowering for the first singer, to now have a new thrust, the song takes on an even greater meaning when she sings it. And then I get a bigger check! (laughs). It's wonderful.
DK: Two of your hit songs—"Ain't No Mountain High Enough" and "I'm Every Woman"—became bigger hits when they were covered and released. Maybe someday, a third person will record one of these songs and make it even bigger.
Simpson: I can't wait! (laughs). Holdin' out hope!
DK: When you and Nick became artists and signed with Warner Bros. Records, you had a hit with your song, "Solid." Can you talk about how you and Nick wrote this song?

Here's a video of Ashford & Simpson singing a medley of their
classic songs: "Ain't Nothing Like The Real Thing," "Your
Precious Love" and "You're All I Need To Get By."
Simpson: Well, "Solid" was really an expression that was used in the street. One day, Nick came in and said to me, "This guy recognized me, and he said, 'Yo Bro…Solid!' And he gave me the high-five." He said, "I really like that expression…it kind of depicts our relationship." So we wrote it very quickly because it was really bouncing off that idea…"We're Solid…solid as a rock." It was a very easy song to write. You know, it was almost like a novelty, with (the line) "the thrill is still hot hot hot hot…" Usually, you're not thinking that lightly, but it worked because it was real.
DK: Currently, are you working on a new album or writing songs for other artists? Are you still active as a writer?
Simpson: Yeah, very much so. You know, it's a very interesting process when you've had a partner as long as I did. And suddenly (after Nick passed away), you find yourself having to examine songs differently, because I never had to think about a lyric. So now, I think about lyrics and I write lyrics. I now write the whole song, and I realize I'm able to do it.
Through the years, I probably could have worked a little harder at writing lyrics. But I had this wonderful lyricist that I'm sleeping with, so why bother? So now I see that I wasted a little bit of myself. Even in performing I realize that…whereas you temper yourself when you're onstage with somebody; you don't want to outdo or overshadow. Now when I'm onstage, I have to cover the whole stage, and I can be as big as I can be. So that changes too. So there are the pluses that I'm getting out of the situation of being a solo (artist). Also, when I write now with somebody, I'm more assertive, because I will come up with an idea and write part of the lyric or whatever. So you know, it's a nice process. I wrote a song with Corinne Bailey Rae for her latest album. And I just did a song with Felicia Collins that we wrote together. So it's nice…I'm enjoying it.