Usher Talks About His Album Looking 4 Myself, His Hit "Climax," And Writing His Songs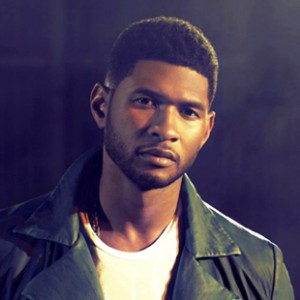 Nearly two decades after releasing his self-titled debut, Usher remains a best-selling and visionary artist, who is always looking for unique ways to evolve'a creative aesthetic perfectly captured by the title of his seventh studio album Looking 4 Myself. During the recording process, Usher had motivational signs in the studio with the sayings: 'Expect the Unexpected,' 'Awkward is OK,' 'Evolve or Evaporate' and 'Musical Immortality.' One place the seven-time Grammy winning R&B artist'whose full name is Usher Terry Raymond IV–can always find himself is on the pop and R&B singles chart. The new album's two gold-selling lead singles 'Climax' and 'Scream' follow two multi-platinum collaborations this past year'the #1 pop hit 'Without You' (with David Guetta) and 'Promise' (with Romeo Santos), which hit #1 on the Latin charts.
The buzz swirling around the release of Looking 4 Myself, the follow up to his 2010 set Raymond vs. Raymond (which won the Grammy for Best Contemporary R&B Album) ensures that the Dallas-born, Atlanta-raised entertainer's streak of top sales and chart stats will continue. In his career to date Usher has sold over 23 million recordings in the U.S. and more than 43 million albums (and 65 million total recordings) worldwide. Billboard named him the second most successful artist of the 2000s– his landmark 2004 album Confessions was the top solo album of the decade. Confessions featured some of his biggest hits, including 'Yeah!', 'Confessions Part II' and 'Burn.'
True to the mission statement of the new album's title, Looking 4 Myself, Usher takes some bold steps into previously uncharted musical territory that the singer has described as 'electric soul.' Assuming the most active role of his career as a songwriter, and working with a wide range of producers and collaborators'including Diplo, Rico Love, Swedish House Mafia, Max Martin, Pharrell, Salaam Remi, will.i.am, and Luke Steele of Empire of the Sun'the singer blends trippy electro dance beats with his signature, era-defining R&B, pop, and hip-hop sounds to create a style that transcends easy categorization.
'It's the next chapter of my story,' Usher says, 'and with every album I try to be mindful of the audience I have spoken to for many years, along with new fans who have joined the party along the way. The things that motivated me this time were sounds and music that were very new and indie, like going to the Coachella festival or to Ibiza. I've traveled the world, toured nearly every continent'this phase of my life and my career is very open to exploring.
'I felt the creative freedom to be daring,' he adds. 'There's a moment where you question, is this something that my audience is ready to accept? But I listened to artists like the Beatles and Prince and Marvin Gaye at pivotal moments, where they really spoke how they felt, and I took that liberty to be as creative as possible. It's all about making relevant music. I think it's an album that can be appreciated by the indie crowd, the pop crowd, R&B crowd and the electronic music fans and DJs. I think they understand that I'm well traveled and that I've continued to develop'but also that I haven't lost myself, but expanded, and that I keep that heart and soul in everything I'm singing.'
Driven by Usher's soaring falsetto and hypnotic atmospheres, the hit single 'Climax' is a solid example of the ways the singe–a co-writer on the song–felt liberated to try new ideas. 'The word is synonymous with sex, he says, 'but that's not what this 'Climax' refers to. It's the anti-drop at the club, the moment where you reach the crescendo of an experience, that all time high moment with a person–and from there you can either decide to walk away or develop a deeper relationship. Diplo gave me a great palette to just explore and I had a great time doing that.'
Another powerful track featuring one of Usher's most emotional vocals is 'Sins of My Father,' produced by Salaam Remi. 'When you hear that title, you think about the Old Testament or maybe even politics,' the singer says. 'How as a society, we reap the repercussions of liberties taken, like you're serving a sentence for a crime you didn't commit. On a personal level, that's also a chapter I never spoke about, how my dad was not in my life as a child–and now, when I'm dealing with my children and relationships, that can lead to karma and consequences. Maybe it's the sins of the father or lack thereof that preps you for how you're going to manage relationships or the women I go for. It's bold territory for me, but it ties in perfectly to the theme of looking for myself.'
Jonathan Widran is a free-lance music/entertainment journalist who contributes regularly to Music Connection, Jazziz and All Music Guide. He can be reached at [email protected]. He is also on Google+