Country Singer Tucker Beathard Talks About His Hit "Rock On," His Single "Momma and Jesus" And Writing His Songs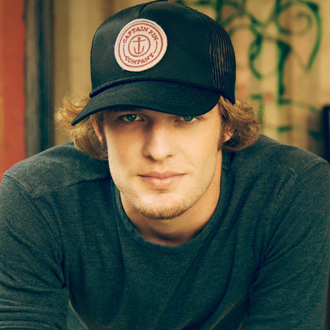 In just the past six months, singer/songwriter Tucker Beathard has emerged as a talented country artist to watch, who's already had a Top 10 hit single, "Rock On." On this song (which he wrote with his father Casey Beathard & Marla Cannon-Goodman), Beathard showcases his distinct musical style, which combines his love for country and rock music. In addition, the song features a unique lyric concept, using the title "Rock On" as a play-on-words phrase which gives the title new depth and meaning.
Beathard, who is 21, recently released his debut EP called Fight Like Hell on Dot Records, which is an imprint of Big Machine Records. He has also just released his follow-up single, "Momma and Jesus," which is quickly gaining airplay on country radio stations. On his EP, besides his lead & background vocals, Beathard plays all the drums and most of the guitar tracks.
SPECIAL FEATURE: STREAMING AUDIO

Here's an excerpt of our interview with Tucker Beathard, who tells how he co-wrote his hit song, "Rock On."
Beathard comes from a family which has an impressive music and sports background. His father, Casey Beathard, is a two-time BMI Country Songwriter of the Year, who's co-written hits for Kenny Chesney, Eric Church, Gary Allan and Billy Ray Cyrus. His grandfather is Bobby Beathard, a former NFL General Manager of the Kansas City Chiefs, Miami Dolphins and Washington Redskins. Also, his brother C.J. Beathard is the starting quarterback for the University of Iowa football team.
During high school, Beathard was a promising baseball player, and he was offered a scholarship to play baseball in college. However, he decided to forgo playing baseball and attending college, to focus on a career as an artist and songwriter. Beathard subsequently met with music execs at several companies, and decided to sign a music publishing agreement with Big Machine Music and a label deal with Dot Records.
We are pleased to do this new Q&A interview with Tucker Beathard. He tells how he got started with music, how he co-wrote his hit "Rock On" and new single "Momma and Jesus," and how's he's been on tour in both the U.S. and in Europe.
DK: I read that your father Casey is a hit songwriter, and you have a brother who's a college quarterback. So how did you decide between music and sports?
Tucker Beathard: I was always into both music and sports. I've played baseball and football, and I've played drums and guitar. I had a baseball scholarship—I signed and committed to play baseball in college. But the night before I was supposed to report [to my college team], my passion for music was just too strong, and I didn't feel like I'd be happy there. So I called the baseball coach and told him that I wouldn't be coming. I decided to jump and dive in, and try to do music.
DK: You play both guitar and drums. How did you become skilled at these different instruments?
Beathard: Drums were the first instrument that drew me in, and made me fall in love with music at a very young age. [Growing up] I was introverted, and I wasn't really good at expressing feelings. So for therapy's sake, I picked up a guitar and put my fingers on it. When something sounded good, I would just write stuff that I felt, and I started writing songs.

Here's a lyric video of Tucker Beathard's hit single, "Rock On."
DK: Were you inspired to be a songwriter because your dad was a hit songwriter?
Beathard: No, not really. I just loved songwriting, and it felt good. And then, when I started playing my songs out for people, it just felt right. I just found my identity…the way to speak and express myself, and possibly reach out to other people too.
DK: I like your hit song,  "Rock On." How did you write this song with your father and Marla Cannon-Goodman?
Beathard: It was kind of a simple hook I thought of. Country music has always been cool, how they sometimes do play-on-words songs, and create puns in a song. I came up with this simple hook, so I took advantage of it and we wrote it.
DK: My favorite line in the song is "I should have put a rock on," which is like putting a diamond ring on the girl's hand. Is that the hook you had written?
Beathard: Yeah (he laughs). It's kind of a play-on-words, with the phrase "rock on," and how you can turn [the phrase], saying "rock on" like screw it, like with a middle finger. And later on (in the chorus) you hook it by saying "I should have put a rock on…a ring on her finger." So that was the idea we brought to the table, and that's what we wrote the song around.
DK: Cool. You're signed with Dot Records, which is part of Big Machine Records. How did you decide to sign with them?
Beathard: Through high school, I was writing a bunch of songs and playing out anywhere and everywhere, and then I recorded some stuff. By the time I was done with high school, I guess a buzz was starting to happen. People in the music business were coming to my dad, like "Hey, I heard all this stuff abour your son, I heard his songs…Can we have a meeting with him?" My dad was always opposed to it and wanted to keep me away from that. But when I decided to [focus on music], he said I could meet with them now.
So I started to meet with these people and playing them songs. Then Dot offered me a record deal. Dot is one of the different imprints under Big Machine—there's a cool group of artists who are on Dot. Chris Stacy, who's the head guy at Dot Records, was a big fan of my stuff, so they wanted to put me under the Dot imprint.
DK: I like your new single "Momma and Jesus." How did you come up with this song idea?
Beathard: It started with a guitar riff at the beginning…that's how I like to write. I would come up with some guitar riffs which can kind of inspire things. So this riff really inspired everything. Then I had the idea for the title "Momma and Jesus," but I wanted to write it in a less typical way. Insread of just talking about how much you love Momma and Jesus, maybe say it in a way like "God knows where I'd be without Momma and Jesus—thank God they haven't given up on me." Because they're kind of the only ones who haven't, and you know they never will.
DK: When I listened to "Rock On" and the other songs on your EP, it sounds like you have a strong rock edge and some blues, to go with your country sound. Is your sound a blend of rock and country?
Beathard: Yeah, rock always been my biggest influence. Rock music always had cool drums and guitar riffs and stuff like that. But at the same time, I love country music for the lyrics and the storytelling. It's important, what you're going to be saying with your words…your lyrics. There's nothing wrong with rockin' out, but [you've got to keep] the best thing about country music, which is telling a story that has meaning and is relatable, and having some depth to your words.
DK: You've recently released your EP, Fight Like Hell. Are you also working on a full album?
Beathard: Yeah, I've got so many new songs (written). If it was up to me, I'd come out with three albums tomorrow (laughs). Unfortunately it's not up to me. So I guess we're trying to figure out for sure, which songs to narrow down to make the next project, and try to find time off the road to book some more recording time, because we tour a whole bunch. Yeah, we'll definitely (put something out0. I love putting out music. It's something that's my identity—putting more music out there is the only way to express yourself.
DK: You recently finished a tour called the Rock On College Tour. Did you play shows at a lot of college campuses, playing shows for students?
Beathard: Yeah, pretty much. We went to a lot of different college towns, specifically Big 10 college towns, and we just played at the nearest club bar or venue. It was awesome and a lot of fun. We had a bunch of rowdy, fun crowds to play for. It was a really cool experience.
DK: You're also scheduled to play shows in Europe. Do you have already have a following there?
Beathard: Yeah, I went to Europe and played there last April. I got some good feedback and saw how cool the crowds were. You can tell they have a thirst for new music and they're really great listeners. When I got back (to the U.S.), the first thing I wanted to do was to go back over again. So we'll be going back there in the next couple weeks.