Jeff Trott Talks About His Hit Writing Collaboration With Sheryl Crow, And His Other Projects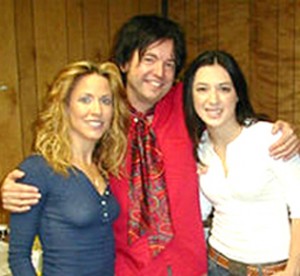 Songwriter/producer/artist Jeff Trott is not as well known as his main writing partner, multi-Grammy winning artist Sheryl Crow, but together they have written such memorable hits as 'Every Day Is A Winding Road,' 'If It Makes You Happy,' 'Soak Up The Sun,' 'My Favorite Mistake' and 'A Change Would Do You Good.' They have also teamed up to write seven songs for Crow's latest album Wildflower, including her new hit single 'Good Is Good.' In addition, Trott co-produces many of the cuts with Crow on her albums.
Trott has co-written an amazing 22 songs which have been released on Crow's top-selling albums, starting in 1996 with Sheryl Crow (7 cuts), The Globe Sessions (4 cuts), C'mon C'mon (4 cuts) and Wildflower (7 cuts). Also, Trott is an in-demand writer and producer who works on many other projects, and he is a respected guitarist who was a member of popular rock bands Wire Train and World Party. In addition, he is a recording artist, who released his solo CD Dig Up The Astroturf in 2001.
In a new interview, Trott discussed the evolution of his music career, from his start as a touring musician and band member, to co-writing with Crow, then later handling production duties with her, plus producing & writing for other projects. He also talked about the special writing chemistry he has with Crow, and how they worked together on her new Wildflower CD.
Trott grew up in the San Francisco/Bay Area, where he originally wanted to become a set designer for theater productions. He also played guitar and synthesizer, and in the early '80s he began writing and recording demos on a four-track, TASCAM cassette recorder. 'I made Eno-like tracks,' recalled Trott. 'I created these tapes, and someone from the theater group I worked with liked the tapes, and asked me if they could use my music for their plays. This led [to me] starting some art bands. The first one was called the Lifers, which were like Joy Division. We performed locally, and I played guitar and sang some harmonies.'
Subsequently, Trott and his then roommate Eric Yaeger (an artist/painter) would host performance/art parties to pay the rent, playing live music. Brian MacLeod (who was the drummer in Wire Train and would later collaborate with Sheryl Crow) was impressed by Trott's guitar playing, and thought he would make a great addition to Wire Train (which was then signed to 415/Sony Records). So Trott joined Wire Train in 1985, and played on several albums and toured with them.
It was following a Wire Train show in London, that Trott met Karl Wallinger of World Party. Wallinger was also impressed with Trott's guitar playing, and he asked him to join World Party. It was excellent timing for Trott, who then played on World Party's acclaimed album Goodbye Jumbo, which was heralded by critics as one of the best albums of 1990. 'I loved playing on Goodbye Jumbo ' it's one of the finest projects I've had the opportunity to be a part of,' said Trott.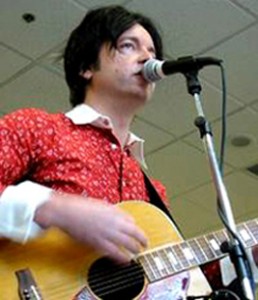 Trott lived in London for a year, but then decided to move back to the U.S. and rejoined Wire Train, which had disbanded for a couple years. He played on two more Wire Train albums (released on MCA Records), including No Soul No Strain, which coincidentally led to him meeting Sheryl Crow. 'I was working on the Wire Train album which was produced by Bill Bottrell, who was also producing Sheryl's Tuesday Night Music Club album,' explained Trott. 'I met Sheryl at Bill's studio as I was finishing a session with Wire Train. She asked if I would be interested in singing harmonies on her song 'Can't Cry Anymore.' I sang on her session that same day, and we really hit if off. Soon after, we got together and wrote a song called 'On The Outside.' It didn't make her Tuesday Night album, but it was later released on the X-Files soundtrack album.'
Crow finished the Tuesday Night Music Club album (for which she won three Grammy awards) and then went on tour. In the meantime, Trott had joined singer/songwriter Pete Droge's band and toured with him. One of the gigs with Droge was opening for Crow, so the two got back in touch. Crow then asked Trott if he wanted to join her band, and write more with her. 'Sheryl and I then went up to Brian MacLeod's cabin in Yosemite for some writing sessions. We wrote 'If It Makes You Happy,' 'Every Day Is A Winding Road' and 'A Change Will Do You Good' (the latter two songs co-written by MacLeod). It was pretty amazing to write these three hits all during the same sessions.'
A couple months later (in 1993), Crow was in New Orleans to begin recording her next album, and she invited Trott to collaborate on more songs and play on the sessions. Trott ended up co-writing eight songs for the follow-up Sheryl Crow album, which went multi-platinum and won two Grammy awards, including Best Rock Album.
Trott talked about his successful writing process with Crow. 'We really have a great writing chemistry. We haven't analyzed what it is that we do together that works so well. Sometimes I'll have an idea ' a song title, a riff or chord progression. Other times she'll have an idea and say 'check this out.' Then we go down the path and complete the song.'
'We write in many different ways,' he added. 'Sometimes I'll play piano and she'll play Wurlitzer organ. Most of the time we don't have set ideas. She would ask if I had any unfinished songs. Using a baseball analogy, I'm a great starting pitcher and she's a really great closer. She's really good at analyzing a song, and knowing what it needs, defining the idea and making it great. Also, she has a wonderful, very honest-sounding voice, like she's singing directly to you. Her singing really helps convey the emotion and meaning of the song.'
The duo's excellent writing relationship has continued ever since, with Trott co-writing at least four songs on each subsequent album. For her C'mon C'mon album, Crow initially wrote most of the material by herself or with other writers. But late in the project she turned to Trott again, which led to their writing the hit single 'Soak Up The Sun.' Trott also received his first production credit on this cut.
For Crow's new album Wildflower, the duo started writing again in 2003. 'We were sitting at her house in L.A. playing acoustic guitars, and we found the chord progression for  'Good Is Good',' he said. 'And once we had the melody worked out, the lyrics started to emerge. We put together this little demo, then we later cut a full band version which turned out pretty well. But we weren't totally satisfied with it. So I started working on the song with my Pro Tools setup and refined it more. I revamped the demo, which now had more atmosphere and mood to it, and Sheryl really liked it. We then finished producing the song, and it came out as well as we had first envisioned it.'
Trott discussed the overall evolution of the songs and production of Wildflower. 'The album is very different than Sheryl's previous records. It was not really designed as much for commercial radio. It has many beautiful, downtempo, melancholy songs, with lovely string arrangements by David Campbell. I really like the songs we wrote, such as 'Letter To God' and 'Where Has All The Love Gone.' There is one, quintessential radio rock cut on the album, called 'Live It Up.' From beginning to end, the album is a beautiful record ' I'm very happy with it.'
In addition to his collaborations with Crow, Trott has been active working on many other projects as a writer, producer, guitarist and artist. He wrote & produced two songs with Jeremy Toback on RCA Records, and he co-produced two songs for Stevie Nicks on the Practical Magic soundtrack. Recently, he wrote one song and produced two cuts on the debut album by Sara Paxton on Epic Records. As a musician, Trott played on the latest albums by Aimee Mann, Rob Thomas and Minnie Driver. 'Sometimes it's just fun playing guitar on sessions for artists that I really like. I'm particularly a big fan of Aimee Mann's ' I was honored to work with her.'
In 2001, Trott released independently his first solo album, Dig Up The Astroturf, which combines melodic pop-rock with more electronic, ambient sounds. 'My artist career is kind of like my 'bowling league' music ' it's more for fun,' said Trott. 'I'd been wanting to do a solo record for a long time. I put a band together and we toured Europe, and we also had a residency for a few months at a club in Portland.' (Trott lived in Oregon from 1998 to early 2005; he recently moved back to Los Angeles).
Lastly, when asked what advice he would give to aspiring writers, he said, 'Don't try to be too precious when you write. With lyrics, some people put so much pressure on themselves, trying to create a genius work. It's okay to meticulously go through and craft each line, but not every single line has to be Shakespeare. Sometimes writing lyrics in a more straightforward way is a good thing. Instead of trying to make it too heady or intelligent, it's better to just get the process flowing. Don't censor yourself to the point of not being able to write anything.'
Dale Kawashima is on Google+