Torrey Mercer's "I Believe In Me " Named May "Best Song Of The Month"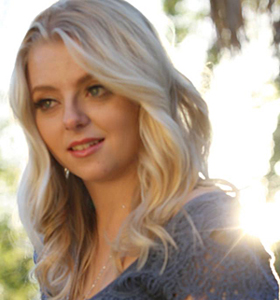 Torrey Mercer, a young pop singer/songwriter based in San Diego, CA, has won the SongwriterUniverse "Best Song Of The Month" Contest for May, for her song "I Believe In Me" (co-written by Melodye Perry & Alex Teamer). This song is Mercer's new single, and it will be included on her debut EP which will be released later this year.
"I Believe In Me" is a stirring pop ballad which has a positive, uplifting theme about self-empowerment. The song starts out with just a piano intro, and then gradually builds energy and emotion, leading to a powerful chorus that features Mercer's passionate lead vocals and a gospel choir. This recording was expertly produced by Alex Teamer (aka ATEAM) in Los Angeles, in conjunction with Rachel Noelle of Baby G Music.
Mercer, who is 20, was born and raised in San Diego, where she started singing in musical theatre productions when she was 9, and began writing songs when she was 17. She was inspired by listening to such favorite artists as Kelly Clarkson, Christina Aguilera and Katy Perry. During high school, she entered several singing competitions, and realized she wanted to focus on being a singer & songwriter, instead of doing musical theatre.
Mercer has performed frequently in San Diego and Los Angeles with her four-piece band, at the House of Blues and other venues. At one show, Rachel Noelle (of the production company Baby G Music) was impressed with Mercer's performance, which led to Noelle working with Mercer on several songs, including the 2013 single, "Looking Glass."
The duo's collaboration led to a successful writing session for "I Believe In Me". "I came up with the title and concept, and I explained it to Rachel," recalled Mercer. "She recommended that I work with Alex (Teamer) and Melodye (Perry). We really worked well together, and we recorded the song last December (2013)."
Mercer released "I Believe In Me" in January, and a video of the song will soon be released, which was directed by Joe Fahey & Matt Fahey of I-95 Productions. She is currently working on her EP, and she eventually hopes to record and release a full album.
Notably, Mercer is using her music career to help promote causes she believes in. She's a proud supporter of the Anti-Bully Movement, and she's a motivational speaker for kids from kindergarten to 8th grade. "I go to schools, and I speak and sing to the students at assemblies," she said. Mercer has also worked with other charities such as American Foundation for Suicide Prevention, the National Eating Disorder Association, and Rady Children's Hospital in San Diego.
Top Five Songs Of The Month
Here are the Top Five Songs which were submitted for this month's contest, with the songwriter credits, plus their e-mail and website links. You can listen to the winning songs by clicking the music players below.
"Best Song Of The Month" Winner
Song Title:
I Believe In Me.
Written by:
Torrey Mercer, Melodye Perry & Alex Teamer. Performed by Torrey Mercer of San Diego, CA.
More Best Songs Of The Month
To enter the next "Best Song Of The Month" Contest (the deadline is the last day of each month), please
Click Here