Acclaimed U.K. Artist Tom Odell Talks About His Album, Wrong Crowd, And Writing His Songs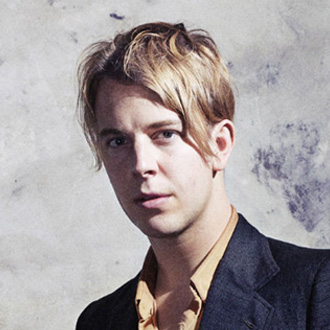 In his native United Kingdom and in Europe, singer/songwriter/pianist Tom Odell is already a well-known artist who's had two Top 10 hit singles and several other chart singles. In addition, he's received accolades for his 2013 debut album, Long Way Down, which has sold over a million copies worldwide.
Now in 2016, Odell is releasing this week (on June 10) his follow-up album, Wrong Crowd, on RCA Records. This album contains his new single, the dramatic, high-energy cut "Magnetised," plus an impressive collection of songs which are highly melodic and contain some orchestral arrangements. The album includes writing collaborations with Rick Nowels and Andy Burrows, and was produced by Jim Abbiss (who has worked with Adele, Arctic Monkeys and Kasabian).
We are pleased to do this new interview with Tom Odell. But before we start the interview, here is some background information and a list of some of his previous singles and awards he's won.
Born in the town of Chichester, West Sussex, England. Odell (who is 25) was discovered by singer/songwriter Lily Allen and signed to her label, called In The Name Of (an imprint of Columbia Records). It was in 2012 that he released his debut EP, Songs from Another Love, and he was subsequently named Critics' Choice Winner at the 2013 BRIT Awards.
Odell released his first full album, Long Way Down, in June 2013, which contained the singles "Another Love" (which was also on his EP), "Grow Old With Me" and "Hold Me." The following year (2014), Odell was named Songwriter of the Year at the prestigious Ivor Novello Awards. It was also that year that he had another U.K. hit single, with his cover recording of John Lennon's song, "Real Love." Notably, Odell has toured steadily, and he was the opening act for Billy Joel on several of his arena shows.
For his new album Wrong Crowd, Odell has scripted a collection of short films which he is releasing as music videos, which follow the themes in his songs. These films were created with the help of director George Belfield.
Here is our Q&A interview with Odell:
DK: I like your new single, "Magnetised." Can you tell me how you created this song?
Tom Odell: It was in London—it was one of the last songs we wrote for the album. It started off as a ballad, it was about unrequited love. It ended up as a very different thing once we took it to the studio. We put some drums on it and all of a sudden [the music production] twisted the lyric. It turned from a being a very sad song to (still) being tragic, but maybe a little more positive. I find it interesting when you can change the production on the music and lyrics and it slightly twists the lyric.
DK: On your first album, did you write all the songs by yourself?
Odell: I wrote all but two or three of the songs by myself. On the new album, there's a balance of songs I wrote by myself and songs with co-writers.
DK: I read that you wrote some songs with (hit writer/producer) Rick Nowels. Besides Rick, did you co-write with other people for your album?

Here's the video of Tom Odell's single "Magnetised".
Odell: I also worked with Andy Burrows who's one of my dearest friends. He lives very close to me in London. He's also actually my drummer—he joined the band and we wrote a couple songs together, "Constellations" and "Here I Am."
DK: On your new album, I love two of your ballads, "Somehow" and "Constellations," which have beautiful melodies and strings. Can you tell me how you wrote these songs?
Odell: I wrote "Somehow" in 2014. It's actually one of the few songs on the album which I wrote on guitar. I wrote it in my flat in London. It happened very quickly—it was around the time I wrote (the song) "Concrete." The lyric [was written] fast. At first, I didn't think much of it until we recorded it, but now I'm really proud of that song.
DK: When you write a song, do you usually create the music first on piano, or do you sometimes create the title or lyrics first?
Odell: It's always different. For a lot of the songs on this album, it was a phrase I had—the lyric and title of the phrase would come first. For the song "Wrong Crowd," I had the phrase first. I had the phrase, "I can't help it, I don't know how, I guess I'll always be hanging with the wrong crowd." And then I came up with the melody, and the song would be written. With "Somehow" I just messed around with the melody and chords, and then a phrase like "somehow" came into my head. I think I had "Somehow" written down in my notebook.
For me, it's supposed to be a lyric which starts your imagination. [I might start] with a single phrase, and then I might have a thousand ideas in my head about what it could mean and where I could take it. [As I'm writing the song], I don't have to totally imagine that I'm in that scene. For the song "Constellations," it starts in this bar. I'm in this bar and I'm telling this girl that everything's shit and I've got these awful people around us, but I'm saying everything's going to be different now. I can tell you…I look up in the stars and I'm telling you [things will be] different. In order to write that, I had to imagine every detail in that bar—the chatting in the bar, the gentle hum of the bar, the headlights passing outside, the chair that squeaks, the look on her face—but obviously you can't get all of that detail in the song. You can only pick a few of those details to sing. But in order to get those details I have to almost write so many verses to get to that point.
[I will] imagine it in my head, all those details—the picture on the wall, the girl's voice, the jacket on the back of the chair—all of that. I almost have to live it in my head in order to write the song. It's kind of the same with all the songs on the album, whether it's [writing] "Wrong Crowd" or "Jealousy" or "Magnetised." And they're all different scenes—they're like scenes from a film.
DK: I read that you said the songs on your new album comprise a fictional story. Would you say that's true?
Odell: Yeah, I'd say it ended up that way, in that each scene in some ways was written separately. It ended up as a film overall, like a story accidentally. I don't think it started out that way…I think it sort of organically grew.

Here's the video of Tom Odell's new ballad, "Somehow."
DK: You mentioned that the songs are like scenes from a film. I read that you've created a collection of films (videos) for the songs on your album. How many films have you created already?
Odell: We've done five already and we've put three out, and we're currently doing another one. I'm really excited to see all of them—there's going to be a story that goes through all the ones we do. Ir was really nice to contextualize the music with cinema. The album is very inspired by cinema.
DK: You mentioned that there is a storyline which runs through the songs. Can you tell me what the storyline is?
Odell: Well, I don't want to ruin it (he laughs). I think it's a complex story line. It jumps around and it isn't so familiar. On the next film comes out, it goes back to a completely different time. It's in the same way that I guess the album does, it's not one linear story goes throughout time, It jumps back a few years and goes forward, sort of like a Fellini film or something.
DK: For your new album, you worked with producer Jim Abbiss. How did you decide to work with him on the album?
Odell: When I was finishing writing the songs, I tried out a few producers and it really hadn't worked. I was at a point where I had done demos of all the songs. The demos were strong—some songs had some creative direction…some not so much. I knew that the recording process needed to [evolve]…there was a job to be done in the recording. I needed someone who's experienced to help me get it out. Jim (Abbiss) was amazing. There's one particular track that he did with the English band, Peace, a song called "California Daze." I'd heard it a few years ago. When I heard it, I looked up [the credits] because I wanted to know who produced it. I thought the production was really warm and musical…there was so much musicality to it. So Jim was always someone in the back of my mind that I wanted to work with. I also loved his work with Arctic Monkeys and Adele. Then we got in touch, and I sent him the songs, and he really liked the songs. Jim's a very good producer and he brought so much experience and taste to the album.
DK: In closing, is there anything else you'd like people to know about the album?
Odell: I guess I'm just really proud of this album. I really want people to listen to the lyrics and songs. Ultimately, that's how I started doing this thing—this whole crazy (music) job. I started writing songs when I was 12 or 13. That's what it's alway been about for me—it's always been about the melody and the lyric. That what I get the most satisfaction from. It's an amazing feeling to write a song, and it's incomparable to anything I've ever felt. I love writing songs and I hope people listen to (and enjoy) the songs.