U.K. Writer/Producer Trio TMS Co-Writes Hit "Me, Myself & I" for G-Eazy & Bebe Rexha, Plus Many U.K. Hits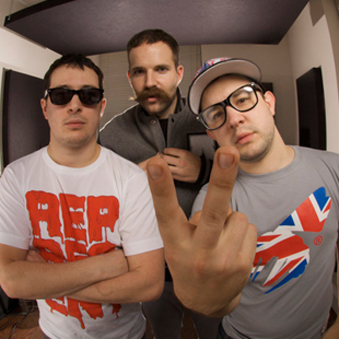 During the past five years, the London-based trio TMS (Tom "Froe" Barnes, Ben Kohn & Peter "Merf" Kelleher) has become one of the most successful, hit writing/producing teams in the U.K. They've had #1 U.K. hits with Jess Glynne, Little Mix, Prefessor Green (featuring Emeli Sande), Sigma (featuring Paloma Faith), The Vamps and Dappy.
On top of this, TMS recently had their breakthrough U.S. hit, co-writing & producing the single "Me, Myself & I" for G-Eazy & Bebe Rexha. This song reached #7 on the Billboard Hot 100 chart and was certified platinum. "Me, Myself & I" was also a hit in many other countries, including the U.K., Canada, Australia, Germany, France, Sweden and South Africa.
Barnes, Kohn & Kelleher are from West London, and they've worked together musically since they were teenagers. They started having hits in the U.K. since 2011—they co-wrote #1 hit "Read All About It" for rapper Professor Green (featuring Emeli Sande).
In 2012, TMS worked as music producers on the hit TV show, The X Factor, and soon after they co-wrote & produced hits for the popular girl group, Little Mix. Their hit singles for Little Mix are "DNA," "Wings" and "Salute." Notably, they co-wrote & produced three songs on the group's debut album, DNA (in 2012), and six songs on on their second album, Salute (2013).
The trio have also created hits with Jess Glynne ("Don't Be So Hard On Yourself"), Emeli Sande ("Read All About It (Part III)"), Dappy ("No Regrets" and "Rockstar"), Sigma (featuring Paloma Faith) ("Changing"), The Vamps ("Last Night") and James Arthur ("You're Nobody 'til Somebody Loves You").
In addition, TMS has worked with One Direction, Cher, Leona Lewis, Rita Ora, Jessie J, Lily Allen, Labrinth, JLS, Years & Years, Oily Murs, Ella Henderson, Birdy, Jem & The Holograms, Sinead Harnett, Kwabs and Dot Rotten. TMS is managed by Paul Centellas, of North Pole Management Ltd.
We are pleased to do this Q&A interview with Froe, Ben and Merf of TMS. They tell how they got started, how they worked with U.K. stars Little Mix and Jess Glynne, and how they co-wrote the hit, "Me, Myself & I."
DK: What does TMS stand for?
Ben Kohn: We've all known each other since we were kids. We built a shed at the bottom of my dad's garden when we were 15 that we used as our first studio. TMS was the name of a local graffiti crew at the time that we took on. It had loads of awful meanings like The Master Series, The Musical Scientists, Too Much Skunk, Twenty Military Soldiers, The Mad Scientists… The list goes on! But the one that stuck was The Musical Shed. Now we've moved out of the shed, we're just plain old TMS although Merf is always trying to convince people it's our three initials, Froe's real name being Tom and my family nickname being Squidge. We just tell him to shut it!
DK: How did you get started as a writing & production team?

Here's the video of G-Eazy & Bebe Rexha's hit "Me, Myself & I," which was
co-written & produced by TMS.
Tom "Froe" Barnes: We were all individually interested in music and knew each other through school. After a while we decided to form a fairly terrible band. That developed into writing and producing music at the studio we built and we then got heavily into dance music, so spent many years writing and producing breaks. We toured the world, were residents at Fabric in London and started doing lots of remixes. That got us hooked into the world of record labels and we made a decision to move away from dance and start writing songs with and for artists. We had our first few cuts around 2011 and have been working in that world ever since.
DK: How do the three of you work in the studio? Do you all create tracks, or does one person focus on topline (melody & lyrics)?
Peter "Merf" Kelleher: Froe would be considered the most accomplished producer and mixer of the team, Ben does the least of that and tends to gravitate towards working directly with artists & writers and I'm happy to do either, so the dynamic works pretty well in terms of starting and finishing records. We used to spend lots of time writing beats prior to sessions, but nowadays we almost exclusively write from scratch on the day. That's partly down to time constraints—we have less time to prep nowadays, but also because writing over beats can be a little restrictive creatively. We've been doing it long enough now to be able to sit down with an artist in the morning and get a vibe going in the room and work the production side of things up as we go.
DK: "Me, Myself & I" is your first big U.S. hit. How did you get together with G-Eazy and Bebe Rexha?
Froe: We initially wrote the song with Bebe and Lauren Christy in a session for Bebe's album. The song that came out of that was called "Don't Need Anything" and Warner Bros., Bebe's label, were super excited about it being a single for Bebe. We were happy with that and started producing the record for her. We delivered a mix and it looked like things were about to start rolling, but the label had second thoughts and weren't sure the record properly suited Bebe's style and direction at the time. After much deliberation and several months passing by, Bebe took the files into a session with G-Eazy and Michael Keenan, who was producing G's album. They heard the song, loved it and thought it would work for his record. They used the chords and chorus from the original, added a new beat and G did his thing on the verses and "Me, Myself & I" was born. And we were obviously very happy with the results!!!
DK: I really like the U.K. hit "Don't Be So Hard On Yourself" by Jess Glynne. How did you write this song with her?
Merf: Thanks! We did that session with Jess and another writer who we love working with, Wayne Hector. As I'm sure you're aware, Wayne is one of the most successful songwriters to come out of the U.K. and he's always amazing when it comes to writing with artists. We do a lot with him and it's always such a great experience. On the day we were looking for interesting concepts and the idea of not beating yourself up when things don't go well, felt like one to pursue and the song just flowed out really easily. Jess is also a great writer and has such a great voice, so things just fell into place and it ended up really connecting with the public too, which is fortunate!

Here's the video of Jess Glynne's hit "Don't Be So Hard On Yourself," which
was co-written and produced by TMS.
DK: You've had a lot of success with Little Mix, particularly on their first two albums. How did you get together with them?
Ben: We have a great relationship with their label, Syco. We met the girls just after the show (The X Factor) ended and our personalities just clicked. We loved that they wanted to make a really cool, vibrant pop record and songs like "Wings," "D.N.A.'" and "Salute" just flowed. We were also lucky to hit a really good run of form with our mate and great top-liner, Iain James.
DK: How would you compare the U.K. pop scene to the U.S. pop scene? Do you travel often to the U.S. for writing and recording?
Froe: We tend to do two or three trips to L.A. each year for about three weeks at a time and we love it. The main difference is that it feels that the U.S. scene is more geared around collaborating with great writers and then pitching the songs to several artists to see who bites, while the U.K. tends to be more based around having the artists in the room while the song is written. We have done some great artist co-writes in the U.S., like Nick Jonas and Aloe Blacc, but by and large, we tend to write songs with other writers and pitch them to artists.
DK: Are there new singles or cuts that you have, that you're excited about?
TMS: We've got the new Years and Years (electronica trio) single "Worship" that's just gone to radio here in the U.K., which we love. We also have two cuts on the new Emeli Sande album coming out later this year. Those have been a long time in the making, but worth the wait! She's such an amazing artist and we're really happy to be involved in that one. We've also got a single coming with Craig David that we're really excited about. Craig is a bit of a legend in the U.K. music scene for our generation, so was really cool to get him in the studio and it worked out really well. We have three or four cuts on the new Paloma Faith album and that's sounding amazing too, plus other bits in the pipeline with Birdy, Dua Lipa, Louisa Johnson etc. as well as some things we'd rather not talk about in case we jinx them!