Hit Country Artist Tenille Townes Talks About Her Unique EP, Train Tracks Worktapes, And Her New Duet Song With Bryan Adams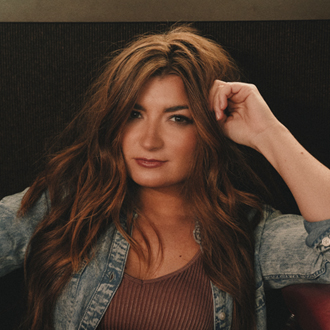 Over the past five years, country singer/songwriter Tenille Townes has had an acclaimed and successful career in the U.S. and in Canada, where she grew up. She is signed to Columbia Nashville Records, and she had a hit with her song "Somebody's Daughter," which was certified gold. And impressively, in 2020 she was named New Female Artist of the Year at the ACM Awards.
In addition, Townes has had a lengthy string of hits in Canada, with two #1 country hits and seven Top 10 hits overall. Notably, she has won a Juno Award (for Country Album of the Year) and over a dozen Canadian Country Music Awards (including Female Artist of the Year and Entertainer of the Year).
Currently, Townes has just released a unique new EP called Train Tracks Worktapes. This EP contains five songs that were written and recorded on a train, during a 15-day charity trip (December 2022) where Townes and her band played 65 shows to communities across Southern Canada. Townes was on the trip as part of the Canadian Pacific (CP) Holiday Train campaign, which serves as a food drive for communities. Attendees brought donations for local food banks in other to catch the free show.
Train Tracks Worktapes consists of four new songs written by Townes, plus her rendition of Fleetwood Mac's classic song, "Landslide." Highlights from the EP are "Home to Me," "Pieces of my Heart" and "Coming Together."
Along with her new EP, Townes has also recently released an excellent duet song with Canadian rock legend, Bryan Adams. This single is called "The Thing That Wrecks You," and Townes & Adams have filmed a video for this song.
Townes grew up in the city of Grande Prairie, which is in Alberta, Canada. She began singing and writing songs at a young age, and as a teenager she performed regularly at shows, local hockey games, weddings and fundraiser events. Soon after graduating from high school, she decided to drive to Nashville (a 45-hour trip) to pursue her music career there.
In 2018, she signed with Columbia Nashville Records, and soon after she had a hit with her song, "Somebody's Daughter." Then in 2020, she released her album called The Lemonade Stand, and in 2022 she released her 7-song EP, Masquerades.

Here's the video of Tenille Townes' new song, "Home to Me,"
from her Train Tracks Worktapes EP.
Tenille Townes Interview
We are pleased to do this new Q&A interview with Tenille Townes. She discusses her new EP Train Tracks Worktapes, how she wrote her hit "Somebody's Daughter," and how she connected with Bryan Adams for their new single, "The Thing Wrecks You."
DK: I read that you grew up in Alberta, Canada. How did you get started with singing and writing songs?
Tenille Townes: I was just singing anywhere that was happening in my hometown. As a kid, I grew up singing the national anthem at the local hockey games, and sing at weddings and local fundraisers. My grandparents bought me my first guitar when I was 14. I started figuring what chords sounded right together, and pairing it with some of the things I'd been journaling about at school. I just fell in love with songwriting. I used to obsess over the lyrics in the back seat of the car, listening to whoever was coming out of the speakers, and I would notice the songwriter credits. I thought how cool it was for people to make up songs, and I'd really like to try that. So playing the guitar was a gateway into that. Then I played a lot of shows locally, and I made my first trip to Nashville when I was 14.
DK:  You released your first album, Real, in 2011, and your second album, Light, in 2013. Can you talk about these early albums?
Townes: Yeah, those were going way back. That was some of the first trips that I had made to Nashville. They were my first recording experiences. I learned so much during that time, and it made me want to move to Nashville and be a part of that community.
DK: When did you move to Nashville?
Townes: After I graduated from high school, I left on this school tour and I spent 32 weeks in a motor home playing middle schools and high schools from one side of Canada to the other. That was my plan, to convince my parents that I wasn't going to college…that I was gonna hit the road instead. Then when that tour wrapped up, I drove 45 hours from Grand Prairie all the way to Nashville. And I was like…I hope this really works out because I don't want to have to drive 45 hours back home (laughs). So I'm still in Nashville and loving it, and I'm very glad to be there.

Here's the video of Tenille Townes & Bryan Adams' song, "The
Thing That Wrecks You."
DK: In 2018, you signed with Columbia Nashville Records. So after you had moved to Nashville, what was it like to get people to know you and eventually get a label deal?
Townes: It was an adventure. Honestly, I was trying to learn and soak in as much music and songwriting, and going out and seeing as much live music as I could. I'd write with anyone and everyone, and one person would introduce me to another. Then I got to meet my publisher and Sony Music around the same time, and I started working with my manager. I'm really grateful to be working with this team of people who believe in the music that I was making and that I'm still making now.
DK: Soon after, you had a hit with "Somebody's Daughter." Can you tell the story behind writing that song?
Townes: I was writing with (hit songwriters) Luke Laird and Barry Dean, and I had never written with them before. I was such a big fan of their work and their songs. I had been on this drive with my mom a week before we sat down to write. I was with my mom, and we were going furniture shopping. We took this exit off the interstate and saw this young girl standing on the side of the road with a cardboard sign. We were a few cars behind, and we watched a man in the truck in front of us get a Gatorade out of his cooler and pass it on to her. We took in this moment of kindness and we were like, "What's her name and what had happened to her?" This girl could very well be my age.
It kept haunting me, and songwriting has always been my safe place to figure out and understand the things I'm feeling. So I showed up at the writing session with that thing pulling at my heart about this girl that I saw. And Luke Laird had this part started in exactly the key and tempo that I'd been messing with, and Barry Dean had this newspaper article in his bag that talked about homelessness and people on the street. And we all looked at each other and we were like, "I think we're supposed to right this song today."
DK: Last year, you released your EP, Masquerades. Can you talk about writing and recording the songs for this EP?

Here's the lyric video of Tenille Townes' song, "Coming Together,"
from her Train Tracks Worktapes EP.
Townes: The songwriting for that process happened through Zoom and in the middle of the shutdown. In that time, these songs and the creative process were like my flashlight in a very dark time for all of us. And being able to turn to music and write was a very healing thing for me and my mental health. I was writing these songs over Zoom, with songwriters that I had never met in person, and we were talking about all the things we were feeling at that time. And the song that kicked it off was "Villain In Me," which talked about the darker voices in all of our heads, and that we're our worst critics. There was a line in that song that said, "Sometimes I wear it like a mask, it's easier that way." Then I posted a clip of the song online, and people responded and said, "I feel the same way…this song is helpful to me." It made me want to share more of these vulnerable things.
DK: You've just released your new EP called Train Track Worktapes. How did you come up with the idea for this project?
Townes: I was riding on a train across Canada a few months ago. We got on this train for 15 days, from Montreal to Calgary. It was a tour where we played 65 shows. On some days, we'd be playing five or six shows a day. We'd literallly pull up to the town on this train, and one of the train cars was this stage and the door would come down to where a group of people were gathered. It was pretty cold weather (December), and everyone gathered and made donations for local food banks. And I just stood there on the stage, taking in the generosity of the human spirit. I was so blown away by everyone showing up in the freezing cold weather.
I was so inspired by this tour and the shows we were playing, that I had to write about it. So I wrote these songs in between the shows, and we were like, "What would happen if we tried to record these songs while we were out here on the train?" So we borrowed gear from the stage car and had a couple laptops, and figured out how to use what we had here. The suitcase became a kick drum and we made shakers out of cereal bowls, and we did all kinds of resourceful fun things. The sounds of the train—like the rumbles, the engine and the rattle of the tracks—were very much the fabric of the music I wanted to capture. So whoever's listening could feel like they were sitting beside us on the train.

Here's the video of Tenille Townes' hit, "Somebody's Daughter."
DK: You've also released a new duet single with Bryan Adams called "The Thing That Wrecks You." How did you connect with Bryan to record this song with him?
Townes: That was a crazy story. I literally ran into him on a staircase at his studio in Vancouver. I was coming up the stairs and I was so happy to say hello and thank him for his music. He gave us a quick tour of his studio and then we were on our way. And I said to my manager in the parking lot, "How crazy would it be to sing a song with him? I think that would be so awesome." I was feeling fired up and we were in the studio the next week, and I had my band make a version of a song I had, that made me think of his voice. We recorded it and burned it to a CD, then I wrote out a letter and went to a Fed-Ex store and I sent it to the address of the studio. And I still can't believe that he got the envelope and opened it, and listened to the song. Then I got an email from him two days later, and he told me he'd love to sing on the song. So it was pretty cool.
DK: Now that you've released your Train Tracks Worktapes EP, are you working on songs for your next album?
Townes: Yes I am. I'm in the process of writing and recording, going through the next things that I want to say and the music. So I'm excited to be sharing the music soon that I'm working on now. My plan is to share some new songs after the Train Tracks EP, and I hope to release an album this year.
Here's the link to Tenille Townes' site: https://www.tenilletownes.com/