Taylor John Williams' "The Middle Of Ohio" Named March "Best Song Of The Month"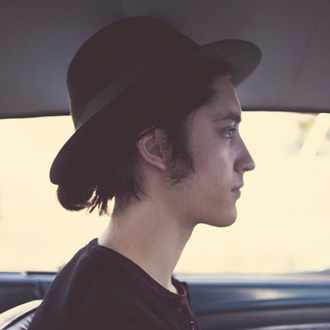 Taylor John Williams, a pop/folk/soul singer/songwriter based in Portland, OR, has won the SongwriterUniverse "Best Song Of The Month" Contest for March, for his song "The Middle Of Ohio." This song is included on his debut EP called Song of a Dead Man, which he released independently last August (2015).
"The Middle Of Ohio" is a rhythmic, upbeat song which blends folk, rock and blues for a distinctive, appealing sound. There's a funky groove to the arrangement, and the song spotlights Williams' soulful, expressive lead and harmony vocals. Williams also plays acoustic and electric guitar, and hand drums on the track. Another key element in this cut, is the bluesy harmonica playing by Robert Moore. "The Middle Of Ohio" was expertly produced by Alan Jones, a Portland-based jazz musician and producer.
Williams was born and raised in Eugene, OR, which is 100 miles south of Portland. He loved music from an early age, and he was inspired by listening to such favorite artists as Jeff Buckley, Glen Hansard and Jack White. However, it wasn't until he was a senior in high school that he seriously began to perform live and write songs. "I started to play around Eugene—I would play open mics to test out my material," said Williams. "This was a good springboard for me."
Following high school, Williams attended college for a year, but then he decided to focus on music full-time, as a singer/songwriter. It was in 2013 that he decided to try out for the popular NBC-TV show, The Voice. "My family said I should try out for it," he recalled. "I went down to Los Angeles for the open call; there were hundreds of people waiting in line. I first sang a cappella, and then I was called back the next day for an interview and to sing again. After a few months passed, they let me know that I would be performing on the TV broadcast. It was a great experience [to perform on The Voice]; I met a lot of people."

Here's a video of Taylor John Williams performing his song,
"A Normal Human Being."
After appearing on The Voice several times, Williams hit the ground running by recording his debut EP, Song of a Dead Man. "I had written some of the songs years ago," explained Williams. "Then a couple months after I got back from the show, we started recording the EP."
The EP was released last August, and it has gotten a good response, with substantial sales on iTunes. This past year, Williams has played shows up and down the West Coast, and he played a show at the Cutting Room club in New York City. This month (on March 16), Williams will be playing at the well-known club, The Hotel Cafe, in Los Angeles. Notably, Williams said he will be moving to Los Angeles this July to further pursue his music career.
Top Five Songs Of The Month
Here are the Top Five Songs which were submitted for this month's contest, with the songwriter credits, plus their e-mail and website links. You can listen to the winning songs by clicking the music players below.
"Best Song Of The Month" Winner
Song Title:
"The Middle Of Ohio"
Written by:
Taylor John Williams of Portland, OR. Performed by Taylor John Williams.
More Best Songs Of The Month