Tauren Wells, R&B/Christian/Pop Artist With 10 Grammy Nominations, Talks About His New EP, Take It All Back, And His Best Known Songs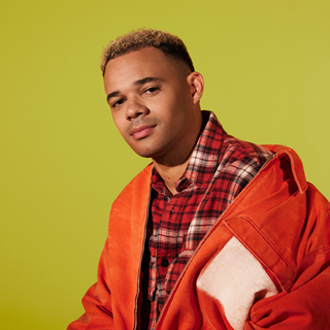 For the past six years, singer/songwriter Tauren Wells, who combines R&B, pop, Christian & gospel music, has been an acclaimed and popular artist. Impressively, he has won eight Dove Awards (presented by the Gospel Music Association), including Contemporary Christian Artist of the Year and New Artist of the Year. In addition, he has been nominated for 10 Grammy Awards.
Wells is known for being a talented, soulful vocalist who sings and write songs that are uplifting, energetic and joyful. He uniquely connects his contemporary Christian and gospel sound with elements of pop, hip-hop and R&B.
In August (2023), Wells released his new EP called Take It All Back. It contains four songs including the powerful title cut, "Take It All Back," and his current single, ""Crazy About You." The EP includes collaborations with gospel legend Fred Hammond, and the band, We the Kingdom.
SPECIAL FEATURE: STREAMING AUDIO

Here's an excerpt of our interview with Tauren Wells, who discusses his song "Take It All Back" and other songs on his new EP, Take It All Back.
Wells grew up in the town of Battle Creek, Michigan, where he started singing in the church choir, and began writing songs when he was a teenager. He then attended college in Indiana and formed a group called Royal Tailor. Then he moved to Houston, Texas, in 2010.
It was in 2016 that Wells signed as an artist with Provident Label Group/Reunion Records, and in 2017 he had a breakthrough when he released his debut album, Hills and Valleys. Notably, the album included the platinum single "Hills and Valleys," and the gold single, "Known." Also, Hills and Valleys received a Grammy nomination for Best Contemporary Christian Music Album.
For his second album in 2020, Citizen of Heaven, Wells collaborated with several top artists, including gospel platinum artist Kirk Franklin on "Millionaire (Good Like That") and Country Hall of Fame group, Rascal Flatts, on "Until Grace." Then in 2021, Wells teamed with Grammy-winning artist, H.E.R., to record their song, "Hold Us Together."

Here's the video of Tauren Wells' new single, "Crazy About You."
In 2022, Wells released his third album Joy in the Morning, that contained the beautiful, moving ballad, "Joy in the Morning," and the uptempo dance single, "Fake It." And this year (2023) he has released his EP, Take It All Back.
Tauren Wells Interview
We are pleased to do this new Q&A interview with Tauren Wells. He tells how he got started as an artist, and discusses his three albums, his collaborations and key songs, and his new EP.
DK: I read that you grew up in Battle Creek, Michigan. How did you get started with music and writing songs?
Tauren Wells: Yes I grew up in Battle Creek, which is a small factory town. I began singing in my church choir when I was nine, and by the time I was 15 I was playing and singing, and starting to write my own songs. With writing, I fell in love with the idea that there are so many things that are happening beneath the surface in our hearts, and if we take the time to sit down and excavate a little bit, we can bring some of the emotions up to the surface. And they have a way of connecting with a lot of other people.
DK: Early on, you were in the group, Royal Tailor, and then you signed a label deal as a solo artist. Can you talk about those early years?
Wells: Man, those early years were so special. We started Royal Tailor in college. I was  put in charge of throwing one of our school pep rallies, and I wanted to make it really dope because prior to this moment, all of the rallies were super lame (laughs). So we put together a band to make the rallies more cool. I spent a month writing some songs and pulling some guys together so that we could perform. That was the genesis of the band, and we loved it. We started touring and playing shows. We played at churches, youth groups, all kinds of places. And when we played a show in Beaumont, Texas, there was a family who had connections to the music industry, and he handed our demo to a Sony label executive and the rest is history.
DK: When did you decide to start your solo career?

Here's the audio of Tauren Wells' song, "Take It All Back."
Wells: After being in the group for five years, it felt right to step out (and go solo). The record label reached out and asked if I wanted to fulfill my band deal as a solo artist. So I thought…Sure, I might as well try it. And then a lot happened since then.
DK: Your music is a combination of pop and R&B, along with Christian and gospel. Early on, did you consider going more pop like a Jason Derulo, or did you always want your music to go in a Christian direction?
Wells: I just wanted to write music that was true to me, and my faith was such an important part of my life, I couldn't see outside of the lens of my faith. I did write love songs and songs about girlfriends, and it was cool. But there was something about writing music that showed people an inside look of what my relationship with Jesus was like. And the fulfillment that came from that, was so much greater than anything else that I had experienced. So I don't think I ever made a specific choice to write about my faith…it was a natural flow. And that's where the opportunities came. I'm a walk through the open doors type of guy, and those doors opened. So we've been walking through them and saying yes, and trying to serve the people that we feel have been put in front of us.
DK: Your first album, Hills And Valleys, was a big success that had platinum and gold singles, with Dove Awards and Grammy nominations. Can you talk about this album, and your favorite songs on it?
Wells: Oh gosh, Hills and Valleys was so cool, being my first album as a solo artist. I have so many songs that I love on that album: "Hills and Valleys," "Known," "God's Not Done With You" and "When We Pray." What's so cool about that, is in the moment I made the choice to wholeheartedly make music for the people that were already in front of me, that album gave me the opportunity to go on some amazing tours and meet some incredible people. So I think more than the music itself, the experiences and the people that the music connected me to, are the treasures that I take from that album.

Here's the video of Tauren Wells performing his song "Joy In
The Morning" with Elevation Worship.
DK: On your second album, Citizen of Heaven, you did some nice collaborations with (country band) Rascal Flatts on "Until Grace," and (gospel star) Kirk Franklin on "Millionaire (Good Like That)". Can you talk about these songs and your collaborations?
Wells: I love both of those artists; they are some of my favorites growing up. I was at an event last night, and we randomly sang a Kirk Franklin song that I probably hadn't listened to in 10 years. And I knew every word and every vocal part, and I realized what an indelible mark his artistry has left on my life.
Then I discovered Rascal Flatts when I was around 12, and I loved (lead singer) Gary Levox's voice. I love the harmonies that the guys created. So it was an honor to have both Rascal Flatts and Kirk Franklin as a part of that project. And what's even more cool, is the range that having those two artists on the same album presents…doing something with a legendary gospel artist and a Hall of Fame country group. So I was grateful to be exposed to those artists at a young age, and it was great to collaborate with them.
DK: I also like the song you did with H.E.R., "Hold Us Together." How did you connect with H.E.R. to do this song?
Wells: I connected with H.E.R. back at a songwriting camp in a small town in Vermont. It was an event that (singer/songwriter) Charlie Peacock put on, and there were all kinds of songwriters there. We were all there for a few days, writing together. And now some of these folks have blown up. And one of those people was Gabby (H.E.R.). So we met years ago, and then obviously I've been a fan of her music and artistry.
Later on, a label executive asked me, "Who would be a dream collaborator for you?" And I said, "H.E.R." Then about six months later, this song "Hold Us Together" came through. And lo and behold, it was a feature with H.E.R. So it was really cool; we went out to L.A., shot the video together, and talked about that moment that we met on that Vermont farm, and how amazing the journey has been ever since.

Here's the video of Tauren Wells & H.E.R.'s song, "Hold Us
Together."
DK:  I like your song, "Joy in the Morning," from your third album. It's such a positive and emotional song. Can you tell the story behind writing that song?
Wells: "Joy in the Morning" was dealing with the realization that although we hold to God's promises (from the Bible) that would say, "Weeping may endure for a night, but joy comes in the morning," sometimes life doesn't always work like that. There are some mornings when the problems that we went to sleep with, got worse before the sun rose. And we wanted to pull the lens back a little and paint a broader picture of what it means for a promise to be fulfilled, and for a problem to have an expiration date.
You know, my faith informs everything that I do. And it's not just the faith that changes things here and now. It's a faith that holds on to the reality that there is something beyond here and now, that there is something beyond time. There's a place called heaven and eternity. And the writer of "weeping may endure for a night, but joy comes in the morning" was right. There are times when God solves our problems overnight. But then there's also the reality that we are living toward a day, that for those who have placed their faith in Jesus, when all this other stuff goes away. And when this life has found us with so many tears and so many disappointments, and so much heartbreak, that there will be a day that every tear is wiped from our eyes. That the only thing that we will experience for eternity will be the joy and the peace of God. And I wanted to remind people that when we get stuck in the matrix of the pain that life brings at times, that there's a bigger reality that is possible for us to access. That people have lived their lives struggling, which is true for so many, but that one day the struggle ends and the freedom begins. I hope that this song encourages people to lift their eyes to see the possibility of that reality being true for them.
DK: Last month, you released a new EP called Take It All Back. Can you talk about the songs your new EP?
Wells: Take It All Back…that EP snuck up on me. I was so excited to put it out. I had been holding onto the song "Take It All Back," and I got the right people at the right time on it. Some friends of mine—We The Kingdom and Davies are featured on it—took it to the next level. That's an anthem…to go back and get what's been stolen from you. Go get your good days back, go get your smile back. Go get your energy back and your health back. Sometimes we give it away, and sometimes it's taken away. But I believe that we have the power to get some of those things back, and to rise up against all odds and live a life that we never thought possible.

Here's the video of Tauren Wells performing his song "Until
Grace" with Gary LeVox of Rascal Flatts.
There are other songs on the EP that I love too. "Breath Away" features Fred Hammond, a legend of gospel music. "Seen" is a song that makes my wife cry; we just love it. It's a reminder that no one is invisble, and everyone has value. And the current single is "Crazy About You." It stems from this idea that there is someone who is absolutely, irrevocably in love with you. I'm excited about the EP and I'm glad it's out in the world.
DK: I want to ask you about your live shows. Can you tell me about your live shows and touring?
Wells: Oh yes, I love the stage. I love the opportunity to get up and entertain people. I tell people that I try to make the shows unapologetically entertaining. So if you want to be bored somewhere, don't come to my shows (laughs). It's fun, you're gonna burn calories, it's gonna be exciting. I've got the most talented people around me in the world. And of course, everything that I do is not just for the sake of entertainment—it's about pointing people to a greater hope. And the hope and joy that's found in a relationship with God. So it's so much fun.
Here's the link to Tauren Wells' site: https://www.taurenwells.com/