Writing/Producing Team The Stereotypes Talk About Their Hit Songs With Bruno Mars And Other Artists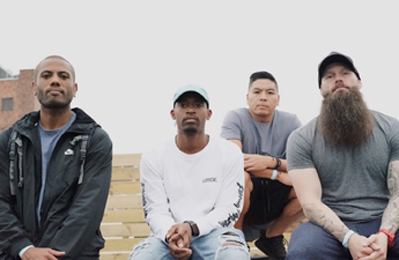 For the past decade, the Stereotypes has been a top writing/producing team that has created several big hits and received Grammy nominations. They've worked with many of the leading artists in the pop, R&B & hip-hop genres, including Bruno Mars, Justin Bieber, Usher, Drake, Fifth Harmony, Iggy Azalea, Chris Brown and Far East Movement.
Notably, 2017 has been a very successful year for the four-man team, which is based in Los Angeles and consists of Ray Romulus, Jonathan Yip, Jeremy Reeves and Charm. The Stereotypes co-wrote & produced Bruno Mars' #1 hit "That's What I Like," which has been one of the longest-running chart hits on the Billboard Hot 100 this year. They also contributed additional production to Mars' Top 5 hit "24K Magic," and they co-wrote & produced Mars' new hit single, "Finesse" (with a remix featuring Cardi B).
SPECIAL FEATURE: STREAMING AUDIO

Here's an excerpt of our interview with Ray Romulus of the Stereotypes, who tells how they collaborated with Bruno Mars on his hit songs "24K Magic," "That's What I Like" and "Finesse."
In addition, the Stereotypes received two Grammy Awards for their work with Bruno Mars, for Song of the Year and Best R&B Song (for co-writing "That's What I Like").
As a result of their hit success and high visibility as a writing/producing team, the Stereotypes are now also launching their career as artists. They have just teamed up with rapper Pitbull for a new single, "Jungle." This single will be the first of several new releases that will spotlight the Stereotypes as artists, usually in collaboration with featured artists.
The Stereotypes Interview
We are pleased to do a new Q&A interview with Ray Romulus of the Stereotypes. But before we get started, here's some information on this team, including their hits and writing/producing credits.
The Stereotypes first formed in 2003, and they're known for the diverse, ethnic backgrounds of the four members (Asian, Caucasian, African-American, Samoan and Haitian). Their first big hit was "Damaged" in 2008, by the girl group, Danity Kane. They also signed the rap group Far East Movement, and co-wrote & produced most of the songs on their albums Free Wired and Dirty Bass, including the hit "Rocketeer" (featuring Ryan Tedder). They also had a hit with Justin Bieber called "Somebody To Love" (that featured Usher).
The quartet has also had cuts with many other artists such as Drake, Chris Brown, Iggy Azalea, Fifth Harmony, Lil Yachty, Kyle, Mary J. Blige, Ne-Yo, T.I., Travie McCoy, Sevyn Streeter, Omarion, T. Mills, Tank, Marques Houston, Joe, Fantasia, Raheem DeVaughn and Tyga.
Here's our interview with Ray Romulus of the Stereotypes. He tells how the group got started, how they co-wrote & produced Bruno Mars' hit "That's What I Like," and their new projects as artists.

Here's the video of Bruno Mars' #1 hit "That's What I Like," which was
co-written & produced by the Stereotypes.
DK: How did your group come up with the name, the Stereotypes?
Ray Romulus: The group originated in 2003 and it consisted of Jon (Yip) and Jeremy (Reeves). The original name that Jon came up with was The Types For Your Stereo. And then as the group started to form, you know…Jon is from an Asian background, Jeremy is white & Russian, I'm African-American…and now all these different ethnicities are coming together for a common goal. It's like these different stereotypes are coming together, and it almost took on a new meaning. Just by looking at us, you couldn't tell what type of music we'd be making. So it's also like breaking all stereotypes.
DK: The Stereotypes are known for creating excellent music tracks and production. Do you also write the topline (lyrics & melody) too?
Romulus: It actually depends. Let's say we're working on Fifth Harmony or certain R&B acts. Usually, we'll bring in topline writers who are amazing at what they do. We'll bring them in and have them help quarterback the whole thing. But there'll be different projects where we'll be writing [everything]. For instance, early on we had (hip-hop group) Far East Movement that was signed to us. We pretty much wrote that whole first album. So it just depends; we're mainly a production/music team.
DK: When you're creating the tracks, with the four of you, how do you guys work together? Would one of you start creating a track and then bring in the other guys?
Romulus: Yeah, it's almost like a tag team, like wrestling (laughs). We'll say, "You have an idea? Cool." There are times when one guy is just inspired to create—he may end up doing the whole thing. But at the end of the day, we all contribute and kind of leave our fingerprints on everything that we release.
DK: You've had great success working with Bruno Mars on his 24K Magic album. How did you connect with Bruno on these songs?
Romulus: Our relationship with Bruno goes back to around 2007, when we started working with him. This was before Bruno became famous…we were all just working on songwriting and pitching songs. Bruno and Philip Lawrence (his songwriting & production partner) were like our main, go-to writers that we would bring into our star sessions. At that time, they were just focusing on trying to make records for different artists and being a successful writing & production team. Then Bruno had a hit with B.o.B. called "Nothin' On You" which he featured on, and it catapulted him into getting his deal with Atlantic Records. That was the beginning of superstardom for him, because then his first solo album came out and it was a huge success.

Here's the video of the Stereotypes & Pitbull's new single, "Jungle."
For years, we didn't work on much together, although we kept in touch. Then around June of last year (2016), Jon (Yip) checked in with Bruno to see how he was doing. And Bruno said "Hey guys, by the way, I have one more song for my album that I'm trying to figure out. Would you like to come through and help me nail this?"
Jon then sent Bruno an idea and he loved it, so he asked us to come by (his studio). We came in a few days later, and the song that we were working on was "24K Magic." We started programming the drums, and once we had that set, the song was starting to feel like it was in-pocket. And we nailed that song that day. Bruno goes "Man, I think I have a couple more on this album that you guys can help me with. And the next song we worked on was "That's What I Like," and then we brought in another track idea which ended up being the song, "Finesse." Bruno said, "Man, this is going well…I feel like we're knockin' them out."
DK: "That's What I Like" has become one of the biggest hits of the year. Can you talk about how you wrote this song with Bruno?
Romulus: "That's What I Like" was one of the songs Bruno pulled up and played for us. Originally when we heard it, it felt more like a ballad…it didn't feel as rhythmic as it is now. So we stripped it down and started messin' around with the drums. We started programming the drums and once that was in, it started having a different bounce…it had a whole different feel to it. Then we stripped everything else down and added new chords and a new pre-hook, a new B section and bridge, and that's how the song came about.
DK: Stereotypes have a new single out as artists, called "Jungle," with Pitbull. Can you tell me about the Stereotypes' plans as artists?
Romulus: You know, we're in the studio everyday, just creating…creating songs for other artists. And at times, we're a little constrained because we have to cater to what [the artist] wants…what the label envisions for them. You know, we're obviously allowed to do our thing (as writer/producers). But the music we're making (as artists) right now, it's giving us freedom to just make exactly what we want, exactly how we love it. Basically, it's seeing our vision all the way through.
With "Jungle," it was an idea that we just wanted to do—something that was super funky, yet can still live in this time [and feels current]. We happened to be in the studio creating that, and our initial plan was to release it on our own. Then we played it for Pitbull, and he went crazy. He put a verse on it, and he's like, "Hey guys, I love this so much, can we do this together?" And we said, "Yeah, let's do it together." So we ended up getting (rapper) E-40 on the second verse, and while we were in Miami with Pitbull, we met with Sony Latin and we heard (singer) Abraham Mateo, and we were blown away by how amazing this young kid was, so we through him on the hook. So that's how that song came about.

Here's the video of Bruno Mars' hit "Finesse" (feat. Cardi B) which was
co-written & produced by the Stereotypes.
DK: Are you already working on follow-up singles for the Stereotypes as artists?
Romulus: Definitely. We're very focused on curating our sound, and bringing in different [feature artists]. And we're also developing new acts. So those are all in the works.
DK: In addition to you these projects, are there artists that your writing & producing for?
Romulus: Yeah. We recently worked with Meghan Trainor—we've got a song with her that we're very excited about. We're also working with (female R&B singer/songwriter) Sevyn Streeter. And we've just released is a new Kyle & Miguel record called "Sunshine" that we're very excited about.