Sorg & Napoleon Maddox's "What's Your Joy?" Named September "Best Song Of The Month"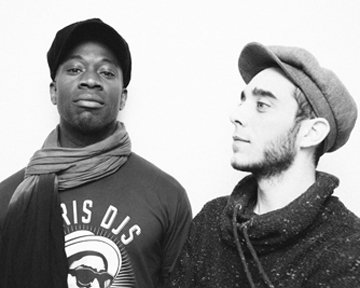 Sorg & Napoleon Maddox, a hip-hop/pop/electronic duo, has won the SongwriterUniverse "Best Song Of The Month" Contest for September with their song, "What's Your Joy?" Maddox is a hip-hop artist from Cincinnati, Ohio, and Sorg is a writer/producer/artist from Besancon, France. "What's Your Joy?" is included on the duo's album Checkin Us, which they released independently in March (2018).
"What's Your Joy?" is a well-crafted hip-hop/pop song that features thoughtful, intelligent lyrics by Maddox, and a propulsive, high-energy track by Sorg. This cut spotlights Maddox's excellent rap phrasing and message, while also featuring Sorg's skillful production and arrangement. Sorg plays all the instruments on this recording, and Maddox performs all the vocals.
Maddox was born and raised in Cincinnati, and he has released his own recordings and played with bands in the U.S. However, it was in 2014 that he teamed up with Sorg to form this new duo. Maddox explains how they met: "Sorg contacted me to be a featured artist on his EP, and I wrote and recorded a song with him for his EP. Then when I was on tour in France, I invited him to appear with my band onstage. The next time I was in France, we decided to tour together. We did three concerts in the West of France, and we kept doing it."
Since then, Maddox & Sorg have released two EPs (Ribbons & Razors in 2014 and Soon in 2016), and this year they released a full album, Checkin Us.

Here's the video of Sorg & Napoleon Maddox's song, "What's Your Joy?"
Maddox recalled how he and Sorg wrote "What's Your Joy?" "Sorg had the core of the composition done, and he was playing some different pieces. I like that the sound had a joy to it. Then we had a good discussion, about the difference between joy and external happiness, and the difference between contentment and happiness. We wrote the song together in France; he created the music and I wrote the rap on top of it."
After "What's Your Joy?" was recorded, the duo created an excellent video for this song. The video was produced in France, and Sorg filmed and edited the video.
In addition to their album and EPs, Sorg & Maddox have performed live shows in several countries. They've played shows in the U.S., Switzerland, France and Italy. "We'll be doing more shows together that will utilize multimedia and involve projections and live musicians."
Top Five Songs Of The Month
Here are the Top Five Songs which were submitted for this month's contest, with the songwriter credits, plus their e-mail and website links. You can listen to the winning songs by clicking the music players below.
"Best Song Of The Month" Winner
Song Title:
"What's Your Joy?"
Written by:
Napoleon Maddox (of Cincinnati, Ohio) & Sorg (of Besancon, France). Performed by Sorg & Napoleon Maddox.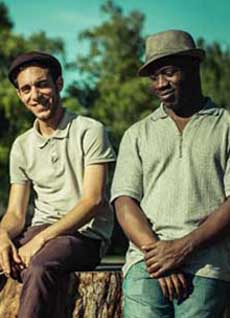 More Best Songs Of The Month