Skylar Grey Talks About Her Artist Career, And Writing The Hit Songs "Love The Way You Lie" (with Eminem) and "Coming Home" (with Diddy)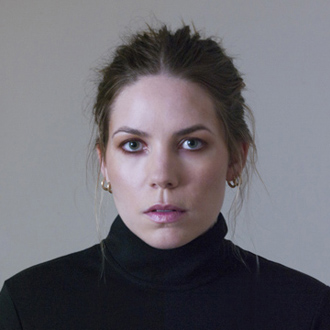 Five-time Grammy nominee Skylar Grey has had an impressive and diversified career as a singer/songwriter, as a featured vocalist on several hit songs, and as a pure songwriter. She has co-written five major hits, collaborating with Eminem, Rihanna, Dr. Dre, Diddy, Dirty Money, Zedd, Fort Minor and other artists. Currently, she has released her new single "Moving Mountains," and she's on tour opening for rock band, Atlas Genius.
Grey co-wrote the number one hit, "Love The Way You Lie," for Eminem & Rihanna. In addition, she was the featured vocalist on three hits which she co-wrote: "Coming Home" (by Diddy & Dirty Money featuring Skylar Grey); "I Need A Doctor" (Dr. Dre featuring Eminem & Skylar Grey); and "Where'd You Go" (Fort Minor featuring Holly Brook, which was her former artist name). She also co-wrote the hit "Clarity" by Zedd (featuring Foxes).
As an artist, Grey is signed to KIDinaKORNER Records (which is a joint venture with Interscope-Geffen-A&M Records). She has released her new single "Moving Mountains," which was produced by Mike Elizondo & Mark Batson, and she's completing her next album. Notably, Grey was featured last year (2015) in the best-selling movie soundtrack, Fifty Shades of Grey, performing her song, "I Know You." And in 2013, she released her album Don't Look Down, which was her first with KIDinaKORNER Records.
Grey has also been a featured vocalist on cuts with Nicki Minaj ("Bed Of Lies"), David Guetta ("Shot Me Down"), Lupe Fiasco ("Words I Never Said"), Eminem ("Asshole") and Kaskade ("Room For Happiness").
As a songwriter, she's also had cuts with CeeLo Green, T.I., Christina Aguilera, Brie Larson and other artists.
We are pleased to do this new Q&A interview with Skylar Grey. She discusses her new single and upcoming album, and how she collaborated with Eminem and Diddy, and how she co-wrote the hit "Love The Way You Lie."
DK: I like your new single, "Moving Mountains." Is this part of a new album you're working on?
Skylar Grey: Yes, it's part of an upcoming album. I'm not sure when [the album will be] coming out or what it's called just yet (she laughs).
DK: Will the album be produced by Mike Elizondo and Mark Batson?
Grey: A lot of the songs are—about half of the album is done with them.
DK: "Moving Mountains" is more of an acoustic song. Is this song reflective of the songs on your new album?
Grey: No, "Moving Mountains" is kind of a special moment on the album—an earbreak from the drums, I guess. Actually, it originally had drums, but I felt like they took away from the song, so I muted them in the final mix.
DK: Was the song inspired by something that happened to you, that you wanted to write about?

Here's the video of Skyler Grey's new single "Moving Mountains."
Grey: Well, it's just an overall realization that I've had over the past couple years. I moved to Utah, and now I wake up and see a beautiful mountain view every morning. That's kind of what inspired the song. I used to think my career was everything in the world, and I was super ambitious and I sacrificed a lot of time [that could be] spent with friends and family, and just doing things other than music. I sacrificed all that. But as I'm getting older and I'm living in this beautiful place and I have a dog, I'm realizing how important it is to enjoy every moment—regardless of what stress is going on with my career, and the ups and downs. There's always going to be people that love me unconditionally, that are there for me that I need to appreciate. And to enjoy a beautiful mountain view…it's so important to my well-being and happiness. So the song is basically about all of that.
DK: Are you originally from Utah?
Grey: I'm from Wisconsin originally, and I moved to L.A. when I was 17. So I was stuck in the city for quite a few years. Then I decided I needed a bit more nature in my life, so I chose Utah.
DK: You've been very successful in three different ways—as an artist, as a featured vocalist on hits with other artists, and then as a co-writer for other artists. Has that been a strategy to succeed in these three ways, or did things fall into place?
Grey: It kind of just happened. It wasn't necessarily a plan of mine. But it helps to diversify because it's so difficult just to be working and making a living (in the music business)—I feel blessed. Sometimes it comes from various areas of the industry, but at least it's all music and I'm getting to do something that I love every day.
DK: When you got together on your song "Coming Home" with Diddy & Dirty Money, did they say beforehand that they wanted you to write the hook and sing that part?
Grey: "Coming Home" came after I wrote "Love The Way You Lie" for Eminem & Rihanna. At that time, I was kind of a sought-after writer. And so Puff reached out to my team and said they wanted to work with me. I wrote the hook "Coming Home," but I didn't know I would be featured as a vocalist on it until Puff just demanded that I stay on the intro hook, so [my voice was on] the demo. So he wanted to keep it.
DK: To me, when you sing the hook "coming home," that seems like the most memorable part of the song.
Grey: Yeah, that portion of the song—the part I'm singing on—has been used in so many sports shows and there's been so many syncs (film & TV uses) that came out of that. So that was really cool. Even just that little section of the song.
DK: You said that the year before, you wrote "Love The Way You Lie" for Eminem & Rihanna. How did you co-write this hit?

Skyler Grey performs live her single, "Moving Mountains."
Grey: I wrote that song after pretty much quitting the industry. I was living in a cabin in the woods in Oregon, and I didn't know what was going to happen with my life. I had just put together a little recording studio for myself up there, and I didn't really plan on making music on a big level. I just wanted to be creative and free. And that song kind of came out of that. So I wasn't trying to write a hit song. I got a beat sent to me from Alex da Kid, who I'd never met. He said, "try writing to this." It was the first thing we worked together on. So I just sat down and listened to the beat and sang this melody and lyric over it. It was like instantly… it just fell out of my mouth. Then a month later, it was the number one song in the world (laughs). So I was just blindsided by that.
DK: You've also done a lot of co-writing—you co-wrote the hit "Clarity" for Zedd. Does that also happen a lot, where you go into a session as a topliner writing for another artist?
Grey: No, actually that was an unique situation. I got called in to be the vocalist on that song and then it wasn't really in my (vocal) range. So I ended up just co-writing the song, but not singing it in the end.
I don't do a lot of co-writing anymore. I really only work on projects that I'm passionate about, and I'm really passionate about writing music for myself, obviously because that's where my heart's at. And sometimes there will be a project presented to me that I'm passionate about, but it's very rare—it could be a movie that has a story line that really gets me, or it could be an artist that I love. But it doesn't happen that often. I usually turn down those sessions.
DK: One session that you did as an artist which did really well, was co-writing the song "I Know You" for the movie Fifty Shades of Grey. How did you and (co-writer) Stephan Moccio put that together?
Grey: I was contacted about writing for that movie, before it was even made. They had me read the book, and they wanted a song that would kind of speak from the character's emotional standpoint, and not just be an obvious sexy song. So I read the book, and then Stephan Moccio came to Utah to write the song with me in my house, on my little grand piano. And it was a really great experience working with him—he's so talented. One of the things that attracted me to that gig, was that I got to work with Stephan. He's a crazy talented pianist, and I doh't get to work with musicians like that very often.
DK: Currently, you've released your single "Moving Mountains." Is your plan to focus this year on finishing and releasing your new album, and touring, or do you have other projects lined up too?
Grey: Yeah, I'm going to finish this tour (with Atlas Genius) and hopefully get on another one. And definitely finish my album and put it out. I'm playing a lot of new material live, and the reaction has been great so far on this tour. I'm excited for people to actually be able to get the music in their hands. So that's the main plan. Along the way, I'll probably keep putting out singles—not singles that I expect to go to radio or anything like that—just putting out songs with content like a video. It's important to constantly be putting out creative pieces.