John Shanks Wins Grammy Producer Of The Year; Co-Write and Produces Many Top Artists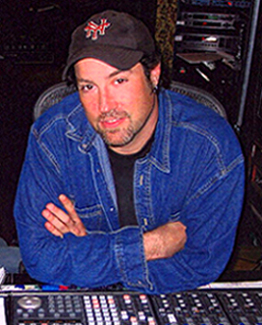 Update: This article was first published in 2003. John Shanks was already a hot writer/producer at the time. In the three ensuing years, he produced and co-wrote several more hits, and had multiple cuts on many albums. To top it off, he was named Producer Of The Year at the Grammy Awards in 2005. So this article was revised in 2006 to list his additonal hits and credits.
Here is a rundown of his key credits in the past thee years. Shanks produced and co-wrote on the following hit albums: Autobiography by Ashlee Simpson (10 cuts, including the hit "Pieces Of Me"); Anastacia (2 cuts); Hilary Duff (3 cuts, including the hit "Fly"); Breakaway by Kelly Clarkson (2 cuts); So-Called Chaos by Alanis Morissette (produced only); Speak by Lindsay Lohan (6 cuts); Blue Skies by Diana DeGarmo (7 cuts); and Lucky by Melissa Etheridge (1 cut).
Shanks was also very busy, working on many soundtracks for hit movies. He had cuts on the following soundtrack albums: Must Love Dogs, Bridget Jones: The Edge Of Reason, Ladder 49, Raising Helen, Herbie: Fully Loaded, and Princess Diaries 2.
Here is the original interview/article we did with John Shanks.
John Shanks has emerged as one of the top, rock & pop writer/producers in the business. During the past year, he produced Michelle Branch's platinum debut album, The Spirit Room, and co-wrote the hit single, 'Everywhere.' In addition, he co-wrote the title cut, "One Heart," from Celine Dion's new album, and he wrote with Sheryl Crow, her hit 'Steve McQueen.' Shanks also produced the latest albums by Vertical Horizon, Chris Isaak and Joe Cocker, Lucy Woodward and Justincase.
Shanks has gradually made the transition from being a session & touring musician, to becoming a respected producer and songwriter who is in strong demand. During the past few years, he established his reputation by producing albums with Melissa Etheridge and Stevie Nicks, and co-writing songs with them. In addition, Shanks has recently enjoyed success in country music, co-writing the Keith Urban hit, 'Somebody Like You.'
Originally from New York City, Shanks moved to Los Angeles when he was 17. 'During high school (at Beverly Hills High), I joined some bands and started playing all the clubs,' recalled Shanks. '(After graduating), I began doing sessions as a guitarist, and I learned a lot about recording and production. I had the opportunity to play sessions for some great producers, and I learned about arrangement and composition, counterpoint, layering parts and sounds.'
In 1988, Shanks started playing in Melissa Etheridge's band, and toured with her for several years. 'Melissa was very supportive of my music career, and she inspired me to get my act together as a writer,' said Shanks. 'I went off the road and got my life together. I started to focus on my writing, and developing my demos more.'
In the early '90s, Shanks enjoyed his first writing success, getting cuts with Bonnie Raitt, Joe Cocker and Tuck & Patti, and landing his first publishing deal. He eventually hooked up again with Etheridge, who had been following his successful development as a writer. She invited Shanks to collaborate on songs for her Your Little Secret album in 1995. This creative partnership continued for several years, with Etheridge asking Shanks to co-produce her subsequent album, Breakdown, in 1999. Breakdown ultimately received four Grammy nominations, including Best Rock Song and Best Rock Album.
Then in January 2001, Shanks was contacted by Danny Strick (A&R executive for Maverick Records), to work with his new artist, Michelle Branch. 'Michelle and I got together, and in the first hour we wrote 'You Set Me Free,' which ended up making the album,' said Shanks. 'I quickly realized that she's a great writer and a great person. She was 17, and she was a breath of fresh air with her attitude and ability. We started recording several songs, then Michelle decided she wanted me to produce her whole album. We finished the album in a nine-week period.'
Shanks wrote four songs with Branch for the album, including the first single, 'Everywhere.' 'Michelle played me 'Everywhere'; (the song & lyric) was close, but it just needed a fresh approach and a re-write,' explained Shanks. 'We sat down and we re-worked that song.'
In addition to his hit success with Branch, Shanks is gaining notoriety for co-writing Sheryl Crow's latest single, 'Steve McQueen' (from her album, C'Mon C'Mon). 'I've known Sheryl for a long time; we got together to write,' said Shanks. 'She wanted the song to be (guitar) lick-oriented, with a hip-hop and rock flavor, so I began working on the track. We discussed what the lyric should be about; we thought it should be about an icon or an era. I said, 'How about Steve McQueen?' She liked the idea, and then we came up with the chorus. Sheryl and I finished writing the song in the fall of 2001.'
This past year, Shanks has been busy producing and/or writing for several other projects (Chris Issak, Joe Cocker, Vertical Horizon, Will Hoge, Justincase, Stroke 9). In addition, he has been working on Michelle Branch's follow-up album. 'I'm just working really hard, doing my best for each artist,' explained Shanks. 'I'm very fortunate to work these great artists; I get repeat customers. My relationship with artists is personal; it means a lot to me. I want to keep working with people who want to make great music, and create songs which can move people.'
Dale Kawashima is on Google+