Sean Douglas Co-Writes Hits In Several Genres, For Jason Derulo, Demi Lovato, Thomas Rhett And Other Artists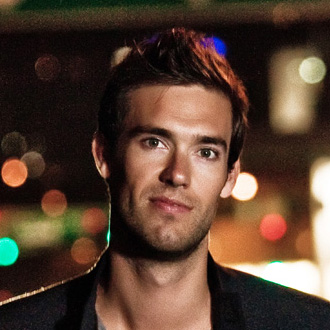 Los Angeles-based songwriter & producer Sean Douglas has emerged as a highly successful songwriter who can co-write hits for a wide range of artists. In just the past few years, Douglas has co-written hits in the pop, urban and dance fields, for such artists as Jason Derulo, David Guetta, Demi Lovato and Fifth Harmony. On top of this, Douglas co-wrote the current hit "Die A Happy Man" for Thomas Rhett, which has become one of the biggest country singles of past decade, staying at #1 on the Billboard Hot Country Songs chart for an amazing 17 weeks.
It was in 2013 that Douglas co-wrote his first Top 10 pop hit, "Heart Attack" by Demi Lovato. The following year, he had two Top 5 hits with Jason Derulo, "Talk Dirty" and "Wiggle." He also co-wrote the big hit "Hey Mama" by David Guetta. In addition, Douglas has co-written chart singles for Fifth Harmony ("Sledgehammer"), Nick Jonas ("Levels"), Chris Brown ("Zero"), Madonna ("Ghosttown") David Guetta ("What I Did For Love") and Jason Derulo ("Get Ugly").
Douglas has also had cuts with 5 Seconds Of Summer, Jessie J, the Backstreet Boys, Oily Murs, Snoop Dogg, The Game, Hilary Duff, Kat Graham, Cady Groves, Danny Mercer and other artists.
Notably, Douglas is signed with Warner/Chappell Music, and he is the son of popular actor Michael Keaton (who was nominated for Best Actor at last year's Academy Awards, for his lead role in Birdman).
We are pleased to do this new Q&A interview with Sean Douglas.
DK: I read that you started out playing in bands. Was your original goal to be a singer/songwriter in a band?
Douglas: Yeah, that was definitely my plan. I started out as the DJ in my high school band actually (back in the Incubus, Linkin Park days) and then started to get more involved in the writing. The band I formed in college had a few iterations over the years, the last being Burn Down the Mission. We made a record that was getting a lot of label attention for a bit, and in the midst of that shopping process I started to do co-writes to keep myself busy.
DK: At what point, did you decide to focus on writing songs for other artists?
Douglas: After a handful of sessions it became clear that the writing was the one for me. I've never been the most natural frontman and I don't love the spotlight. Also, the band always had a hard time defining a sound because I'd want to write a different style every day. Then I found out there was a route to take where that was a strength rather than a weakness.
DK: What was your first co-writing session that led to getting a good placement?
Douglas: The first good placement I got was a song I wrote with Cady Groves and my buddy Tom Meredith, called "This Little Girl." It became Cady's lead single on RCA.

Here's the video of Thomas Rhett's big hit, "Die A Happy Man,"
which was co-written by Sean Douglas.
DK: Your first big hit was "Heart Attack" by Demi Lovato. How did you co-write this song?
Douglas: I wrote it with Jason Evigan, Mitch Allan and a talented artist named Nikki Williams. It was the first time I had met any of them. Jason was humming a melody, he started playing some keys and we all wrote the song from the ground up that day. The song was intended for Nikki's project, but her team passed on it and a couple different artists cut it but it didn't pan out. I think it was almost a year-and-a-half later when Demi heard it and decided to cut it. It's crazy the roundabout paths songs can take before finally seeing the light of day.
DK: You've co-written two big hits for Jason Derulo, "Talk Dirty" and "Wiggle." How did you hook up with Jason to write these songs?
Douglas: Aton Ben-Horin (Global Director of A&R, Warner Music Group) set up the session for "Talk Dirty," I believe. We were listening to a folder of tracks and the "Talk Dirty" beat kept making us laugh. Not in a jokey way, but because it was ridiculous and awesome. We had a great time that day. Jason's a crazy talent and I particularly enjoy writing the tongue-in-cheek songs like "Talk Dirty," "Wiggle" and "Get Ugly" with him.
DK: You also co-wrote the hit "Hey Mama" with David Guetta. What's it like working with David?
Douglas: David's fantastic to work with because he's so passionate and enthusiastic about his music and he's open to so many different sounds. When we wrote "Hey Mama" I really liked the song, but I wasn't sure it would make it on the album because the groove was totally different from what people would expect from him. But David believed in it from the beginning, and clearly his instincts were right.
DK: Currently you've co-written the hottest song on the country charts, "Die A Happy Man" by Thomas Rhett. How did you hook up with him to write this song?
Douglas: I think our publishers connected us initially. Turns out that TR is really into rhythmic pop and R&B and dug the Derulo songs. Joe London (who also co-wrote "Wiggle") and I hit it off with TR the first day and later went out on the road to write on tour with him. "Die a Happy Man" was one of the first songs we wrote, and Thomas was so excited about it, he played it during his set in front of about 10,000 people that same night.

Here's the video of the Jason Derulo hit "Wiggle," which was
co-written by Sean Douglas.
DK: You've had success writing in several genres—pop, urban, country and rock. How do you write well for all these different genres, which most writers find difficult to do?
Douglas: Well, I'm genuinely a fan of all the genres I've gotten to work in, so I guess that helps. Also, I think a good lyric and melody are usually at the core of a good song. It can be dressed up differently from there with the sonic or rhythmic signatures of various styles.
DK: Do you have any other singles or cuts coming out, that you're excited about?
Douglas: I got to work a lot on Nick Jonas' new album, which I think people are gonna be really impressed by. Nick is such a talent, and he's got some really different and thoughtful music ready. There's some other stuff on the way but I don't wanna speak too soon.